Festivals are back and what better way to get back on the saddle than with the 2021 edition of mighty Desertfest Antwerp! The line-up might be 100% European-focused for obvious reasons, there's plenty to feast our ears on. Let's have a look at those bands you should not miss out on this decibel-laden weekend in Belgium.
CONAN – We all need heavy, loud, massive deafening chords to crush our eardrums after almost two years of silence. No doubt that after spending such a long period without performing, the UK giants are set to blow our minds (and a few amps)!
KADAVAR – Let's get real for a second. Kadavar on a stage is always something to remember. The festival is known for leaning towards the heavy side of the force, yet the German trio's latest effort was close to "borderline disco", I'm looking forward to seeing which songs the vintage rock kings will chose to deliver.
MY SLEEPING KARMA – No introduction needed for Germany's most revered instrumental psychedelic mystic jammers! The mighty foursome had to cancel their latest European tour right before the global shutdown, so saying we are craving to see them back on stage is an understatement.
SLIFT – For once, I have a chance to wear the flag of my hometown, Toulouse. Slift made a huge impression on everyone last year with the release of "Ummon". The once garage-psych trio has now entered stoner rock territories, and I can't wait to see them on stage, especially after listening again and again to their impressive live sessions!
SUNNATA – Sunnata is one of the very few bands that managed to quickly establish themselves as a driving force in a crowded 90s-infused doom genre, thanks to a clever and distinctive sound and imagery. What can I say? It's so dark and sophisticated, I just need more of it.

BLACK RAINBOWS – Italy won the European cup this year and it's as defending champions of European stoner rock that the band returns to Desertfest Belgium. We already know their performance will get us all sweaty as well as putting the biggest smile on our faces!
KLUDDE – One of the lesser-known acts of this edition instantly caught my attention, with their nice blend of sludge, doom, a hint of noise, black metal and post-hardcore. Definitely ones to catch this October!
FAKE INDIANS – This band is intriguing, they're the only locals of the festival and promise a rather unique show so I've decided not to spoil myself. I won't check them out before, and just let myself be pleasantly surprised by their performance. Wait and see!
MONKEY 3 – Switzerland's finest space rock representatives, the legendary yet discrete Monkey 3, are an absolute treat for the ears and eyes with their creative, mind-bending stage setups.
COLOUR HAZE – Because "Tempel" is still one the finest demonstrations of well-crafted and structured instrumental psychedelic stoner, you cannot miss the cult Munich outfit on the main stage!
TANKZILLA – I was lucky enough to catch them play for Turbojugend enthusiasts a few years back, and this gritty heavy rock duet was delivering exactly what you expect: no-frills, headbang-ready rock and roll.
KOMATSU – If you do not have a kink for Japanese bulldozers, we're not to blame! Komatsu will cross the Dutch border to share their blues-infused sludge rock with us Desertfesters. Can't wait to hear their latest release "Rose of Jericho" on the hot Canyon stage on Saturday!
ACID MAMMOTH – One of the greats of modern stoned doom riffage. While the Sabbath roots are evident, the band offers their own upgraded version of a vintage classic sound. Let's see how massive the mammoths sound on stage!
3-day combi ticket (87,50€) on sale at this location
Find more info on the festival's official website, Facebook and Instagram.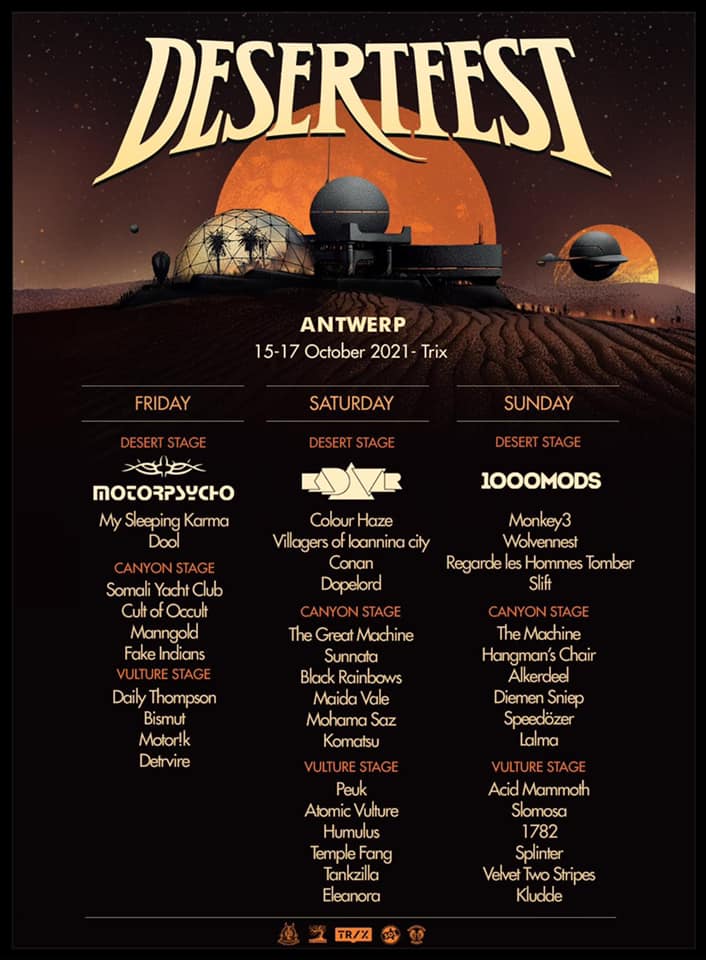 Last modified: 28 September 2021