"Who's

PÁTRON

", you ask? The band was formed by the frontman of late French rock'n'rollers Loading Data, a highly revered band pigeonholed as "French desert rock", which resemblance to the Josh Homme-fronted outfit proved to be both a token of quality and a flip side. Four years after the release of their last album « Double Disco Animal Style », frontman Lo turnt to his long-time friend Alain Johannes again to produce those tracks he had kept up his sleeves all this time: PÁTRON was born. Just like John Garcia with Chris Goss before them, the songwriter has found the perfect sidekick for this new desert-bound, leather-smelling adventure, proving that he hasn't lost a bit of his Desert Crooner mojo.
Speaking of sex appeal, there is plenty in here. This record has a strong smack of sex, still feeling numbed by co-co-co-co-caine. Starting with this disco kitsch artwork: Patrón takes us on a night of debauchery in Vegas, the gaudy pink lights making your heads spin while wild trannies whistle at you from the other side of the road.
Those shattered riffs on top of a sharp and smart rhythm section, those robotic grooves, are absolutely irresistible. From « Room with a View » to « The Maker », « Who do you dance for » (definitely your feel-good hit of the summer): knock back those disco-laden songs like a white line on Carmen Electra's bum. Almost at odds with barbed-wire shot, the velvet-toned crooner casually chants the verses, then suddenly brightens up to deliver some catchy and intoxicating hooks. One must admit that Lo's vocals are so magnetic they'll instantly get you into the record; at times manly and provoking, at times smooth and tender, Lo could be called a Stoner Elvis and turn any nun into a Santanico Pandemonium.
His barytone voice also makes for a captivating storytelling. You get hooked on the story of this young thug in the backwater who's a bit too trigger-happy (« Seventeen »). Some banjos, western movies whistling, languid blues phrasing plunge you in a dusty shithole (like Sean Penn landing in Superior in « U-Turn »). Mezcal and warm beer have succeeded the cocaine of the beginning. This more mid-tempo second half of the record is nothing but the hangover of last night's wild city trip. Robot-rock refrains, guitar shreds and keys arrangements feel like an acid reflux, between love delusions (« Leave it Behind ») and subterfuges to get yourself off the hook you just got into (« She Devil »)…
The whole record sounds as if Iggy had dropped Bowie for another ginger, didn't record « The Idiot » in Berlin but on Strip Blvd. Smooth, hot and robotic all at once.
Remember, three years ago. Josh Homme and his shape-shifting orchestra decided to go all-out FM with « Villains », delivering a few hits drowned in a bunch of tasteless songs, due to a production that annihilated any rawness or depth. Well, "Pátron" is the record he should have done, and that's exactly what we were craving, too. Groovy songs wrapped in leather, both raspy and sexy, a perfect example of aesthetic completion. I'd even say that the pupil has widely outshined his master. And their friends in common (Alain Johannes, Nick Oliveri, Joey Castillo and more) made no mistake about it and all turned up to play on the album. The boss, that patron, that's Lo.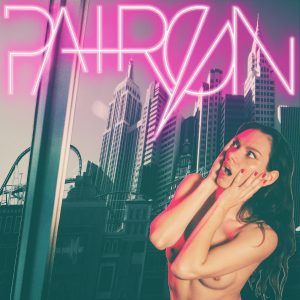 ARTIST: PÁTRON
ALBUM: « Pátron »
LABEL: Klonosphere
RELEASED: 29th May 2020
GENRE: Sexy desert rock
MORE : Facebook / Bandcamp / Ripple Music
Last modified: 5 November 2020