What if BARONESS music reach has gone way beyond the strict sludge or metal realm, far from any pigeonholing? What if in the end, Baroness were nothing but a one of a kind and highly creative rock band? Think about it. Take a breath and you'll see, it'll sound smoother now that you've realized.
Freed from any metallic confinement, a band is born. Even though Baizley remains at the helm, the other members' contribution (Nick Jost and Sebastian Thomson on rhythm section, and Gina Gleason on guitar) is now more prominent.
Baroness dare to blend all the elements that have defined their chromatic career: this double album (or so) fuses their gloomy story with a shimmering — yet sometimes self-satisfied, something we'll forgive them — songwriting. Baroness dip into their prog and post influences, and even sprinkle the whole thing with metal, grunge, folk, pop and electro-infused gems. Dense and colorful, "Gold & Grey" offers a wide music spectrum from rock manifestos to rippling intimate ballads under extra-terrestrial influence.
Freed from genre boundaries, Baizley and the gang have successfully written a well-executed piece of art that will endure the years. This accomplishment strikes after Baizley's final clamor on "Pale Sun" ; and the feeling gets even stronger thanks to a smooth and flawless sequencing throughout the seventeen tracks. This record becomes more than just a collection of songs.
Surprising, "Gold & Grey" could be related to baroque art, whilst it carefully avoids fatuity. When "Yellow & Green" was just a draft, "Gold & Grey" is the rock bacchanal of a band who keeps bewitching our melancholic souls.
Intricate, this album can't only be summed up by a color or chiaroscuro duality. It marks the end of the band's chromatic cycle, bringing to a close a 12-year concept that seemingly started as a joke. Actually, it doesn't only ends a cycle as a band personnel, it also synthesizes a whole decade of music through its undeniable timelessness.
It must be hard to tell the world why a piece of art is finally complete. Baizley himself has seemed quite unable to enlighten us on his motivations and purposes. But now he can let those deep, long-bred ideas flow, and shine a new light on them — with the clashes and echoes it might induce, narrating stories of a brand new world where all contraries would intertwine. Truly baroque.
"Gold & Grey" appears to be BARONESS' ultimate achievement. While the underground remains idle, the band has found a new purpose. They have just opened the gates for a whole new mainstream era in need of torchbearers. A world awaits. Can't wait.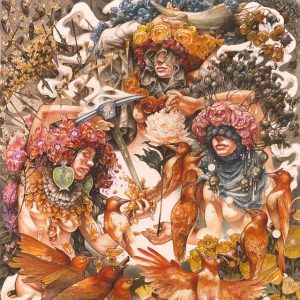 ARTIST: BARONESS
ALBUM: "Gold & Grey"
RELEASE DATE: 14th May 2019
LABEL: Abraxan Hymns
GENRE: Baroness
MORE: Facebook / Website / Order
Last modified: 18 June 2019