Our fourth LP "Pilgrims" was inspired by our heavy touring schedule in the last couple of years, and the feelings a person might be getting — or rather losing — because of it. But obviously, Stoned Jesus is not the first band to write about the road, so here are ten touring-related songs by other artists. Bus call, let's go! (PHOTO: Yuri Milchak)
1. Wings – Band on the Run
Kicking off my list with this old-but-gold one. My father was a huge Beatles fan so obviously I love them too, and Macca is definitely my favorite. His new album was released the same day as ours, and the guy is 76! What an inspiration.
2. Marillion – Somewhere Else
They're one of my all-time favorite bands, and while I started with their early albums, I love the more recent ones too. This particular song is so achingly beautiful, hard to believe they wrote it 25 years into their career! "The Leavers", written 35 years into their career, could've been yet another great addition to this list – but it's almost 20 minutes long!
3. Motorhead – We Are The Road Crew
With all the logistics/booking stuff, dangers of being robbed and visa-related problems it's sometimes easy to forget that touring can be a lot of fun. I feel like I totally missed this side of it while writing lyrics for "Pilgrims", so let's have Lemmy reminding us about the thrill of it all.
4. Iron Maiden – Wasted Years
Being away from your loved ones is another downside of the life on the road. Bruce Dickinson considered leaving Maiden just four years after joining them, wanna know why? Because he had 520 bloody shows with them in these four years, that's why! So he clearly knows what he's singing about here.
5. Mark Kozelek & Jimmy LaValle – Baby In Death Can I Rest Next To Your Grave
Well, Mark Kozelek also knows how to create a truly moving piece of art – even though it seems he's not trying hard enough lately. He's got dozens of songs about touring, but this haunting ballad speaks to me the most.
6. The Police – Man in a Suitcase
Again, let's not forget about the fun! This legendary trio approaches our topic with a healthy dose of humor, and that helps.
7. Rush – Limelight
Another trio (at the time heavily influenced by the previous trio) comes up with an issue of privacy. Sometimes you don't wanna connect with other human beings while on tour, and it's normal. Trying to explain this to them could be difficult though!
8. Metallica – Turn the Page
I think this is the first song from Metallica I'd ever heard, and all their covers are just brilliant. This one is especially emotional, you can really feel it. Honestly I'd give anything they released after "St.Anger" for yet another volume of "Garage Inc".
9. Van Der Graaf Generator – Pilgrims
We were touring Spain in early 2017, discussing the concept of our fourth album and trying to come up with the title. I put some VDGG on, and our bassist Sergii was like "hey, this is the one!" I'm proud to have such an amazing powerful epic as a direct influence on what we do in Stoned Jesus. Just wondering if Peter Hammill would ever know about this story?
10. Fates Warning – The Road Goes On Forever
The title says it all, doesn't it?..
STONED JESUS new album "Pilgrims" is out now on Napalm Records
Catch the band on their Pilgrimage Tour this spring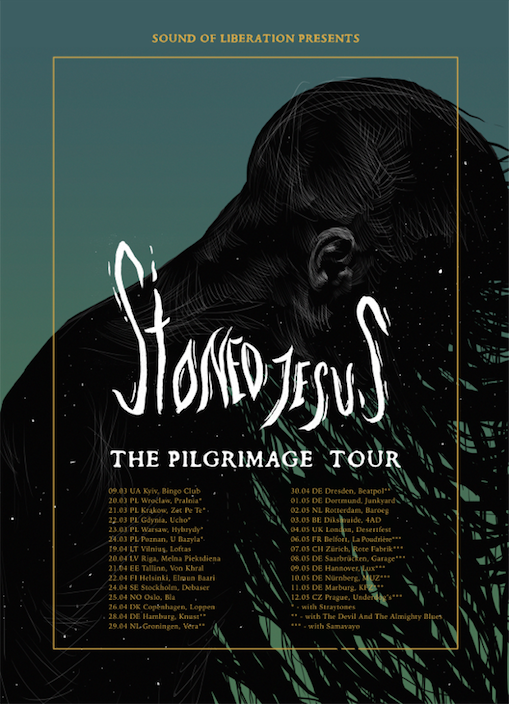 Last modified: 13 February 2019