If you don't get the drill about an album titled "Cosmic Blues" – first outing from Italian heavy-mongers
BLACK ELEPHANT

on fine fuzz dealer Small Stone Records – then you'll certainly need to mug up on their basics.

Speaking of basics, the Savona-based outfit knows them inside out. With eight years spent on the Italian stages, these guys undoubtedly love the Riff and can't help showing it through their fuzz-laden 70s heavy and hard-hitting grunge. Expect the usual jammy trips sprinkled with some "phunky" breaks that, while your body still slumped in a deckchair, your jouncy ears won't help noticing.

Over the span of 7 minutes, "Helter Skelter" is a perfect example of their groovy, psychedelic whipsaw. However, BLACK ELEPHANT might well pour kilotons of fuzzy, lava-hot solos into your ears, what's hold our attention is definitely the boogie side of this record, as the cosmic parts are way too formulaic, not to say boring, and show a few shortcomings in the songwriting and psychedelic build-up ("Baby Eroina", "Cosmic Blues For Solitary Moose"). For it takes more than you'd think to sound like Geezer.

Oddly enough, the band wins us over when they use their wah-wah pedals. When they go straight to the point, they nail it. Again, the final part of "Helter Skelter" delivers everything and more to make your butt shake, with a rhythm worthy of some rhymes from Zack De La Rocca.

Next song "Chase me" takes less than 2 minutes to lay the foundations of that funky urge – which we'd have loved to hear more on that slightly unaptly titled "Cosmic Blues". Unfortunately, there aren't enough highlights like this to make the whole album stand out of the crowd. Today, riffing (and doing it well) doesn't do the job anymore, especially when you're part of the hypertrophied 70s-inspired heavy rock scene.

So let's hail the funky thrill, and bid farewell to that sonic gum that is being relentlessly chewed and stretched: we need some groove and dead-raising boogie! That would be our advice to BLACK ELEPHANT, if they want to avoid being outrun in the future.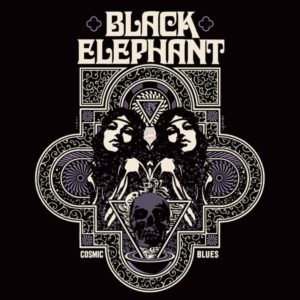 ARTIST: BLACK ELEPHANT
ALBUM: "Cosmic Blues"
RELEASED: 20th July 2018
LABEL: Small Stone Records
GENRE: 70s heavy rock
MORE: Facebook / Bandcamp / Small Stone Records
Last modified: 3 September 2018