Not many bands can claim, having first gotten together in their formative years as mates at school, that more than ten years later they'll still be powering away with five albums under the belts and fire in the bellies of the same five man-strong line-up. But I guess
DESERT STORM

sure can. Fewer still bands could argue they've truly managed to both move the needle in terms of their own sound, but also stay true to one core central focus throughout that same timespan. But I guess Desert Storm also sure can.

Diving right on in to this one, 'Sentinels' kicks off very much feeling like the natural place to go next from 2014's 'Omniscient'. Both of these records ultimately abandon much of the "stoner doom" that characterised DESERT STORM's first offerings and culminated in virtually everyone describing them early on as "Nice lads, work hard, sound just like Clutch". With the likes of the muscular 'Gearhead' and newer ground of 'Journey's End' helming the latest incarnation of 'The Storm's audial output, it's clear the influence that Modern Metal in the vein of the likes of Periphery and Tesseract and even full-scale Industrial music has had on the Oxfordian fivesome. That's not to say that 'Sentinels' starts off as generic, it still kicks and flows in many ways you wouldn't expect, but it's also fair to say that 'Kingdom of Horns' has more of an In Flames vibe about it than a Kyuss one.

Driven as ever by the beefy, heavy duty riffage of band leader Chris White and rhythm master Ryan Cole behind the six strings, the likes of the punchy 'Capsized' and BLS/Pantera-styled 'Convulsion' feel like more of a happy middle ground between where DESERT STORM have been and where they've going to. Matt Ryan's melodic, yet bourbon-shot vocals sound clearer in sentiment and more free to roam around the music than ever before, which ultimately sees him riding drummer Elliot Cole and bassist Chris Benoist's scythes and crunches even more smoothly than before.

But the gravitational pull of the groove is strong and 'Too Far Gone' is back to more pure Orange Goblin worship with Matt growling away about "liquor" and "depression" to his heart's content over some over-driven but rather cyclic power riffs. Sure there's plenty of the swing and swagger on 'The Brawl', 'The Extrovert' and 'Drifter' we've become accustomed to, but you do on occasion get the feeling that DESERT STORM have already written these songs before and jammed them several hundreds of times over up and down the UK pubs and club scene. No bad thing when it comes down to it and the songwriting and production quality here is still bang on target, but for an album that sets off pulling in one modernistic direction, it ultimately pushing back into the familiar stoner groove we all know and love so well.

Whilst 'Sentinels' may not be exactly reinventing the steel, it's yet another solid, stomping, metallic effort from a band that sound even larger and better composed each time they hit the studio. Maybe we're now too used to knowing what's about to hit us, but when it comes to delivering the gruff, head-nodding goods at each and every time of asking, I guess it's still Desert Storm who sure can.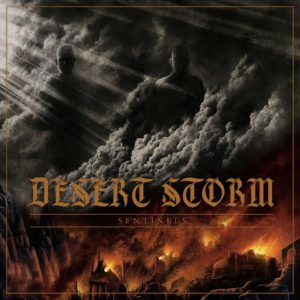 ARTIST: DESERT STORM
ALBUM: "Sentinels"
RELEASED: 16th March 2018
LABEL: APF Records
GENRE: Heavy metal / Sludge
MORE: Facebook / Bandcamp / Website / APF Records
Last modified: 3 May 2018