Twenty years of crafting their sound with mind-crushing riffs and bewitching meanderings have led Italian trio
UFOMAMMUT

to stand at the forefront of the actual stoner/doom scene. Their eight full-length came out two months ago, and believe me when I tell you it's one of the must-hear records of 2017 (read our review here), way atop some other long-awaited (and sometimes disappointing) albums. My presage was accurate: 8 wins the award for the heaviest and most stunning album this year! In between two tours, where they provide their fans avalanche of sounds, Ufomammut kindly answered our questions and got back to this gorgeous new album of theirs, from its making to the overall reception among other things, showing the undeniable and genuine bond between the three musicians. (COVER: Gaël Mathieu)

One month after its release, your new album "8" keeps receiving a lot of praise. Does it comfort you in the fact that you've made the right choice in terms of songwriting, or on the contrary, you don't pay attention to reviews at all?

Urlo (bass/vocals/FX/synths): I'm personally very happy about the response we're having with our last album "8". It's great to see that the hard work we put in this record is receiving many good reviews and people are loving it. But I must say that when we compose a new album, we don't think about the way it'll work once it'll be out. We always try to do our best and try to create something different and good mainly for ourselves, we want to be totally satisfied by what we do. Then, if it works good for all the other listeners once out, it's of course a double satisfaction.

Vita (drums): Reviews are important of course, because they can give the reader, perhaps someone who hasn't heard the album yet, an idea of what to expect. That doesn't mean that bands want to compose new stuff simply because they aspire to good reviews. In any case, there are other great ways to help spread the name of the band besides reviews, such as interviews or shows.
"We wanted to feel the power of these songs, we wanted this album to sound real and powerful. So we decided to play it live."
The topics on your previous albums all evoked symbols, whether they are real or belong to mythology, as well as the idea of rebellion. Could you enlighten us on 8's main thematics?
Urlo: "8" is Ufomammut's 8th album, so, when we thought about a title for it, we decided to use that simple symbol. The 8 tracks flowing one into each other without any interruption are the sonic representation of the symbol of infinite, the algebraic lemniscate that you can obtain by rotating 8 horizontally. These symbols are continuous lines meeting in the middle of their movement and also represent the three of us, playing together in Ufomammut since the beginning. Another important thing about the title choice: the number 8 is spoken differently in every language, it's our way of breaking barriers and boundaries.
Poia (guitars/FX): The entire approach to it has been different, from composition (it's probably been the longest genesis we had for an album) to recordings, to vocals and instrumental parts arrangements. It's a new path for us: the song structures are an evolution of what we did before and in some way it's a more complicated record even if it's very straight. We wanted to feel the power of these songs and we didn't want to record them instrument by instrument without knowing how they'd be at the end, like we did for all the previous albums, we wanted this album to sound real and powerful. So we decided to play it live because we wanted to catch on tape that «stage » feeling and vibe.
This is your eighth record in eighteen years, which is an impressive score, if you ask me. Such an unstinting creativity is quite non standard within the actual music scene. What is your secret? Also, is there an underlying will here to spare your fans a long wait between two records?
Urlo: Well, we could probably have done more albums in 18 years… Think about the Beatles and how many records they did in 8 years. And they are all great! Ahaha. Well, there's not a secret in our way of composing music, we are quite quick in carving the songs once we've understood what we want to do. There's a magic alchemy between us, Poia and me have been friends for almost 30 years and Vita joined us about 25 years ago as a friend first, and then also as a musician. The most important thing we always try to do, every time we start to work on a new album, is to create something new and different from what we did before, we want to move on a path of exploration, trying not to repeat ourselves.
Vita: We start to work on new songs or albums when we feel it is the right moment to do it. When we find the most inspiration and best ideas. Personally, I don't think that making a new record only because it's time to release a new one, or even worse, worrying that the clock is ticking, is a good conduct for any band. Bad records can come out with this kind of thinking.
"With "8", we entered the studio knowing exactly what to do."
I've read that your songs usually arise from long jams between the three of you. Do you usually have to reach a certain 'climax' while jamming to know that a song is ready to be recorded, or do you restrain experimentations and go for the recording anyway?
Urlo: We usually create our music together. Sometimes Poia and me work on a riff or a part, then we'll put everything together with Vita. Sometimes we just jam. We record our rehearsals and we listen to them searching for the good parts and riffs suitable for a possible elaboration, then we start again from them and so on, until a song is done. In the past, we entered the recording studio with a few songs that were just skeletons. With "8", we entered the studio knowing exactly what to do.
Vita: Jamming is the real secret, even when an idea or riff doesn't come out from our rehearsal room. There's a perfect chemistry between the three of us and we have to be all together to give to the song the best groove for it.
"We are kind of relatives from the same family but with different blood."
The band's lineup has remained identical since Ufomammut was formed in 1999. After all these years, I assume that you are more than just bandmates, and that this strong bond is what allowed you to stay together for such a long time. However, have you ever felt the need to include other musicians to your music journey in order to explore new music paths?
Vita: I met Poia and Urlo when they were involved in another band, 4 years before the creature that is Ufomammut actually started to breathe. We became friends first, then bandmates and now we are kind of relatives from the same family but with different blood.
Urlo: Actually, at the beginning we had a synth player for the live sessions… Well, we tried four of them… But the 4 piece never worked for us. Since after "Snailking", we decided it was better to stay with the classic line up, closing the circle and go for the perfect number 3.
Poia: We've had a few guests on our records – Lorenzer of Lento, Rose Kemp – and we're open to collaborations for sure. They just have to come naturally.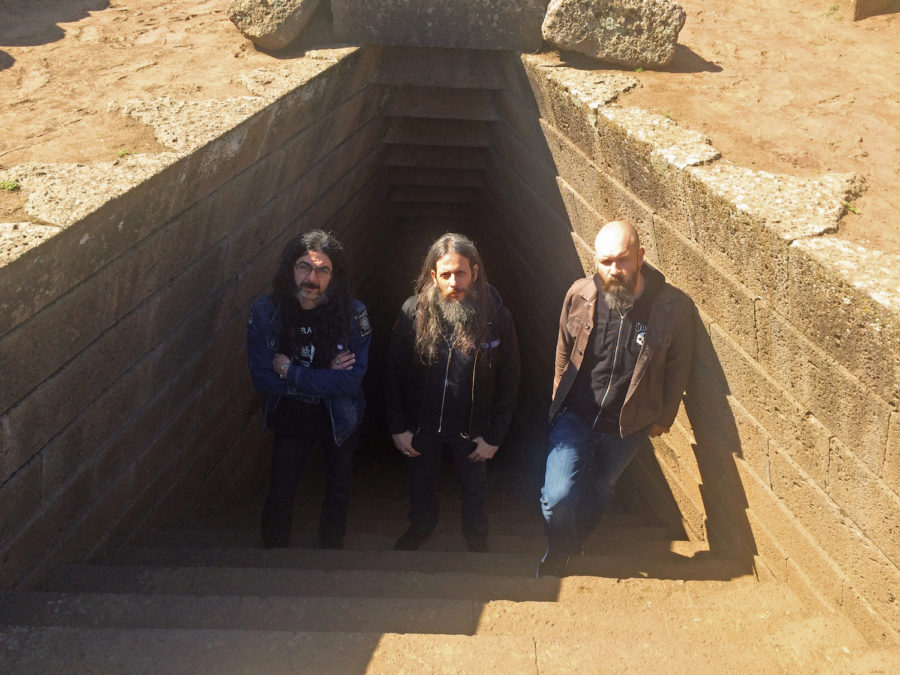 Personally, I got into Ufomammut after watching your performance at Hellfest 2009, during which I also discovered Malleus' work. Both were total heartstoppers. I think the band's visuals are outstanding, each album cover, tour artwork, being a beautifully-crafted creation. How and when did you come up with the idea of putting both your music and visual art together?
Urlo: Thanks for your words. Poia and me are 2/3 of Malleus and 2/3 of Ufomammut. We started in working on the graphics for our previous band and things grew together. When we started Ufomammut, we were already working as Malleus and the two things got bigger, little by little, on two parallel paths. Malleus is our main job today, we're poster artists and it's obvious and natural to work on everything related to our band. I think we're so lucky to be able to do what we've always dreamt for a living.
Vita: On stage, visuals are as important as any other instruments, they give the crowd a different and better show to follow. With visuals people don't get bored, hahaha.
"Every time we go on stage, we have to prove ourselves as a band, we need the right tension, emotions and attitude to give the people our best."
How was the reception to the new songs during your recent European tour?
Vita: People were surprised in a good way, by the pace, the rhythm and also by the power and aggression that Ufomammut has when we play "8" live. When the crowd is satisfied, everybody is happy.
Urlo: Different. The new songs are all linked and strangely faceted, some parts change in unexpected ways and there are less pauses between them.
Poia: I noticed that people were involved in the sonic flux but sometimes they didn't know when was the right time to clap or if they had to wait for the next incoming song twist… it was funny. But at the very end of the gigs, everybody seemed very very happy. Including us !
The only remaining show now is at North American metal festival Maryland Death Fest. Are there any other US shows in the pipeline around that date? Also, do you feel like you are eagerly awaited there, or in the contrary, that you still need to prove yourselves as a band?
Vita: We also have some Italian shows in November and December. Every time we go on stage, we have to prove ourselves as a band, we need the right tension, emotions and attitude, all of that helps us to give to the people our best, doesn't matter if you play in front of 3 person or 3000 because your approach live has to be the same.
Urlo: We're planning a proper US tour. We also can't wait for it. We always need to prove ourselves, in every place we go.
Poia: Especially if people are waiting !
Big thanks to Poia, Urlo and Vita for taking the time to answer our questions so kindly. Thanks to Lauren at Rarely Unable for setting this up. New album "8" is out now on Neurot Recordings.
Find UFOMAMMUT on Facebook and their official website.
Last modified: 16 April 2018