Freed from their own chains,

THE MIDNIGHT GHOST TRAIN

'17 venture in new, unexpected paths. First and foremost, so that you fully understand what has led the self-proclaimed "heavy blues rock" outfit to record an album like Cypress Ave., I recommend you to read our previous interview with Steve Moss, the driving force at the forefront of this frantic train. The man – although able to make the ground rumble like Union Pacific's Big Boy – rather plays his blues the old school, acoustic way… Enough said. What's bred in the bones always comes out in the flesh.
When a band intends to push their own boundaries, new genres are often added to the mix, coloring it, spicing it up and giving it a new lease of life. THE MIDNIGHT GHOST TRAIN do the exact opposite: they try their hand at various genres from jazz to blues, to hip hop, while keeping the urge of releasing their Heavy fire. There are chances it confuses you, but you won't deny that they have considerably refined their songwriting and storytelling, Steve Moss taking its cue from Johnny Cash, slowing the pace to explode even harder of rage, angst or despair ("The Watcher's Nest", "Lemon Trees"). The shadow of Tom Waits looms. While vocals used to be cavernous and gritty on the previous album, they have become rawer, more tormented and solar, sometimes laid with restraint, and narrate the spleen of urban characters crushed by life, or modern western stories à la Tarantino ("The Echo"). Now that we're hooked, we beg for more.
Fans of the frenzied TMGT, rejoice: the holy trinity lies at the beginning of the album, including "Red Eyed Junkie Queen", a stoner rock totem that will rekindle memories of their wild, exhilarating previous outings. Grooves are unleashed by Mike Boyne's outstanding bass lines – who has passed on the torch to a new member after the release of their album.
Only the hip-hop incursion of "Boogie Down" (featuring Camp Lo's Sonny "This is It" Cheeba on the mic) and its brass section fail to enthrall, not because of its execution, but more because of its light-hearted and almost naive tone, coming out of the blue in the middle of a melancholic record.
THE MIDNIGHT GHOST TRAIN crafted the record they've always wanted to do: a 2017 heavy americana vintage. Still wild and passionate, the trio manages to take it down a notch, tell stories, and contain their fire to explode even better afterwards. THE MIDNIGHT GHOTS TRAIN stops by the Cypress Ave. station and take you on new music paths, where Cash and Tom Waits await. Hop in. Here at THC, we already grabbed our ticket.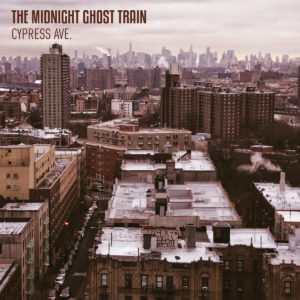 ARTIST: THE MIDNIGHT GHOST TRAIN
ALBUM: "Cypress Ave."
RELEASE DATE: 28th July 2017
LABEL: Napalm Records
GENRE: Heavy blues / Americana
MORE: Facebook / Bandcamp
Last modified: 29 September 2017