No doubt that this ultimate day at 
DESERTFEST LONDON 2015

 was the heaviest the festival has ever known. Three names to awaken your senses: Sleep, Acid King and Ufomammut. And while some of you went to spend their afternoon under darker and more metallic auspices at the Underworld and Black Heart in Camden, we at THC chose Mornington Crescent's heavy rock arena and its super solid performers Karma To Burn, My Sleeping Karma, XII Boar, and a few more. Here's your one-way ticket to the DF stoner madness… (TEXT: Thib and Beeho – PHOTOS: Gaël Mathieu)
MOANING CITIES @ PURPLE TURTLE
Sunday is the last day, so it has to be crazy by all means. Two new temples of heaviness are opening their doors today: the Purple Turtle club, and the magnificent Koko, which is so great it would deserve its name on the bill just like one of the bands playing. The crowd is still sparse as I'm entering the Purple Turtle to attend MOANING CITIES's show, a Belgian four piece act with strong 60's rock influences, reminding me of their hippie fellows Sudden Death Of Stars and USA's Comet Control. The vibe is veeeeery laid-back, the sound is soft with a sleepy voice and a sitar player sat on the floor. And when you thought it'd remain mellow and muffled all along, the sitarist finally stands up and grabs his electric guitar, the rhythm section suddenly awakens, and the show takes a whole new level, reaching brilliant garage rock climaxes. MOANING CITIES' soft grooves are now unleashed, and we're dancing like snakes hypnotized by their charmer… And when the band let it all go, we let it all go with them. Bravo!
I'M IN LOVE WITH THE KOKO… 
The Koko deserves a special paragraph – as the simple fact of discovering the place made me miss a bit of My Sleeping Karma's show, being too distracted by the never-ending corridors and nooks of this stunning Italian theatre on four levels, with a 1,400 people capacity. The Koko is all balconies, terraces, leather sofas, statues, chic bars, red walls and softened lights… Like a huge swappers club with a thirty meters clearance and a huge disco ball hanged above our heads. What an obscene confort for us poor rock bums, used to all-concrete dirty DIY clubs with overflowing toilets! On top of that, the sound here is amazing, crystal clear and powerful. I'd like my ashes to be spread here please, when I'll be found dead from attending too many killer gigs. — Thib
MY SLEEPING KARMA @ KOKO
Speaking of killer gigs, there's no better way in for me that MY SLEEPING KARMA's smoked-out set to plunge straight into Koko's royal antrum. And to be honest, the German psych foursome was just MADE to play here. In a darkness worthy of a stoner monastery, instrumental whirls are progressively infiltrating our brains, while Seppi and Matte's herculean silhouettes are fervently swaying from left to right, like devoured by the groove. The venue's sound does justice to MY SLEEPING KARMA's music in the most stunning way, and it may be the greatest place the band has ever had the chance to play. The performance is hypnotizing – and I'm sorry for all the nappers in the sofas who are too hangover to see this. MSK's songs are such, that I can't really tell you if they played some songs off their new album Moksha, however the band wins over the Desertfest crowd, hands down. Very nice appetizer, this psych rock spiral from Germany!
XII BOAR @ PURPLE TURTLE
Let's take a 90-degree sonic turn now: next stop is the Purple Turtle just across the street! And as Thib said, this is really a cool club, way more inviting than the Underworld (where we won't set foot today, for practical reasons). UK's one and only XII BOAR are already on stage when we get in, their frontman Tommy Hardrocks bantering with the crowd, telling how awesome Brant Bjork was last night, to the point where many girls certainly ruined their underwear! Now time for some serious business with these three rock'n'roll guerilleros who, if it wasn't for this thick British accent of theirs, would seem to be directly imported from Tennessee. Musically speaking, their ballsy tunes find themselves right in between Motörhead and Clutch. Deep and husky vocals, headbang-inducing songs with a lot of groove: XII BOAR bring the heat proper, jumping up and down and warming up a crowd that has been a bit too sleepy since then. Fuck yeaaaah! — Beeho
KARMA TO BURN @ KOKO
What a shock! Given the painful souvenir I had of their Hellfest 2013 performance and my long-time indifference to their music, I wasn't prepared in the least to what just hit my silly face. Guitarist Will Mecum is putting on an absolutely conquering and dominating show, alongside with an unleashed Evan Devine (drums). With one hell of a flawless and implacable setlist, KARMA TO BURN reasserts the all-might of the American alpha male, showing us what the Gibson/Marshall combination does best. With his baseball cap tight on his head, Mecum stands as a great showman without overacting it, multiplying poses and holding the audience in his hands. The trio – with their new bassist Eric Clutter – works like a well-oiled, powerful machine. Rock'n'roll at its best, performed with an obvious will to corrupt this beautiful classy place with nasty and dirty vibes. This show wasn't even part of my schedule, and it ended to be my #1 performance of the whole weekend. When KARMA TO BURN works, it works hard.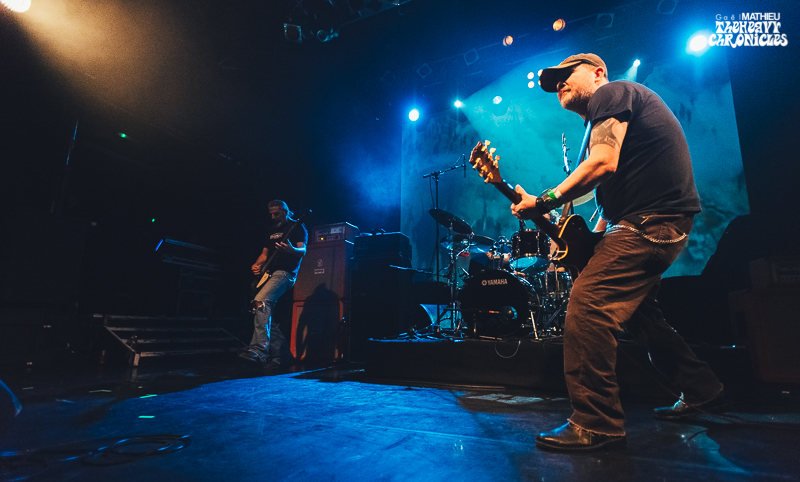 ACID KING @ KOKO
Ouch. The comedown feels terrible after KTB's brilliant show. ACID KING might be an absolute classic for every stonehead on earth, but tonight they sound quite unexciting compared to the greatness and energy of the previous act. It's sounds so looooong, feeeeble and duuuuull, that I completely disregard the spiritual and introspective side of their music and make my way outside, in order to keep alive a bit of KTB's magic in my distorsion-junkie mind. Needless to say that ACID KING can't fundamentally put on a bad performance, but it could have been a better idea to put them slightly earlier on the running order… My two cents!
THE ORDER OF ISRAFEL @ PURPLE TURTLE
Once outside, I wander amongst the pierced folks and flashy colored hair, stepping over sleeping drunks on the sidewalk… Then I feel thirsty and rush into a crowded Purple Turtle club, which beers are rather affordable. At first, I don't notice the high rate of female attendees, simply trying to reach the bar while listening to THE ORDER OF ISRAFEL. Their old school doom tunes are quite in the same vein as Candlemass, with Tom Sutton (ex-Church Of Misery) on guitar and vocals. Songs are heavy as a tombstone, with a serious vintage approach and a subtle second degree – e.g Patrik Andersson Winberg's grandiloquent gestures – that makes it kind of fun.
At this point I'm thinking "that's fun, they're all wear jeans in this band"… and all of a sudden I see it. It's there, huge and insolently exposed to our eyes: Tom Sutton's package. I now get what has been mesmerizing so many people here. I believe that the power of THE ORDER OF ISRAEL FALAFEL ISRAFEL lies in tight jeans. Young females and males in the audience have no other choice than bowing to the mighty power of denim, then submit to the satanic vibrations of the Swedish. Eros and Thanatos gathered under the guidance of Satan. More seriously, apart from a few kickass thrash accelerations and Sutton's cool guitar solos – all very well balanced between shredding skills, old school doom and charisma, both the music and performance are devoid of surprise. A nice and unpretentious Black Sabbath tribute moment.
UFOMAMMUT @ KOKO
We expected things to get serious with UFOMAMMUT (and it did), but not quite the way the band wanted, for sure! The pressure is rising at Koko: a huge screen streaming psychedelic footage hides the stage from the pit during soundchecks… Then the curtain slowly unveils the Italian trio, who kicks off their crushing show with "Somnium", determined to kick everyone in the teeth and make them bleed for eternity. Yet suddenly, guitarist Poia's massive pedalboard breaks down: no more sound, nothing. Something in this jumble of cables and circuits just chose the worst moment to crash. The silence that follows is unbearable, while the poor guy is just dripping in sweat trying to figure out what's happening. No drum/bass jam to fill the void, no joke on the mic: just ten long minutes of silence during which the audience proves to be very supportive, cheering the band up and all.
Problem solved, let's move on! The band starts anew, tenfold angrier. UFOMAMMUT is MASSIVE (and if you checked out their last LP Ecate, then you know what it means), true to their reputation, both cosmic and crushing, showcasing their force in a brilliant way. After "Somnium", "Plouton" is next, loud and innards-tickling. Even with moulded earplugs, I'll end up with one hell of a tinnitus and colored shapes floating before my eyes. Apart from a gloomy break on "Plouton", this maelstrom of raw heaviness and psychedelic whirls remains quite homogeneous and breather-free. Bassist & vocalist Urlo's screams are drowned in distorsion and reverb, while drummer Vita rules as a charismatic emperor at the center of the stage, under a glorifying light show. And when things get heavier, Urlo's long hair is banging along with the crowd's, in an impressive movement of primitive doom fury.
A few lines above, I mentioned seeing colors before my eyes after the gig because of the massive headbanging (call it a trance), especially on the widely extended last song "God", its repetitive and brutal riffage leading to a moshpit that involved 50% of girls. After three days of high decibel delivery, dozens of pints, shorts nights, resistance is pointless. Two more minutes and the Koko floor would look like a slaughter scene, with dozens of people convulsing on the floor in their own blood. Tomorrow's front pages would be: "DESERTFEST: they killed their audience with doom metal". 
SLEEP @ KOKO
The coup de grace comes from the mighty masters of stoner and doom in the most perfect place ever. Experiencing SLEEP at Koko is something I'll take to my grave. Pressure is rising again with a soundtrack taken off Apollo 11's radio communication archives, reminding those artworks SLEEP's has kept releasing since the announcement of a reunion with Neurosis' Jason Roeder on drums. We're all bathing in a strange and exciting atmosphere of mass devition, it's hard to describe. Expectations are huge and the air is filled with electricity, giving us goosebumps from the beginning to the very end of the trio's massive show. One hour and a half with SLEEP, including mosh, crowdsurfing, heavy crowd movements and ovations. The ogresque Matt Pike is enjoying himself a lot, Al Cisneros is just, well, playing bass, and Jason Roeder is holding up the show with his incredible drum playing, all at once steady, tense and amazingly cool.
Ufomammut prepared the take-off and put all their strength in it, SLEEP is now putting us into orbit and looking after us during this interstellar journey, with the first part of Dopesmoker to begin with. "The Clarity" intro follows under a massive cheering from the audience, this is their newest song since… holy shit, 1996! All good, guys? Not too tired writing songs, eh? "Dragonaut" follows up, and our American friends know exactly what they're doing: nuking the audience. SLEEP might be a classic, an old band, their shows have always been special, radical and demanding experiences. I don't have much more to write, except that it's the perfect mass to wrap up these three days, Desertfest couldn't have done it a better way. It was a beautifully intense communion between the band and their audience, which ended on an apotheosis: another chapter off Dopesmoker, "Cultivator/Improved Morris". Where am I? Am I dead already? I see my body beneath me headbanging heavily. — Thib
STEAK & AFTERPARTY @ PURPLE TURTLE
When some people are heading back up to the Underworld to catch Angel Witch – eventually treating themselves to a 100% metal party afterwards – I wend my way to Purple Turtle to attend the closing party with STEAK. We're far more than expected to come and support UK's emblematic stoner rockers, who put on a raging show with a special – and drunken? – appearance of War Drum's guitarist on the last part of the set. Testosterone levels are raising peaks, crowdsurfers are covering us in sweat, while our fave Brits treat us to their mighty cover of Kyuss' "Fatso Forgotso (phase 2)" to wrap it all up… the desert way.
From midnight, the Desertfest's mascot – the man with the luchador mask, el Super Nacho – DJ HARRIS takes over the club with some all-time favorites: "War Pigs", Goatsnake, Slo Burn, Orange Goblin… while dancers have merrily taken over the floor in a unbreathable and sweaty, yet super brotherly atmosphere. And when the curfew bell tolls, he spins one last and fiery "Electric Worry", during which he stagedives (twice!) from a 11 feet tall speaker. There's no nuttier way to make the people happy, like, the nuttiest ending ever.
It's now three in the morning, we're politely asked to clear the club and none of us really wants to sleep or go back to the hostel. "There should have been a fourth day", say some guys in the street. I'm telling you: DESERTFEST LONDON 2015 was a blast. — Beeho
THREE DAYS IS NOT ENOUGH…
What is Desertfest in the end? First, it's a community of passionate people united by a common legacy: 50% Black Sabbath, 50% Kyuss, a shared devotion towards the mighty Gods of Distortion, and an obvious penchant for pot. Simple ingredients that result in the gathering of cool, respectful and loyal people ready to spend their hard-earned money in hazardous trips across the globe to attend such events. Whether they're from Paris, Los Angeles, Ceske Budejovice or Istanbul, all have a common language: the mighty riff, weed, the euphoria of an astral plunge into the warmth of an Orange amp, stacked on another Orange amp, itself stacked on another Orange amp… Camden Town may be a peculiar background for this great event, yet the DESERTFEST's venues undoubtedly have a soul, and hanging around here for three days in the middle of this great cosmopolitan community of long haired peeps with shabby band shirts, was a genuine privilege. I have a heavy heart as I'm leaving Camden. Desertfest London, we'll be back! — Thib
READ ABOUT THE FRIDAY AND SATURDAY 
Last modified: 11 July 2015