JOHN GARCIA

 bringing his solo project « Playing past & present Kyuss to Slo Burn » to 

Le Ferrailleur in Nantes, France

? It was an absolute save the date for many French stoner fans. Proof that Bretons know their music well: the show was already sold-out a month ago, much to the delight of local promoter Bluewave Prod. For this special tour, the desert rock legend brought along his British protégés 

STEAK

 and Dutch noisemongers 

KOMATSU

… We were definitely in for a treat. (PHOTOS: Gaël Mathieu – TEXT: Gaël & Thib)


As I arrive under a bright sun at Le Ferrailleur in Nantes, I quickly stumble upon Garcia and Steak's French booking agent, Nico of Dead Pig Ent. The man is in a great mood, and for good reason: the feedback coming from the Garcia team is pretty good, despite a few issues with their tour bus – they got stuck about eight hours on the motorway's rest area – and rather inadequate hospitality from some Spanish promoters. Most eyes are ringed with fatigue, but everyone looks happy and keeps it professional, no matter what. 

Soundcheck begins on some roaring fuzzy guitars, and I even get treated to an improvised rehearsal of Slo Burn's landmark track "July", which features Mo from Komatsu as a guest. I venture to bother Mr Garcia in order to take a few portraits shots, which makes me miss Komatsu's soundcheck by a matter of minutes. After Steak soundchecked, the guys tell me that they invited a new bassist to join them on the second leg of the tour, to fill in for Cam who had to head back to the UK for professional duties. They make the most of their spare time here to rehearse a little bit. Here's an insight into this very afternoon at Le Ferrailleur:

Doors finally open and attendees slowly but surely start to get inside the venue, after what STEAK take the stage. Our Brits give their all, John is plainly focused on his playing while the three others reveal a great on-stage confidence. The performance is driven by a lot of energy but unfortunately, the context is not optimum for them: the venue isn't packed yet, and their set doesn't last more than 30 minutes – plus, the sound isn't really at its best – so it's quite hard for me to form an opinion. Either way, people in the audience are digging it and headbanging. I think the fact I've missed out their shows quite a few times, it was my first time seeing Steak so I had really high expectations. I'm however left with a good impression of genuinely driven performers, good riffs and inspired songwriting, and I'm craving to see them again as a headliner, or at least, in better conditions!
Hailing from Eindhoven, KOMATSU left us with a mixed feeling. Musically speaking, they're pretty much sitting on the fence and don't manage to take the listener anywhere, giving us a sludgy taste without showcasing any particular influence in their sound. It's a bit like listening to a serie of cool riffs (which isn't a bad thing in absolute terms), yet their personality is definitely cast aside. Their super down-tuned guitars remind me a little bit of Torche, some parts are downright doomy in their primal heaviness, while rhythms bring the oh-so-sweet desert's sound to mind… But none of this is marked by a unique imprint that would help KOMASTU stand out from the crowd. That's too bad, because these guys show a real savoir-faire when it comes to delivering catchy riffage, and also have an obvious baggage as members of the US heavy/dirty music scene. 
Gig-wise, apart from a guitarist who remains quite static, the band delivers a strong performance and prove to be mastering their art – shout out to their heavy-as-fvck bassist, who is lots of fun to watch and whose enthusiasm is contagious. A few songs stand out by the hard and sullen headbanging they induce (like the very Mastodon-esque "Blackwater"), a few riffs sound graceful enough to enthrall us ("Hail To The King", which is dedicated to Mr. Garcia), and overall, we're having a good time with the Dutch, even though their memory won't remain long enough after the set change.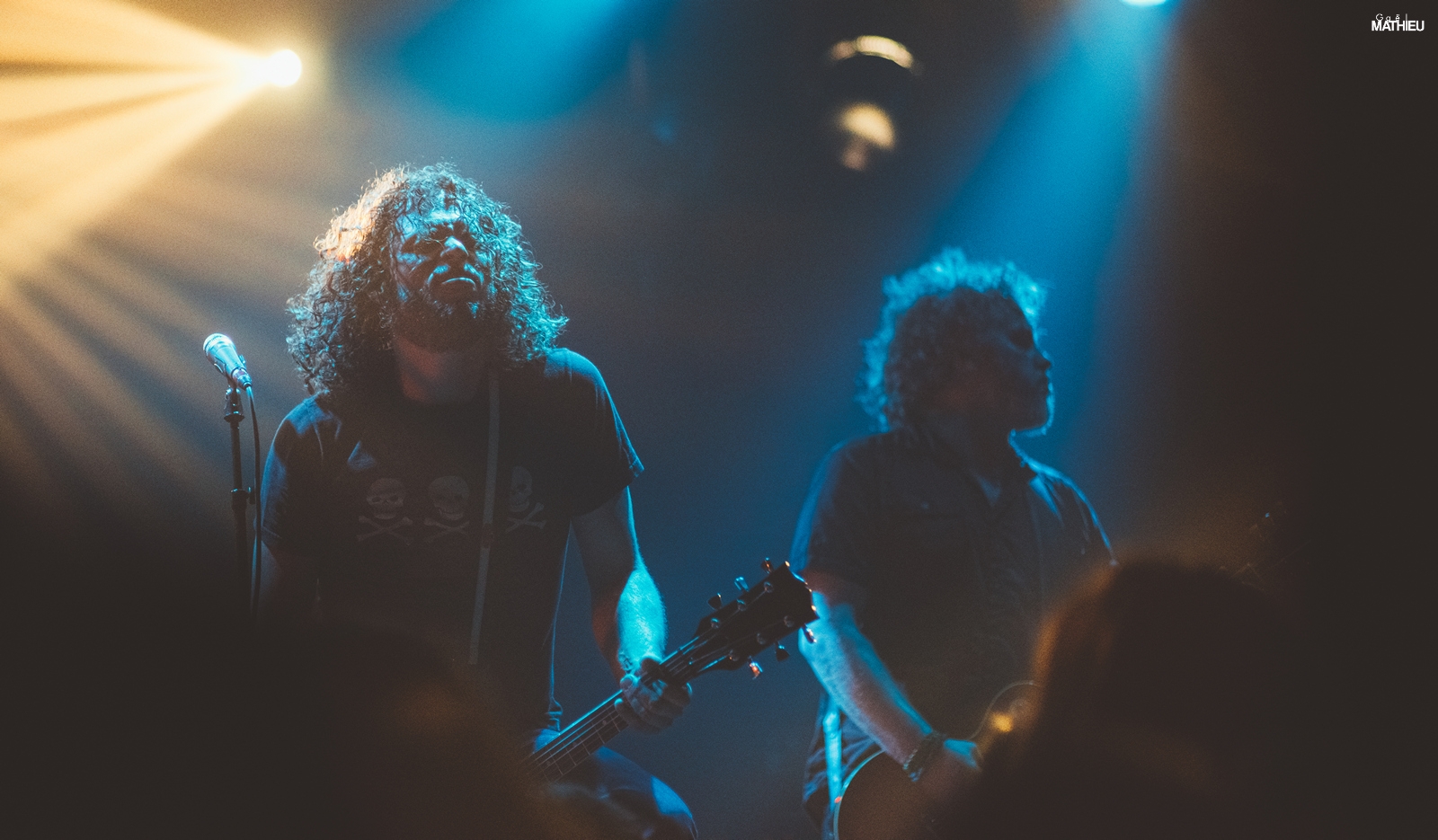 Now, time to make way for JOHN GARCIA and his fellow old-timers from the Californian rock scene. Let's make a quick introduction: Greg Saenz on drums (his name may not ring a bell, but the man has worked with Mike Muir, Kreator, Jesse Hugues, and he also plays in The Dwarves and You Know Who), Mike Pygmie of Mondo Generator/You Know Who on bass, and Ehren Groban on guitar. The Palm Desert coyotes start their set on Kyuss' mighty "Caterpillar March": there is no better way to commence hostilities, show people who's the boss, please the fans and set the pace. Although tonight's show mostly highlights John Garcia's solo record (released a couple of months ago on Napalm Records), no less than eight Kyuss songs are being covered, each one of them being enthusiastically welcomed by the packed crowd. John looks happy to be here and plays the "quiet force" card: as usual, he doesn't need to overact in order to just cause waves of euphoria in the room. He's like almost possessed by his music, deeply into his performance and absolutely doing justice to his status of genuine and forceful vocalist. The artist who's standing in front of us tonight is 5,000 miles (!) far from that young Kyuss singer who used to be stoned as hell on stage: he's now a very complete vocalist, deeply concerned with delivering the best to his crowd.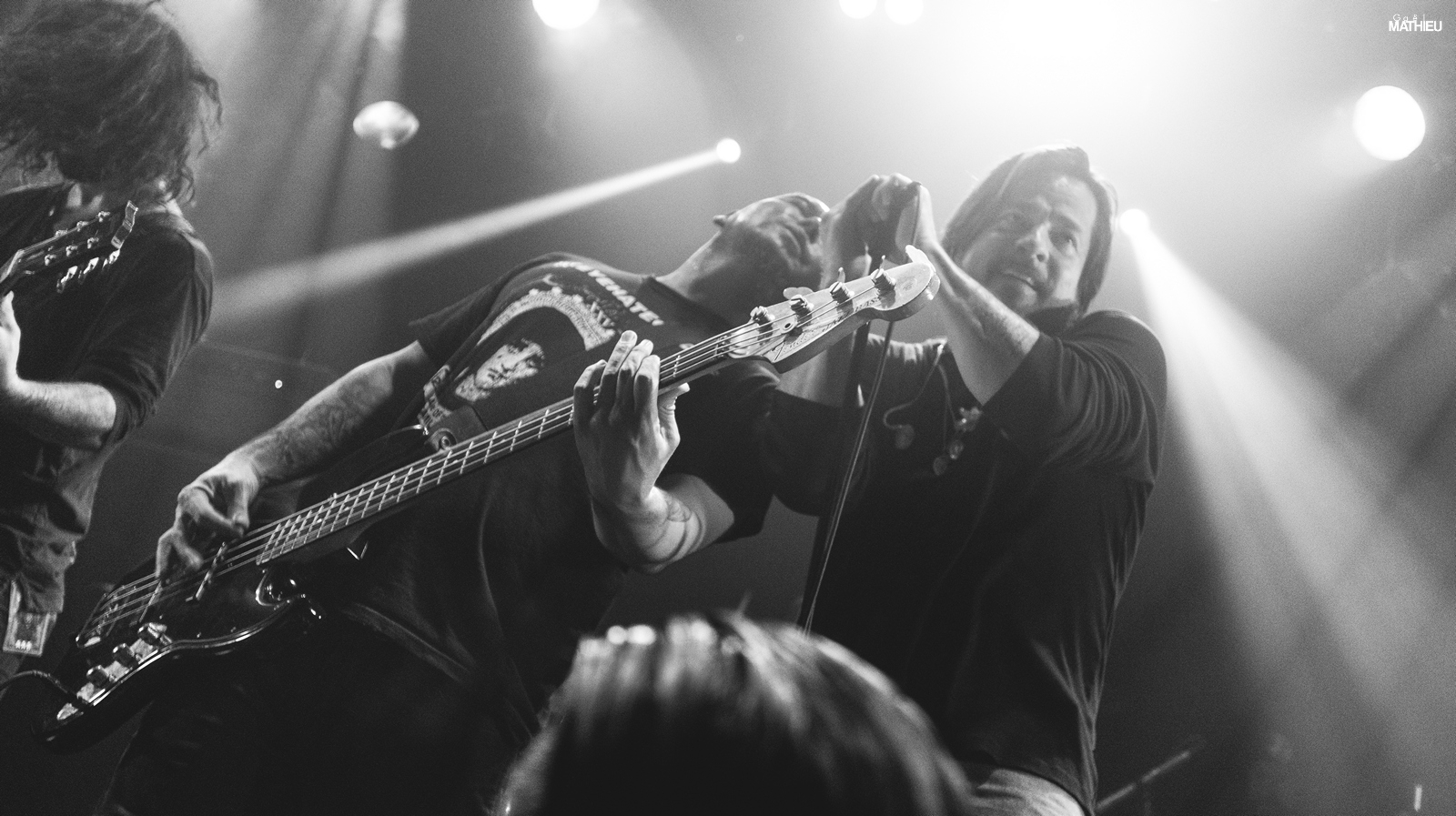 Regarding the "John Garcia solo" part of the gig, we deplore that the setlist is only made of "smooth" songs, especially when you think of Hermano's killer gigs back in the days. That being said, JG's killer new track "5000 miles" makes an impression, it's flowing so perfectly that it sounds like Brant Björk himself could have written it. Garcia's band kind of keep a low profile: no grand gesture or extravagant gimmickry, unless the frontman pushes them in that way – as during this hulking gritty instrumental at the end of the set. John leaves the stage while the band keeps jamming wildly. I don't know where this song came from, but I sure know where it went: straight in our faces. WOW. It sounds as raw and ginormous as Weedeater and Dozer put together, that goes to show the heaviness!
On the Kyuss and Slo Burn side of things: nothing but classics. The crowd is revved up and sings along every goddamn song. Let's point at this overhauled and extended rendition of "El Rodeo", one that will go down in history for sure. All Kyuss songs are slightly reworked, sometimes for better ("El Rodeo"), sometimes for worse ("Whitewater"). The crowd gets ecstatic during the last part of the set (a double Slo Burn flavor with "July" and "All These Walls"/"Cactus Jumper"), while the encore causes damages in the pit, with beer spilled all over the floor, crowdsurfing fails and singing moshers. "Supa Scoopa & Mighty Scoop" as well as the absolute classic "Green Machine" terminate the fans, who now can't stop dancing and singing along. "Whitewater" makes us come down to earth a little bit, as the song – which is wonderful on record – doesn't do the trick live. The party could have ended on that subdued track, but that's fortunately not the case, given the overall enthusiasm among the sweaty and satisfied attendees. Yet another victory by JOHN GARCIA !

SETLIST :
Caterpillar March (Kyuss)
Rolling Stoned
One Inch Man (Kyuss)
My Mind
5000 Miles
The Blvd
Gloria Lewis (Kyuss)
Flower
El Rodeo (Kyuss)
Argleben
Space Vato 
Saddleback
800 (Kyuss)
July (Slo Burn)
All These Walls (aka Cactus Jumper)
ENCORE :
Supa Scoopa and Mighty Scoop (Kyuss)
Green Machine (Kyuss)
Whitewater (Kyuss)
Last modified: 11 July 2015