Since the year has started, rock and metal reviewers have been snowed under with album releases of all kinds. Bad thing with this kind of situation is, you need loads of time and energy to fill your duty and feed readers with some witty points of view. Cool thing is, the 2014 vintage has already reached levels of excellency during the first half of the year, with
Greenleaf, Wo Fat, Eyehategod, Radio Moscow, Dean Allen Foyd, Black Bombaim and more

. And as I wanted to make the exploration easier, I decided to sort this round-up in three categories: 

rock, vintage stuff and doom

. As said before, expect some high level already…
Inside the Temple of Rock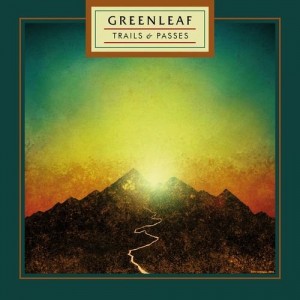 GREENLEAF « Trails & Passes » (Small Stone Records)
Needless to introduce GREENLEAF to all the fans of Scandinavian rock out there, but in case you'd be totally discovering the band: this is a supergroup founded by Dozer's guitarist Tommi Hallappa and which lineup successively included vocalists from Lowrider, Dozer or even Truckfighters (the elite of Swedish stoner rock, in some way). Now that the lineup has been tightly gathered around new vocalist Arvid Jonsson, the boys offer an incredibly refreshing sixth record with "Trails & Passes", conveying a huge amount of positive vibrations from beginning to end. Travelling in a kaleidoscope of fuzz-laden 70's rock influences, the Swedish outfit delivers a shimmering and vibrating record: "Trails & Passes" is all about letting go for us as for them, to the point where we can't help jumping and dancing around in our living room, or even running naked in wheat fields (your call!). It could be the soundtrack for a big pagan party, a celebration to the glory of a damn well-crafted and fun-driven rock, the kind we'd need to fill our ears with more. The return of GREENLEAF proves to be a total success!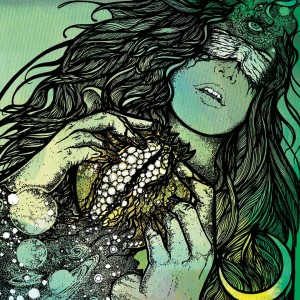 DWELLERS "Pagan Fruit" (Small Stone Records)
Small Stone Records or "the art of systematically unearthing absolute music treasures". Salt Lake City's trio DWELLERS makes us reach peaks of impressiveness, a little bit as for a National Geographic footage for rock. I mean, you can already properly fill your imagination, with song titles like "Rare Eagle", "Devoured By Lions" or "Return To The Sky", so when the sound that comes with those is so delicate and beautifully built, well it instantly makes you shed a tear of joy. The press file describes the band's influences as "ranging from Hawkwind to Soundgarden, Monster Magnet to Captain Beyond, Sons Of Otis to the Screaming Trees". It is true that "Pagan Fruit" is inhabited by the 90's, but if there's something that really stroke me more than anything with this band – beyond their devouring riffs and organic production – it's Joey Toscano's hoarse and powerful vocals… Layne Staley, is that you? At times cracking and spectacular, at times fragile and intoxicating, "Pagan Fruit" disarms us and makes us float against the tide of over-thought and over-produced concept albums. We've just attained a new level here, as when touching something that has been taken away from us for too long, like reconnecting to Rock Music in its darkest and most enthralling form. "Pagan Fruit" will count without a doubt as one of the landmarks albums of this year 2014.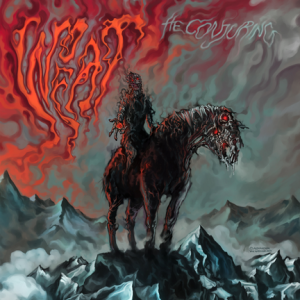 WO FAT "The Conjuring" (Small Stone Records)
WO FAT. A name that is a statement of its own. When choosing this moniker, these guys weren't claiming any unconfessed passion for Chinese martial arts movies, I think they were in fact describing people's reactions, when hearing their sound. I sometimes even wonder if the word "fat" wasn't invented for them… So yeah, the heavy blues BBQ outfit from Dallas is back with five badass tracks wrapped in a no less explicit artwork, and although the recipe remains the same as on the two previous records, this high dose of greasy rock won't make you feel sick at all. Most of the time, riffs are getting sluggish, but they're always held by the trio's mammoth rhythm section. "The Conjuring" is all about grease, fuzz, more fuzz, slide guitar, evil lyrics, and a blatant tendency to throw the listener into 20 minutes jams when they feel like doing so (like the unsettling yet oh so delightful "Dreamwalker" at the end of the record). "The Conjuring" is a one way ticket to a hell of a trip in the world of crossroads, aka a massive smoked out party with all the guys to whom it costed life. If you're not afraid of feeling either full or terribly hangover, then slide this record into your disc player and get a full-on dose of stoner blues for the rest of the year. TASTY.
Vintage goodies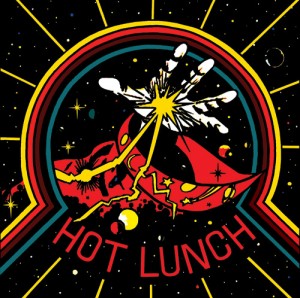 HOT LUNCH « House Of Whispers » (Heavy Psych Sounds)
In keeping with authentic Californian outfits who like to drive us completely crazy with their trademark 70's heavy punk sound, Bay Area punk'n'rollers HOT LUNCH are defo the new hottest kids in town. As fond of shredding dried dogbowls as their loco friends The Shrine, HOT LUNCH aren't very well-known here in Europe, but I have no doubt that a quick Euro tour in support of this lovely album would make their popularity rise in a short time. These guys are no posers, too busy to strike our chord with a music that is equally influenced by skate garage punk and 70's heavy rock à la Leaf Hound and Highway Robbery. "House Of Whispers" provides some freaking good rock'n'roll filled with fuzz, and hits you like a right in the face, basically. Five über punchy and well-crafted songs, catchy hooks, good vibes all the way through: this is all you can expect from this record. "House Of Whispers" has everything to become the soundtrack for your summer, the one you'll listen at full blast in your headphones, while people will be wondering why you have such a dumb smile on your face. And you won't give a flying fuck, because you will be listening to one the coolest rock'n'roll album of the summer, whereas they won't. Boom.
DEAN ALLEN FOYD « Sunshine / Devil's Path EP » (H42 Records / Crusher Records)
Many people tend to forget that the quality of an EP mainly rests upon a real effort of efficiency in songwriting. Giving all you've got in a small handful of tracks, lighting a spark in the listener's heart, getting the respect of your scene: this is, in my humble opinion, what an EP is all about. I knew DEAN ALLEN FOYD only by name before I was sent a promo copy of their new 7″ EP released on German music H42 Records, and I don't regret a single second of the experience, for these two songs are wild, electrifying, and exhilarating as it is possible to be. The dandy foursome from Stockholm put all their soul – as well as loads of acid – into this amazing record, offering us a 20 minutes long psyche-country-rock'n'roll trip that I'd wish it would never come to an end. If the price to pay for endlessly enjoying such an exquisite moment of rock is a one way ticket to Hell, then I'm in. Hmm okay, the repeat button can work just fine, too. First track "Sunshine" kicks some serious ass, spreading a feeling of Blue Cheer giving Grandfunk Railroad a proper thrashing – or is it the contrary? – with a serious "no fucks given" attitude. "Devil's Path" certainly is the gem of this EP, with a sublime intro that blends a funereal cello with a mysterious sitar, followed by convolutions of slide guitar, honkytonk piano, and basically an outburst of joyous riffage. Hell yeah, this "psyche cowboy" record is like some sort of new experimental drug, if not the healthiest to be found around…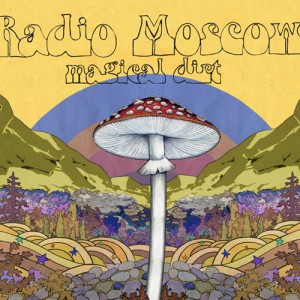 RADIO MOSCOW « Magical Dirt » (Alive Records)
To me, RADIO MOSCOW is the perfect representation of the idiom "they haven't reinvented the wheel, but daaammn, they can roll it!". While Parker Griggs perfectly embodies the über gifted and hyperactive multi-instrumentalist who knows exactly what's best for him and his band (I mean, musically speaking), the lineup has finally stabilized around drummer Paul Marrone and bassist Anthony Meier. I don't actually know the story behind the making of "Magical Dirt", and to be honest I didn't care much when I started writing this review, because this record displays such an incredible amount of shimmering colors, its guitar licks catch you so swiftly… that ultimately, who would care about the ins and outs? To all the people who loved the singles reservoir that "Brain Cycles" is, here: "Magical Dirt" was cast in the same mould. The electric boogie blues dispensed by RADIO MOSCOW conveys a flamboyant energy from beginning to end, from which we can already take off a few hit songs like "Death Of A Queen", "These Days" or that kind of funky "Bridges". Self-confidence and complicity were certainly the key elements in the songwriting of this new album, for good vibes show up at any moment. Party anthems being displayed by a trio of hard-partying fellas, what a delight it is.
Doom & sludge motherfuckers
EYEHATEGOD "Eyehategod" (Emetic / Housecore Records)
It's hard, like really hard, not to use superlatives when describing this long-awaited new EYEHATEGOD record. I even wondered if the urge to use them wasn't due to withdrawal (14 years, for fuck's sake!). "Eyehategod" is simply and truly one of the best records the New Orleans outfit has EVER put out to date. When the four last records were evolving in a faltering state of brutality, making of this sensation of constant intoxication the trademark of EHG, their fifth album reaches brand new heights of violence, but most importantly of determination. Never Mixe IX Williams and the fam' have ever seemed so… say, musically "happy" with themselves. As if after 25 years of chronic setbacks, the band was finally holding their head high and knew where the fuck they were going. Punk songs has never felt so punk ("Agitation! Propaganda!", "Framed To The Wall") – Henri Rollins might have made it his new fave lullaby – and we won't deny ourselves the pleasure of hearing one last time Joe LaCaze (RIP) unleash his fucking fury on drums. Special mention to "Flags & Cities Bound" for bringing about spoken word over a huge wall of feedback: only Mike IX could execute such a concept and turn it into a time bomb. Until NOLA's mighty five piece will be up to set European stages on fire, let's just feast with this 100% cathartic and absolutely brilliant album. EYEHATEGOD are great, EYEHATEGOD are kings. Hats off to the outright masters of American sludge metal.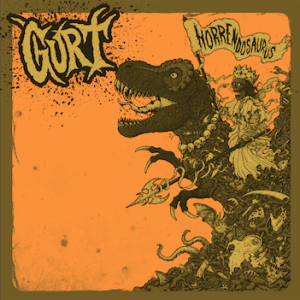 GURT « Horrendosaurus » (When Planet Collides)
Coming straight from the guts of London's heavy-mongers GURT, their new album was 100% self-released (oh yeah, and without the help of any stupid crowdfunding), and it's possibly their greatest record to date, if not a real achievement for this band who's always been living their music with so much passion. "Horrendosaurus" is a sludge record at heart, with hints of blues and crust punk on the edges; it's a record that showcases the band's ability to write a wide variety of songs, while keeping a round and warm sound and sophisticated atmospheres all the way through. At the same time, GURT are progressively getting away from this strictly swamp sludge sound of their beginnings (as well as from any comparison with legendary british sludge outfit Iron Monkey). I don't know how roughly you like taking a beating, but I can tell you this one will last three quarter of an hour at the least, and that you'll LOVE it. And because "Horrendosaurus" ain't stupid nor nasty, it comes up with loads of badass stories, which far-fetched titles will prove you once again that GURT has a unique off-the-wall humour and approach. As you can well imagine, "Horrendosaurus" is a dark and singular sludge record, nonetheless it's also highly entertaining on its whole. To all the peeps out there who're fond of thick metal, but also fed up with hearing the same fucking monotonous riff patterns 24/7: GURT's groove will grab your cojones tight and won't let you go until you surrender to the mighty beast.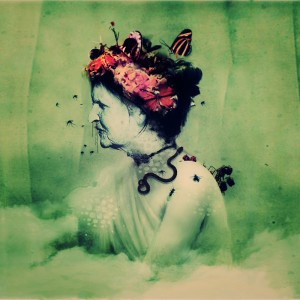 MONOLORD "Empress Rising" (EasyRider Records)
After the occult Salem's Pot, independent music label EasyRider (which, for some reason, is now named Riding Easy Records) is back with a new doom production hailing from the North: MONOLORD. The idea here is not to bring about some downright unseen type of sound, it's more a matter of who will hit the hardest and the slowest. Indeed, MONOLORD are more into the thick-as-fuck-stoner-doom propaganda than into the never-ending-psyche-solos side of things. Thanks to their creeping and insidiously world-blowing riffs, the Swedish will make you trip your balls off for 45 minutes without the help of any substance: your mind will lose itself somewhere in the dark, while your body will be tossed about like a meaningless bunch of flesh and bones, crushed by the Lord's mighty power. Each song of "Empress Rising" hits like a fucking earthquake, turning your innards inside out. An album that is reminiscent of Electric Wizard, Church Of Misery and even of their label mates Salem's Pot, can be nothing but a good one. This first MONOLORD full-length is more than convincing, and poses itself as one of the most killer stoner doom releases of the year.
Unlisted – somewhere out in the cosmos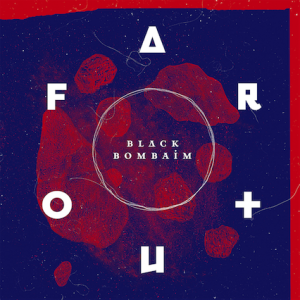 BLACK BOMBAIM "Far Out" (Lovers & Lollypops / Cardinal Fuzz)
BLACK BOMBAIM : a band who, if you have ever heard a slightest bit of their work, immediately evokes an invitation to travelling. Two years after the release of the amazing "Titans", which offered a sheer jam session featuring many prestigious guests (including Isaiah Mitchell of Earthless fame, or Stooges saxophone player Steve Mackay), the Barcelos instrumental trio is back with a record that explores even more spectacular horizons. Self-released on the band's own label Lovers & Lollypops, "Far Out" consists of mind-travelling jams that borrow influences to space rock as much as to the afro-jazz culture, all this being driven by extremely dynamic rhythms and ever-present warm bass tones. Hard to describe the exact sensations provided with "Africa II" et "Arabia" (yet the names pretty much speak for themselves), but let's just say that… we instantly break free. I wouldn't be surprised if the band was claiming epic cosmic jammers Earthless as a main influence, however, BLACK BOMBAIM cross more music boundaries than any other psyche/space rock band around these days, and that is exactly why they deserve all your attention right now.
3 MORE 2014 ESSENTIALS TO READ ABOUT:
Last modified: 10 February 2015