If there's one thing this world will never get enough, it's real badass rock'n'roll. In 2013, Clutch were proudly bearing the standard of a groovy manly rock filled with catchy riffs, with their fantastic "Earth Rocker". There's no doubt that in 2014,

MOS GENERATOR

 will take the helm with their brand new album "Electric Mountain Majesty". Are the United States of Rock'n'Roll finally ready to get back their former glory? Hell yeah.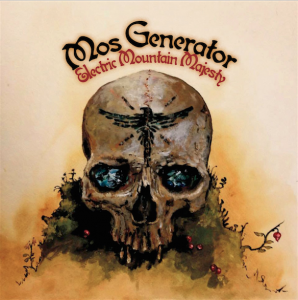 ARTIST : Mos Generator
ALBUM : "Electric Mountain Majesty"
RELEASE DATE : April 15th, 2014
LABEL : Listenable Records
GENRE : Heavy rock'n'roll
MORE : Facebook – Shop
And if there's one thing we'll never run out in this world, it's rock bands. They're burgeoning everyday everywhere, like proliferating. But when comes the time to make balance, few are the contenders who can brag about their excellency. Formed 13 years ago in Port Orchard, Washington, by the three hyperactive musicians Tony Reed, Shawn Johnson and Scooter Haslip, MOS GENERATOR have had a remarkable music path (with five records and countless EPs and split collaborations), yet they've enjoyed recognition only amongst the underground community. With an extensive European tour alongside Saint Vitus last year, and their recent signing on Europe's fine metal label Listenable Records, it won't take too long before the band finally initiates a take-off… worthy of this hell of a record I have in my hands right now.
Listening to "Electric Mountain Majesty" is like drinking Trappist beer after a whole summer spent drinking shitty beer at festivals: firstly, a genuine and full-bodied taste hits you, then you have this great feeling of experiencing something rare, when you realize you're part of a happy few who knows the good things of life. As soon as the record spins on the turntable, you're struck by an electric shock: the galloping "Beyond The Whip" is so rock'n'roll that natural selection operates straight up. Fake rock'n'rollers are kicked off the wagon by a debauchery of raw power and insane riffage, hammering grooves and burning growls. Put together a great osmosis between those three fellas, solid songwriting skills, Tony Reed's crazy solos and flaming vocals, and you'll get a formidable sonic earthquake. Which you'll enjoy from start to finish.
However, power and craziness are not on the menu 24/7 on this incredible record, proof of this being "Nothing Left But Night", a mid-tempo song filled with brilliant guitar solos that ooze the nastiness of a bikers' strip-club. Whether it's with mammoth tempos hammered by riff layers that will fill all your body cavities ("Neon Nightmare", "Spectres"), or massive adrenaline rushes ("Breaker", "Electric Mountain Majesty"), the trio always brilliantly unites melodic hard rock moments with heavier influences. And heavy as hell you'll get, with the exquisite "Black Magic Mirror", which actually kind of becomes one with outro track "Heavy Ritual" (this tune is THE BOMB). With Tony Reed's top-level work on production – his trademark being this super powerful and round sound – this album gets an even more genuine and timeless feel, and there's no doubt it has its place on the best-of rack of your record collection.
There is something that makes of MOS GENERATOR a very special band among the family of "ballsy" heavy rock acts. Usually, when listening to any band of this genre, you'd be like "wooow, they sound so cool, what a bunch of badasses, damn, they know how to make a proper use of Big Muff pedals". MOS GENERATOR's music naturally exudes something incredibly intense and manly, additive free. To be honest, I haven't felt such riff and human warmth since Corrosion Of Conformity's classic album "Deliverance". By the way, if I had to classify MG's music, I would put them right in-between Clutch's bluesy energy and COC's doomy rock, two strong defenders of the "we don't give a fuck, let's just jam on some good heavy riffs" motto. You feel the testosterone, now? I wasn't bored for a single second while listening to the record, and more than once I did put it on repeat after the last song, I banged my head, I enjoyed it from beginning until the end: "Electric Mountain Majesty" will have to be counted among the best rock releases of 2014, without a doubt.
Last modified: 11 February 2015