When I was offered to interview UNIDA in London, I took it like a one in a lifetime opportunity. Because UNIDA is one of those bands who release a fucking classic, then vanish in the limbs. That's how you enter history, after all.

UNIDA is by far the sexiest music act in which the legendary John Garcia has been involved, ever

. Their amazingly groovy and catchy record Coping with the Urban Coyote (released in 95 on Man's Ruin Record) is without a doubt one of

the most marking and straightforward stoner rock albums ever released to date

. A fucking masterpiece. Both performances at Desertfest London and Berlin were one-off gigs in Europe, and I can tell you it was simply divine. At first, our appointment seemed compromised by a combination of factors, but when I was finally called to meet the guys at the Electric Ballroom, then it went all good. Charismatic

guitarist Arthur Seay

(who also sings and shreds guitar in Indio's metal band House Of Broken Promises) was so welcoming and professional, that I left my nervousness at the doorstep. He was quickly joined by

his bandmate from HOPB, Joe Mora

. Two for the price of one, partners in crime and music. Dig that. (PHOTOS : Gaël Mathieu)

First of all, let me tell you that seeing Unida live tonight was probably one of the most intense gigs I've ever experienced. It was beyond everything. And I cried on "Last Day"…

Arthur Seay : Thank you ! I also cry when I see these guys playing… (laughs) You know, it was a big deal to bring that out, because it's like a ten minutes fucking epic song. When we recorded it, we did it three times. Each time at midnight. We would chill, have a drink, maybe smoke some… And we would jam three nights in a row. Then we picked the best takes to make one big take live. I didn't even had a solo, so I went back in and wanted to make it better !

So the "midnight ritual" worked.

Arthur Seay : The vibe was the whole thing. We need the vibe to be part of the song. (John Garcia puts his head around the door and politely asks for Arthur) Can you give me one second ?

Yeah, sure.

Arthur Seay : Here's Joe, he plays in House Of Broken Promises with me. You can talk to him if you want.

Joe Mora : Hello ! (laughs)
We didn't want to play too many new songs here, because it's the first time House Of Broken Promises even debuts in Europe.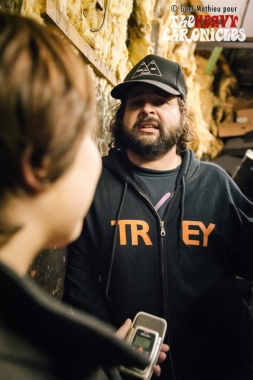 So how did it feel to play these very two shows in London and Berlin ? 
JM : For me it's been amazing. The Desertfest in Berlin was my third show with House Of Broken Promises, and this one in London was my fourth. I was in a band called HDR, we used to tour with House Of Broken Promises. I saw Unida play once, so when we played with HOBP, I was like "hey, you're the dude in Unida ! I'm into Kyuss since I was 15…". We started talking and we wanted to do something together. Then they had some issues with their bass player – passport issues or something like that – and at the same time, things with my band weren't just working out. They asked me if I wanted to be their bass player and singer, so it's been great. Both Arthur and I are techs in the music business as well. I work for Trey Songz, Band Of Horses, he works for Slipknot, Limp Bizkit… It's hard to get our schedules together, but once we do, it's great. I'm from L.A and he lives in the desert, so I drive and stay at Arthur's "fortress of badittude" as he calls it. I just eat, drink and sleep music all day with him. We didn't want to play too many new songs here, because it's the first time HOBP even debuts in Europe. Once Unida gets back from their tour, we're gonna focus on our record. (Arthur comes back suddenly)
AS : You sound so very efficient on the job, thank you !
JM : You liked that ? I've done this before… (laughs)
We'll come together and do a proper record and a proper tour with Unida. We already have plans !
So Arthur, do you guys have any plans with Unida or was it just a one shot ? 
AS : No, no… This isn't just one or two shows. We're doing it again for real. John is gonna do Vista Chino, they're gonna start touring in September. We're gonna do the new HOBP record and put that on tour. And when both things are done… It's adult scheduling. We'll come together and do a proper record and a proper tour with Unida. We already have plans ! We're gonna re-release "Coping With The Urban Coyote" with all the rare songs. Songs are on the works already, so…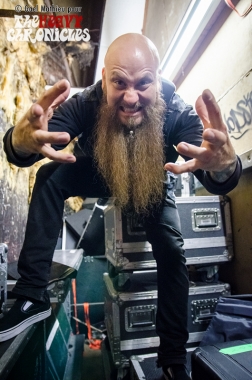 So you obviously don't have some spare time for split projects or collaborations…
AS : Well, if Metallica want us to do a split, great !

JM : Or Trey Songz !

AS : If The Cult want to do a split 7″, I'm in ! You know, everything's cool with all things. John is doing great with Vista Chino, the more they do, the more Unida does, and the more Unida does, the more HOBP does. Fucking right on, you know what I mean ? I played three times today, what the fuck !!! (he laughs super loud)
Ok guys, before we end this interview, could you tell me about some of the coolest music you've been listening to lately ? 
AS : You know what ? Listen to Motown. When I'm at home, I don't listen to fucking rock. I've been also listening to a lot of salsa, merengue. "Pandora" from Hector Lavoe.
JM : For today, I got to say we were kinda bummed because we wanted to see Turbowolf, we like the song "The White Crown of Roses"…
AS : Yeah ! And the singer from Turbowolf was like "We are Turbowolf !", it was the end… Listen to fucking HOBP, how about that ? 
John is doing great with Vista Chino. The more they do, the more Unida does, and the more Unida does, the more HOBP does.
And I'm really sorry, because I totally missed out your gig at the Ballroom. I was interviewing another band elsewhere… (he stares at me with "that" look) Oh my god, Arthur's gonna break my teeth ! 
AS : (laughs) No, that's cool. We had a great time ! We played the Vans Store, and had the more fun over there.
JM : Yeah, we were supposed to play acoustic. Thing is, when you play in front of people who understand your music, it might be sometimes a little bit judgmental. There, people were just walking by, there were teenagers. The hardest thing some of them have ever heard might be Blink 182, you know ! But the crowd was really into it, so that was fun.
AS : "Is that acoustic ? Fuck that, there are amps !"
JM : Yeah, I mean we were in the Vans Store, they were cranking Motörhead… Let's do play it loud !
Thanks a lot guys ! 
Get UNIDA's hottest news on

Facebook


Check out HOUSE OF BROKEN PROMISES "Using The Useless" on

Small Stone Records
Last modified: 11 February 2015