Live Report
Published on March 17th, 2013 | by Beeho
0
KVELERTAK + TRUCKFIGHTERS + EL DOOM & THE BORN ELECTRIC @ Glazart (Paris, 15.03.13)
Since the release of their first record in 2011, I've had one obsession : seeing KVELERTAK live. First, because
 the Norwegian sestet has cranked the level up a notch with their original sound and incredible punk energy

, then also because the live vids on Youtube pretty much speak for themselves. Drawing analogies with vikings and berserks is quite the thing when it comes to describing the band.
This date was the only french gig on this European tour, so people were awaiting it like something that could turn upside down their routine in a positive way. As for me, I predicted

the explosion of the venue in a zillion pieces

, which actually happened : Kvelertak wiped every other live performance off my memory,

Kvelertak wiped Paris off the map, H-bomb style

. Well done, yeepeekai motherfuckers. Yep, mission accomplished. (PHOTOS : Lorène Lenoir)

Hibooking told us the gig would start early, due to a "club party" at Glazart starting at 10 PM. Bummer : no time for excesses or never-ending encores tonight. While I make my way inside the venue, openers EL DOOM & THE BORN ELECTRIC are already playing on stage… Honestly, I have trouble focusing on the band and its music, because my analytical mind is pretty fucked up : too excited to see Kvelertak tonight, I guess. However, ED&TBE delivers a very groovy rock, yet I can hardly find that prog side I heard on their Soundcloud. For the record, El Doom (the band's charismatic frontman) tells us he's Maciek's father (Maciek is one of Kvelertak's three guitarists). The news doesn't shake anyone in the room, so the frontman tries to run a few jokes, which also die a death, probably because not so many people understand english. In the end, their music performance is acclaimed by the whole crowd.

A wall of Orange amps on the stage reminds me of… Fuzz ? Stoner ? Hello, TRUCKFIGHTERS ! The band members silently do their last settings, while I notice the drummer changed since the last time I saw them (late 2012 in Toulouse). Apparently, McKenzo hit the road with another band as I'm writing these words, and passed on the torch to a lovely young man called Poncho.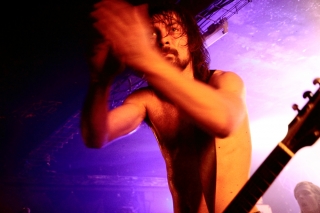 As usual, the trio starts its set with "Desert Cruiser". At first sight, considering a few mistakes on guitar and Ozo's broken voice, it seems like they're not 100% in shape. But when the whole crowd can't help but singing along "I'm running out of fuuuuuuueeeel", so many good vibrations emanate from us that it gives… FUEL to the band, which instinctively turns into THAT killer rock machine. The crowd follows Dango's example and jumps frenetically, bodies are bending while the bass is grooving… At some point, Ozo is even stagediving ! It's always so great to see TRUCKFIGHTERS live, because their desert rock has always been a very effective catalyst. For this short setlist of 6 tracks only, the band favored their hit songs, and what a blast ! Note that they will release a new album this summer or fall, can't wait !

Here we are. KVELERTAK are about to play. Well in fact, they're taking their time to get on stage. But when it happens, OH MY FUCKING GOOOOOOOOOOOOD ! Just picture not four, nor five, but SIX big fellas arriving on the Glazart's stage. If you know KVELERTAK's music, then it'll be easy for you to imagine what a steamroller it's about to be.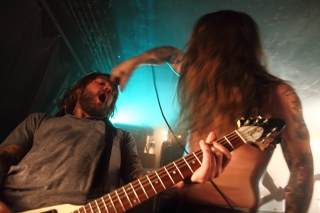 As soon as the first notes of "Spring Fra Livet" echo, the pit turns into fucking MAYHEM… which is increased like tenfold when the winning tierce Mjod/Fossegrim/Ulvetid follows up.
All five musicians belt out the lyrics with as much strength as their killer frontman Erlend Hjelvik, and when the crowd chants "Fossegriiiiiim !!!" or "Blod-Torst ! Blod-Torst !", it sounds like fucking war cries ! WAR. It is war. Remember the "Mjod" video ? Well right now, the same shit is happening, except that there is no fence and people are smiling ! No fence between us and the berserk army Kvelertak : we're as one, we're fury.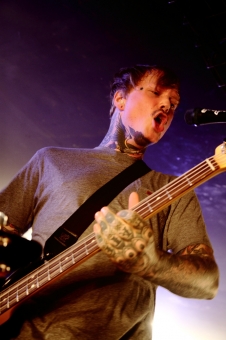 Each member puts himself into it, like when the bassist (which must be more than 6 feet tall) walks on the audience like Moses, then let himself fall into our hands. People are relentlessly stagediving, it's crazy. As a real punk machine, Kvelertak is like a battery : the more it plays, the faster it reloads.
Happiness is on all the faces, and Erlend, Maciek, Marvin, Bjarte, Vidar and Kjetil (hidden behind his drumkit) seem to be on cloud nine in front of such a frenzy. Completely soaked, they keep shouting and getting up on the amps every two minutes, while relentlessly hammering their instruments.

As if they wanted to confront us, Kvelertak test us with their new songs, to which we respond euphorically. But beyond the straight-in-your-face and devastating aspect of their music, the band also delivers great moments of pure rock'n'roll with killer old school solos. On the last track of the setlist "Utrydd dei svake", all three guitarists and the bassist gather (their sweat) to play THE ultimate solo (which is so epic it almost brings me to tears). The end of the gig is near, so they encourage everyone to join the stage and party with them. The fans and the musicians are embracing but inside, no one wants the party to end. 10:05 PM, war has to cease motherfuckers, time to leave. Well, time for some shopping at the merch (Kvelertak sell the most gorgeous t-shirts ever), then we're off.

KVELERTAK live in a few words : EUPHORIA, MADNESS, TESTOSTERONE and ROCK'N'ROLL. And as they said : "this was the best fucking show we ever did in Paris !". Ok so pretty please, come back soooooooooooooooon !

SETLIST :
Spring fra livet
Mjød
Fossegrim
Ulvetid
Bruane Brenn
Nekrokosmos
Sjøhyenar (Havets herrer)
Evig Vandrar
Nekroskop
Månelyst
Offernatt
Blodtørst
————
Kvelertak
Utrydd dei svake