Chroniques

Published on January 20th, 2011 | by Beeho
0
MAYLENE & THE SONS OF DISASTER "III" (Ferret Records 2009)
A quoi s'attendre avec un nom pareil ? A une donzelle en tenue de Laura Ingalls et ses 4 fils bûcherons en guise d'orchestre champêtre ? Pas loin : plutôt 6 barbus de Birmingham -Alabama, USA- bien décidés à foutre le boxon et donner des crises cardiaques aux cochons ! Forts de déjà 2 supers albums depuis 2004, MAYLENE & THE SONS OF DISASTER ressortent l'artillerie et nous pondent "III". Programme.
Mise en condition sur un air "countrysant" et quelques cuicuis d'oiseaux, et c'est là que démarre l'engin à grand renfort de rock lourd bien huilé avec le premier son Waiting On My Deathbed qui possède une énergie complètement contradictoire à son titre. C'est donc avec une détermination inébranlable tout du long de ces 11 morceaux énormes que le groupe nous livre : tantôt des morceaux puissamment hard rock (Last Train Coming, No Good Son, Listen Close) menés par un chanteur/hurleur dont la voix granuleuse n'est pas sans rappeler celle de Chad Gray de HELL YEAH, tantôt du southern metal enrichi de quelques coups de banjo -le vrai ou en mode métalleux sur amplis- par-ci par-là (le cool single Step Up (I'm On It), The Old Iron Hills, Settling Scores To The Bridge), ou encore une touche metalcore pour aller toujours un peu plus fort (Just A Shock)… N'est pas fils du désastre qui veut !
Deux morceaux sont à noter car surprenants : le détonant Oh Lonely Grave qui débute cool tel un pur morceau d'americana et vlà que BAM ! Ca part en live d'un coup d'un seul -des Norvégiens débarquent…-, déroutant mais oh combien réussi; puis le final The End Is Here…The End Is Beautiful, titre gracieusement trouvé car on se pose enfin un peu pour se délecter d'une balade folk instrumentale. Le sourire aux lèvres tellement on s'est bien défoulé avant…
Un album empreint d'une personnalité sudiste incorrompue, porté par une jeunesse fougueuse, mêlant avec modernité tous ces ingrédients qui font que vous vous retrouvez téléporté au coeur des champs…non pas à balader une chèvre au bout d'une corde miteuse, mais bien à headbanguer et faire la teuf comme des ptits fous. Sans détour, efficace : braquage musical réussi par MAYLENE & THE SONS OF DISASTER, en espérant que la sauce prenne dorénavant en Europe pour les voir enfin débarquer dans nos contrées sauvages… Les petits-enfants trash de LYNYRD SKYNYRD ? Carrément !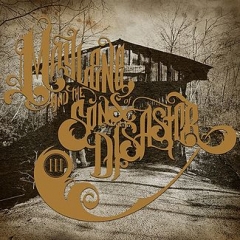 ARTISTE : MAYLENE & THE SONS OF DISASTER
ALBUM : "III"
DATE DE SORTIE : Juin 2009
LABEL : Ferret Music
GENRE : Southern metal / Hard rock / Metalcore
NOTE : ✭✭✭✭