Heavy Zikos

Published on December 10th, 2010 | by Beeho
0
SLIPKNOT, Til They Die ?
Pas plus tard qu'hier j'écoutais un de mes groupes préférés, SLIPKNOT, et plus particulièrement cette très belle chanson en bonus de leur dernier album "All Hope Is Gone", Til We Die. Alors qu'habituellement je ne prête pas plus que ça attention aux paroles, celles-ci m'ont sauté aux oreilles, et compte tenu des évènements qu'ont traversé le groupe ces derniers temps, j'ai eu envie de les relever…
My friends are all hurting from moments and regrets and charity laced with a lie
And still we keep hoping, to fix all the defects and strengthen these seminal ties
We go on together for better or worse, our history is to real to hate
Now and forever we stay until morning, and promise to fight for our fate
'Til we die
The start of the journey is every bit worth it, I can let you down anymore
The sky is still clearing, we're never afraid and the consequence opens the door
I've never stopped trying, I've never stopped feeling like family is much more than blood
Don't go on without me, the piece that I represent complements each and every one
'Til we die
We won't be forgotten, we'll never give in
This war we've acheived has allowed us to win
'Til we die
My last true confession will open your eyes, I've never know trust like the nine
Let it be spoken, let it be screamed, they'll never ever take us alive
'Til we die
We won't be forgotten, we'll never give in
This war we've acheived has allowed us to win
Carry on
We'll never be broken, we won't be denied, our war is the pressure we need to deny…
"The nine" représente tout simplement les 9 salopards, les 9 membres de Slipknot, la famiglia si on peut dire. Cette chanson est tout simplement un hommage à l'amitié, la fraternité qui lie les membres du groupe depuis 20 ans. Et ce passage m'a simplement mis un frisson lorsque il conclut par  le dernier couplet par "They'll never ever take us alive", je me suis dit bon Dieu, y'en a déjà un qui est parti rejoindre Cobain & co, manquerait plus qu'un autre décide de se faire la malle ! Et puis quelle ironie si on y pense bien, paroles quelque peu prophétiques…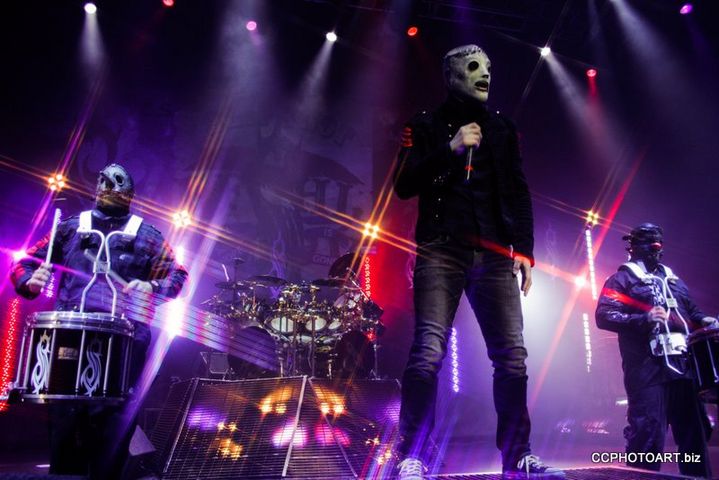 Il y a quelques mois je redoutais/prévoyais l'arrêt à plus ou moins long terme de l'activité Slipknotienne à la suite de la mort de Gray, pensant que chacun en "profiterait" pour se consacrer à temps plein aux projets parallèles, eh bien que nenni : SLIPKNOT repart dès cet été 2011 sur les routes pour honorer de leur présence le festival montant Sonisphere de leur présence, et ce sur plus d'une date (ils sont annoncés comme la méga tête d'affiche de l'édition 2011). De plus ils joueront également au Graspop Metal Meetinget au Rock In Rio, pas moins que ça !
Bien que je sois ravie que le groupe ne soit pas en hiatus en CDI, c'est assez déroutant quand on sait qu'ils parlaient de ne rien faire dans l'immédiat, pas de scène en vue, et uniquement du studio avec basse jouée non pas par un éventuel remplaçant mais bien par les gars du groupe. En gros c'était "Paul Gray sinon personne".
Va-t-il y avoir une basse sur scène ? Si oui, qui va prendre la place de Paul ? Un des deux percus (Shawn?)? Un membre fantôme prenant temporairement la place de Numéro 2 ?
Ils disent jouer "en l'honneur de sa mort" (ou "pour célébrer sa vie" serait plus correct), je trouve qu'ils se sont très rapidement précipité sur le premier fest venu pour relancer la machine, manque de cohérence tout ça…
Espérons juste que le show soit bon…