There are bands whose music speaks to your heart so deeply that your life won't be complete until you've experienced the whole thing live. Belgium's beloved PSYCHONAUT is one of these bands. Like many people, I knew who they were but I fully got into them via the absolutely breathtaking lead single and title track from their new album "Violate Consensus Reality". Little did I know I was in for a one-way, life-changing trip into the trio's realm. Because these guys craft one exquisitely intricate and cathartic fusion of post-metal and progressive metal played with the mastery of the greatest. The melodies are intense, the shredding is face-melting, and those vocals? Man, this is probably one of the best metal vocal duos I've heard in a long while. On a rainy winter evening in Paris, I met Psychonaut guitarist and vocalist Stefan De Graef before their sold-out show at La Boule Noire, in order to try and demystify the men behind the magic…
In an interview, you said that the next Psychonaut album would be the sequel to "Violate Consensus Reality" and "Unfold The God Man". Do you already have a concept in mind?
Nothing concrete so far, but I assume it's going to be a sequel because we almost always write about more or less the same things, such as our place in life, what we think it means to be alive and to be human, and exploring our potential as humans. Since that's all we've ever written about and it's something that we're kind of obsessed with, it should be a sequel.
Speaking of your lyrics and inspirations, what was the one experience that changed your life and put things in a different perspective for you?
It's not very easy to talk about… A good 12 or 13 years ago, we got into spirituality, meditation, philosophy, and anything that has to do with what we write about now. It was the result of some experiences we had with substances. You know, you read about it in books, like Jim Morrison talking about the doors of perception, but you only get it once you see it yourself. For us, this whole journey of exploration and finding our place in life originated from experimenting with substances… It really blew our minds. Just the feeling of being outside of your body, being more than just an individual and making connections with someone else in a way that you've never experienced, something that goes even beyond friendship, love or even sex. It's an amazing transcendent thing if you are both in this magical realm that we don't really understand. I think that was really the start of everything. We don't really do that anymore, but our band name is linked to that.
"For us, this whole journey of exploration and finding our place in life originated from experimenting with substances… It really blew our minds." – Stefan De Graef
Now, what was the one experience that changed your life as a musician, and more generally, as a music lover?
The first concert I ever saw was with my dad, I was sixteen and playing guitar for only three or four weeks. He took me to see Eric Clapton, an amazing concert. Thanks to my dad, I really got into classic rock, 60s and 70s rock, anything going from The Beatles to Yes, Led Zeppelin, Black Sabbath, Pink Floyd… Watching Eric Clapton and Derek Trucks, who is the best slide guitarist in the world, I found their guitar solos so impressive… It was really a life-changing experience, just to watch them play and feel it in my chest, the volume of the bass, the insane guitar solos. It was the first time I realized I wanted to do this too. I liked playing guitar but I wasn't confident yet that I would want to become a guitarist one day. Watching Eric Clapton and his band was the first time I thought "okay, I wanna do that".
You once said you became a singer by accident, as you consider yourself as a guitarist in the first place. However, you sing and don't play any instrument in your other band Hippotraktor… How come?
That's weird, but I was kind of forced to start singing. We played in a different band before Psychonaut, it was Thomas, myself and the first Psychonaut drummer, Peter. We also had a really good singer, but due to a busy life, he sometimes couldn't make it to rehearsals. We got bored playing without a singer, so Thomas and I decided to do it ourselves. I don't think we sang very well at the time (laughs) but after doing it for months and even years, we realized there were a lot of things we couldn't sing, but also things we could sing better than our singer. We disbanded and started Psychonaut, Thomas and I decided to keep singing because none of us could carry the load by ourselves. We got better and better, and a few years ago, I was asked by Kiaran to join Hippotraktor. I loved their music and Kiaran is a really good friend, so I said okay but I was scared I wouldn't have enough time to commit to studying guitar parts. So I said, "I'll just join as a singer". It's been a good learning process as I only need to do one thing, so I can't make excuses now if I have a bad show, I can't blame it on the guitar. It's been a confronting thing but it pushed me to be a better singer. It's a completely different experience, and it's also amazing, cathartic and freeing.
Have you taken any singing classes to improve your vocals over time?
No, but maybe I should have! (laughs) I've watched a lot of vocal coaches online to figure out some tips. What we do is try things, blow out our voices on the show, then try to think back and build from that. We are self-taught singers.
Psychonaut is loved for those dual vocals, your harmonies are awe-inspiring and the contrast between your two voices brings a wide range of emotions. So now my question is: what is your favorite vocal duo ever?
The first one that comes to mind is Alice In Chains. Layne Staley and Jerry Cantrell, their voices really fit together and they are probably my favorite of all time. But now, there are more and more bands with at least two or three vocalists, my favorite band is The Ocean for instance, I think there are four or five people singing. I always loved bands that have more than one singer!
"I think we have issues believing in ourselves in Belgium. We sometimes have the impression that we are only good in our country, and that everyone else is better. The good thing about that is that we keep pushing ourselves and, in some way, we become better." – Stefan De Graef
You guys come from Belgium, the country that hosts some of the darkest and greatest heavy bands in Europe, in my opinion. There are so many good post-metal, post-hardcore bands there. Is there something in the water that inspires bands to create such powerful and dark music?
Because of the fact that we are such a small country and most of the known bands in our genre come from the Dutch-speaking part, it's even half of the country. There is a thing in Belgium, it's not only music, it's also about feeling and anything that has to do with art. An expression I hear a lot here is, "it's good for a Belgian band", some kind of curse we put on ourselves. I think we have issues believing in ourselves. We sometimes have the impression that we are only good in our country, and that everyone else is better. Maybe the good thing about that is that we keep pushing ourselves and, in some way, we become better and once we start touring, it's crazy how many people appreciate our music. But I think it has to do with that insecurity. Pushing ourselves because of that.
Keeping on with the Belgian topic. Which new or underground Belgian bands you would like to recommend to THC readers?
My favorite Belgian band at the moment is called Pothamus. Good friends of ours, they are amazing, an extremely unique band with a very unique sound, I guess you could hear a bit of Amenra and maybe some OM in it… but to me, they sound like nobody else and their live show is super intense and hypnotizing. And that's what I always like the most about a band: if I go to a concert, I want to be mesmerized and lost focus on everything that's in my head. Cobra The Impaler is the best Belgian live band of our time, at least for me. I'm very jealous of the two singers Manu and Michélé, they are the best singers in the country, never miss one note. I hate to play after them because I have to sing after them, it sucks (laughs). Another band from our hometown Mechelen: L'Itch. Their first record got buried because they released it during the pandemic, which is a shame. But they're in the studio right now finishing a new album, and they're definitely a band I would recommend to your readers.
The final word is yours.
We will be on the road a lot this year. We're finally playing ArcTanGent in the UK, Motocultor in France… Just come watch us whenever you can, our shows are online everywhere. Come say hi, and let us know what you think of our new record and the message. We also love to hear what people think about the concept of our albums and if in some way they find inspiration or something positive from it… If there's anything you feel in our music, come and talk to us about it.
New album "Violate Consensus Reality" out now on Pelagic Records. Find Psychonaut on Bandcamp, Facebook and Instagram.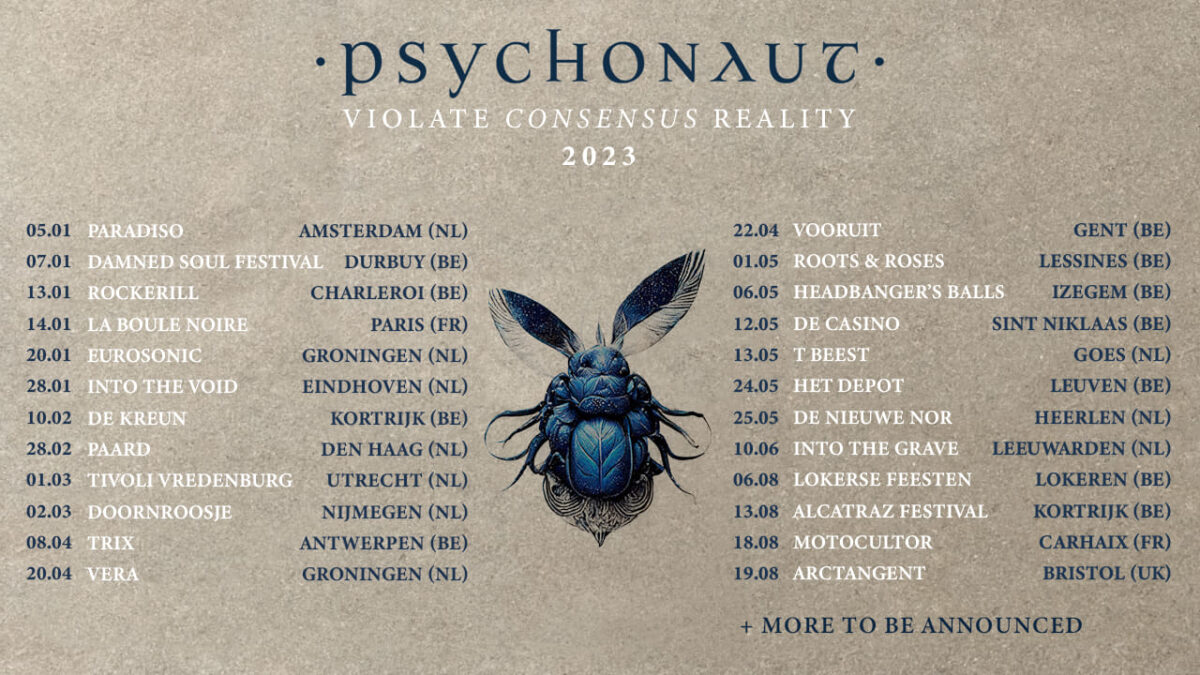 Last modified: 15 March 2023