We say it every year: Desertfest is THE place to be for all stoner and doom fans, located in London's eclectic and eccentric Camden Town. You can hire all the sculptors and designers for your festival scenery, nothing will ever replace the authentic and slightly lunatic decorum of Camden. After three long fucking years, this 10th-anniversary edition shows an unwavering desire to bring together stoner and doom giants and up-and-coming acts, whether you get to see them on stage or… at the bar with a Camden Hell's in hand. There is no VIP area at Desertfest, for bands are punters just like you and me, this is why I shared my first pint of the day with members of Elder at the festival's HQ: the now famous Black Heart. If only every day could start this way! (PHOTOS: Sam Huddleston)
Day 1 by Yannick K.: "Hi ! I'm Mike Risberg from the band Elder".
SLIFT has the honor to open the Electric Ballroom. The excitement is palpable inside the venue, everyone wants to experience the Frenchy sensation of the moment. And it is now clear that nothing will stop the trio in its firmament-bound trajectory. Desertfest London is the obligatory gateway before elbowing psyche, krautrock, and… stoner stars. Slift is now fully part of our scene and the band delivers accordingly: their performance is much darker and heavier than the "Levitation Sessions" album. Slift plays so fast that our brain crumbles at the very idea of following Canek's hypnotic drumming frenzy. The fact that the drummer is at the front of the stage may not be a big deal to some, but it says a lot about the importance of rhythm in their music. The epileptic trio even causes intense moshing on the hysterical "Lions, Tiger and Bears", a 20-minute climax that switches from garage rock emergency to doom deflagration. From then on, Slift never went off the DF crowd's lips.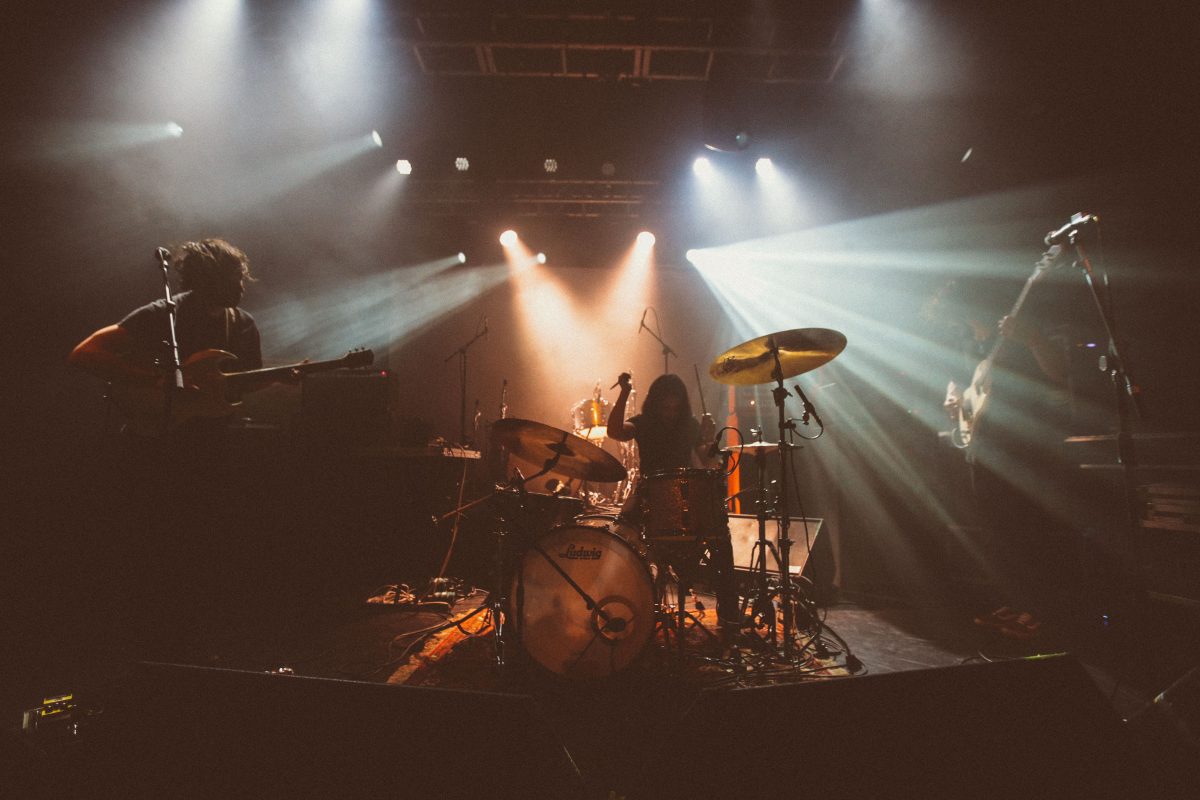 As I hit the Powerhaus early enough to catch Bonnacons of Doom's full set (which will never happen), I'm immediately taken by the abrasive fuzz-laden punk of Shooting Daggers. The trio is fierce and radical, you just have to look at guitarist and vocalist Sal, whose constant angry pout says it all. "For all the guys who grope girls at shows, I got a message for you!" Well said. Their youth doesn't make for a few hiccups, but their fire and catchy melodies might recall the early days of Nirvana.
Back to the Ballroom for the headliners' parade. I will spare you Truckfighters's antics and skip directly to the other Swedish sensation of the day: Low fuckin' Rider. The latter is awaited like the messiah, and attendees quickly fill the temple to celebrate the stoner liturgy. Mike Risberg is here too. The room is instantly heated up with an explosive (yet a bit hesitant) "Red River". The Swedes are visibly moved to play in front of such a faithful audience. But the incandescent riffs blow away the dense audience's restraint. Songs from "Ode To Io" get revamped and take a whole new dimension. Peder delivers an emotional performance with his smooth and angelic vocals. Lowrider intersperses their set with a few surprises, such as inviting John from Elephant Tree on keyboards to remind the fans that both bands have something in store for us. Another good surprise: we won't have to wait another 20 years, as Lowrider already has new songs up its sleeve, some of which get previewed tonight. "Ode to Ganymede" make us wipe as much sweat as tears on our cheeks, so much the guitars cry. A sheer moment of stoner rock amazement lost in space and time. Amen.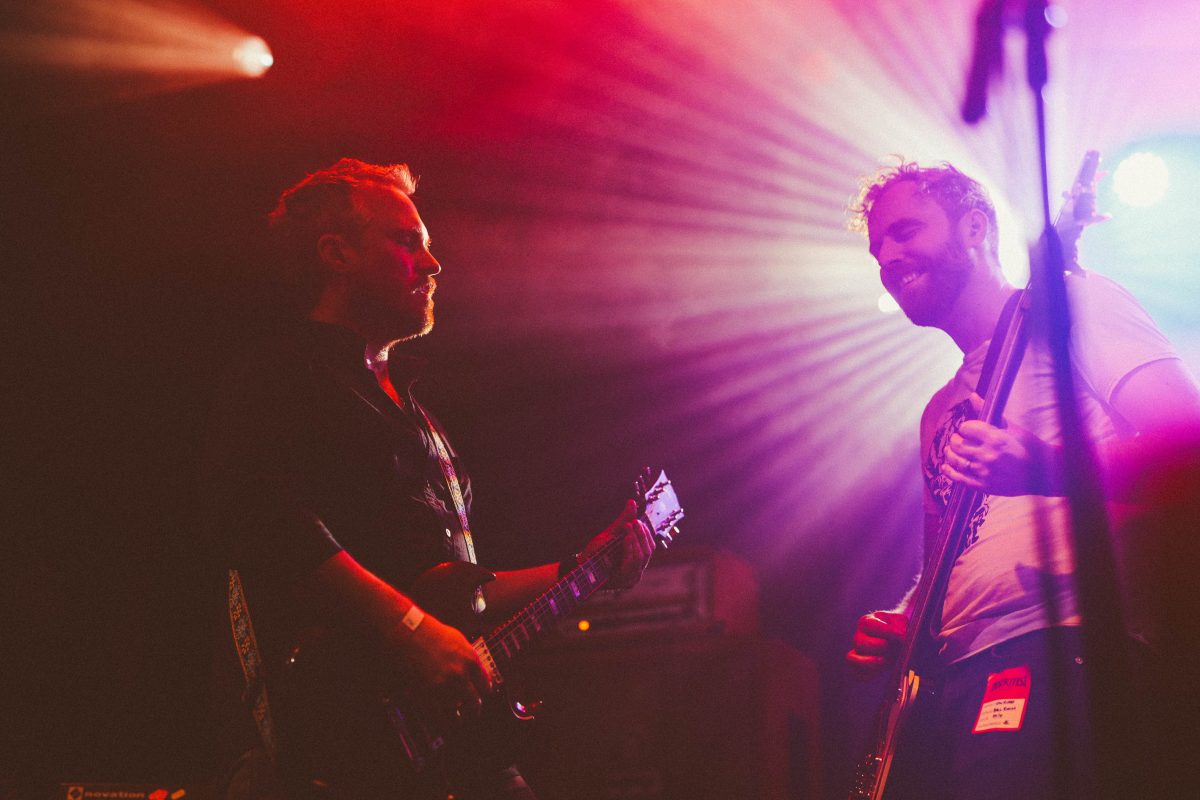 No time to regain our composure: 1000mods take the stage for what will be one hell of a fun time. Greece's sonic youth attracts more and more people, winning over the whole Ballroom thanks to their catchy anthems. The group delivers during an hour-long best-of-setlist including three songs of "Youth of Dissent", an album that failed to win unanimous support. All reproaches aside, the Greek are is generous and the riff machine works at full speed until provoking a Dantesque and magnetic circle pit… Yet the rest of the evening won't be as satisfying. Hyped on the band's pedigree and the idea of taking a proper hardcore beating, I make my way to the aptly named Underworld to watch Integrity. Unfortunately, the feeling of being barked at remains prevalent throughout the set. The rest of the audience might feel just the same, as I find them static and not very receptive to this false debauchery.
Another venue, another vibe. Magnus Pelander and his Witchcraft gang take over the Ballroom and prove to be just as dull. This atonal, inexpressive and slightly boring poetry would have sent us to sleep if Steak hadn't kicked the Ballroom in the ass. Was making Steak play the closing slot on the Ballroom a weird choice or judicious audacity? Fans and more came en masse to thank Reece (Steak's guitarist and Desertfest founder) and his crew for the incredible job they did with this edition. In front of projections of Akira Kurosawa's chanbaras, Steak perform their new album "Acute Mania", where Kippa's vocals certainly gained in value. Feeling more confident after a few tracks, he whips up the crowd from atop the stage monitors and delivers a performance worthy of a consecration. Tonight, Steak prove that they are not only a fun band, but they also know how to be powerful and delicate, rough and stirring, and even downright introspective.
Completely washed out, I return to my hotel, still exhilarated by the crazy day I just lived. Oh? Mike is here again… An almost allegorical appearance for a day that ends as nicely as it started.
---
Day 1 by Sofie Von Kelen: "Good mooooorning LONDON!!!"
To be fair, I wasn't even supposed to be here, blame it on a murky business of an expired passport. Count 3 hours to pack a bag, 6 minutes to catch a last-minute Easyjet flight, which leaves me 24 hours to enjoy London before Desertfest kicks off. After an unbearable separation, the reunion is as moving as the flight was terrible. I roam around Soho, abuse my credit card on Portobello Road and put my stomach to the test with a curry in Brick Lane, all of this on an imaginary Del Shannon soundtrack. I did well, for the weekend is going to be anything but restful, as much for the toes as for the ears or our emotional system…
The first set is Aggressive Perfector and the least I can say is that the Mancunians know their thrash metal. It's a pity that the sound is a bit muddled at the beginning and that their impeccable palm mute riffing gets drowned by the drums. Fortunately, things eventually settle down, so that the audience notices that Daniel Shaw aka General Holocausto is a pretty damn good vocalist. One piece of advice: don't miss their remarkable debut album 'Havoc at The Midnight Hour', a tribute to the US thrash godfathers and the finest NWOBHM.
Girl power is calling, so I sacrifice the last two tracks and head to the Powerhaus for Shooting Daggers. (Located next to the famous Stables Market, this club is a new addition to the bill and we hope it will stay like that. Security is friendly, the sound is good and the terrace setting allows everyone to see the stage clearly.) All digressions aside, I must admit that this is one of my highlight performances of 2022 so far. Imagine a female trio in their twenties who have already found their own sound, a powerful blend of doom, grunge and hardcore punk — labeled "queer-core" by the press. Imagine a frontwoman filled with immeasurably positive anger and pouring such an energy on the crowd that my skull and shoulders are tingling. Imagine lyrics trampling gender discrimination, patriarchal abuses and non-consented gropings at shows. My little feminist heart is beating wildly in front of the benevolent reactions among the male audience, and I do hope that their message will leave a mark for good in everyone's mind.…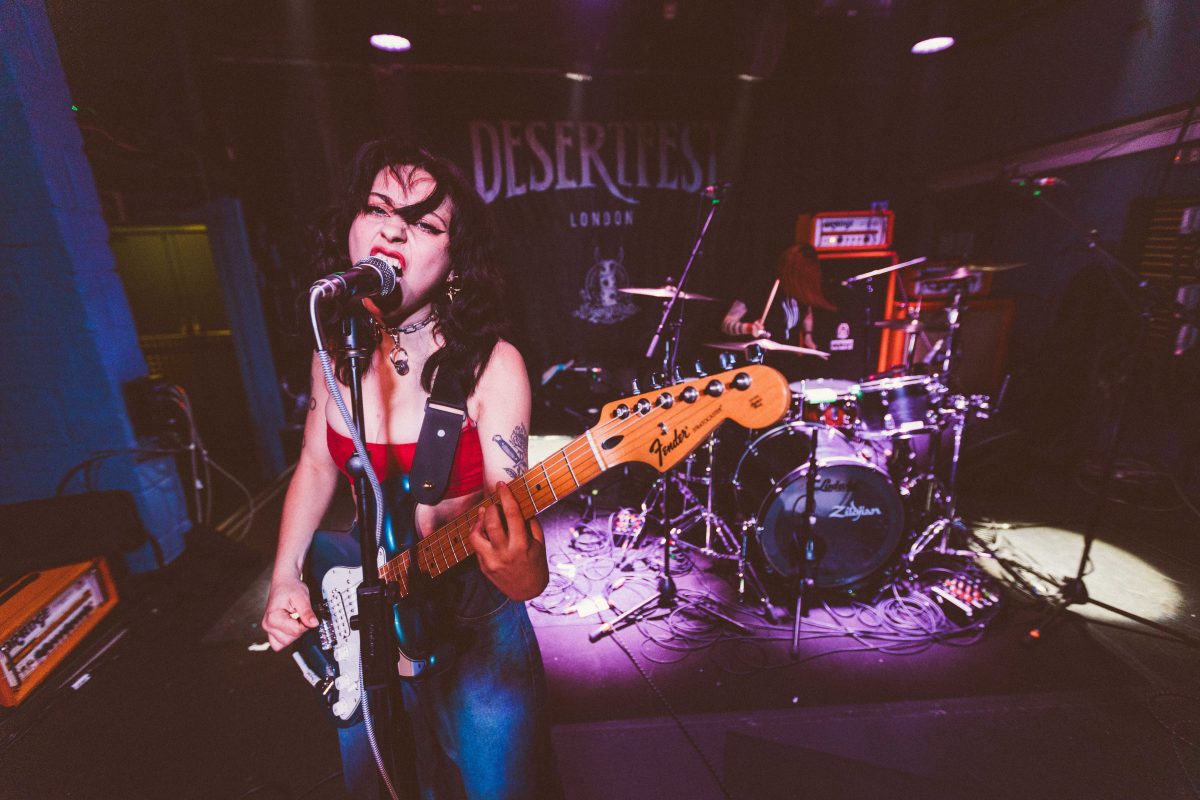 Loaded with positive militant vibrations, I rush to the Devonshire Arms ("the Dev"), where another type of warlady reigns. The impressive Californian-turned-Londoner Kay Elizabeth is leading Black Orchids with a presence worthy of Grace Slick in her heyday. The troops play tight, contrasting perfectly with her rather loose vocals, in the purest 70s heavy rock tradition. I cannot help thinking of Fleetwood Mac of course — the Peter Green lineup obviously, which is less pretentious than Nicks and Buckingham. I also think of Blood Ceremony without the Jethro Tull side.  Ultimately, I'm unable think of anything else because they deliver such a gripping performance, that the bar's usual hubbub even piped down. Back to the Black Heart, I have the pleasure to meet and pay my respects to the Valkyrie queen at the bar.
It's now 8:00pm and I'm starting to feel the backlash of our well-knit schedule. No time to weaken, I grab a gluten-free beer and make my way to the front for Seven Sisters. Among the bands who took their name from a subway station (hello Maidavale), Seven Sisters play in the classic heavy league, with clear vocals, Fender vs Gibson guitar harmonies and jeans so tight that they leave little to the imagination. After bevies of Scandinavian darlings, you can now count on the Londoners, with riffage that turns your head upside down and staircase melodies. Saying that I'm loving this would be an understatement.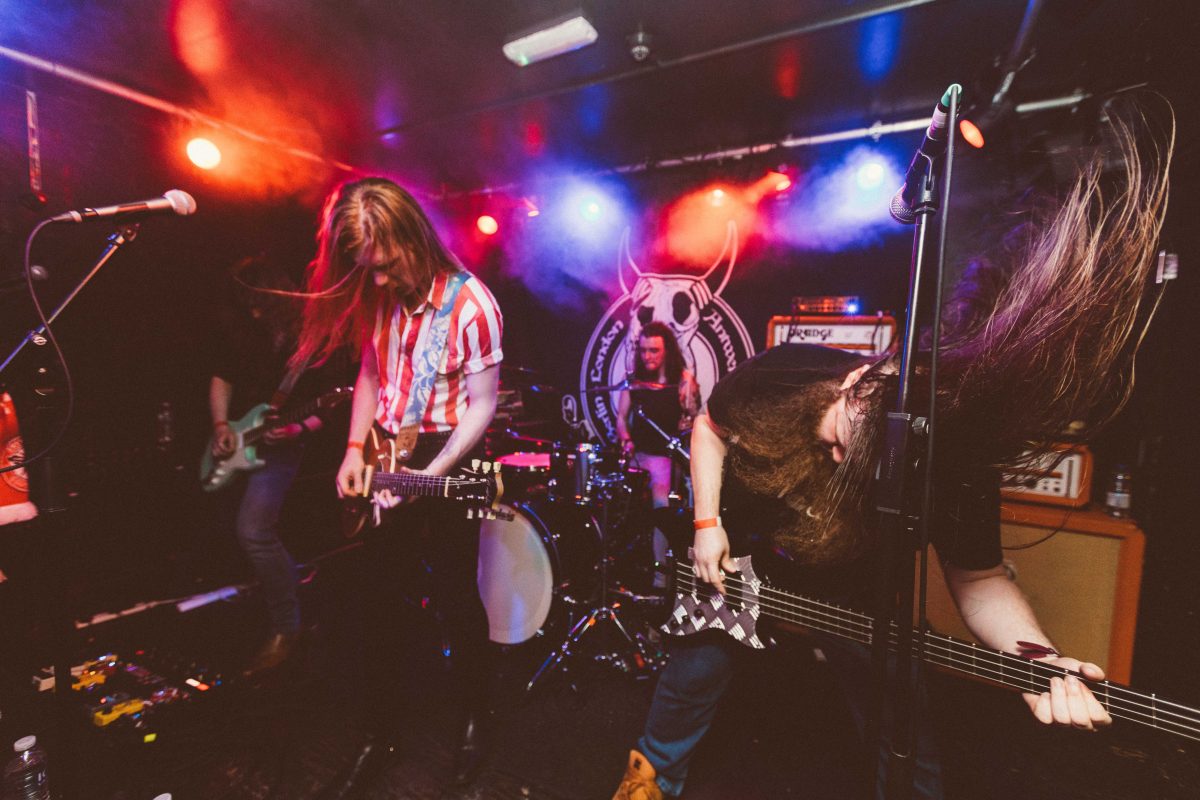 Thirty minutes later, the Dev is once again packed and sweat is dripping off the walls. There is no doubt that the music played by the marvelous Spirit Adrift is not meant for such a small venue. The depth of the guitars is lessened just like Nate Garrett's singing — the latter evoking part Kirk Windstein on 'When The Planets Collide', part Buck Dharma on 'Agents of Fortune'. Anyway, and despite the aerial lead parts sprinkled with space rock samples, the sound lacks air while their songs literally suffocate.
At this very moment, I'm going to make a huge mistake: leave Arizona for Sweden by heading to the Electric Ballroom for Witchcraft. Who would have known that the outcome would be so bland? Well, actually anyone who has ever seen Witchcraft on stage would have, but for some obscure reason, I never managed to see this band on stage, at most catching a few songs at Hellfest while being properly drunk… But why in the hell did I come? The sound is both flat and shrill, the setlist is incredibly limp and I have the impression that the only ones able to enjoy this lukewarm vibe are those whose THC level exceeds the GNP of a small developing country. Exasperated, I call it quits before the end of the set and head back to Kentish Town without meeting any fox…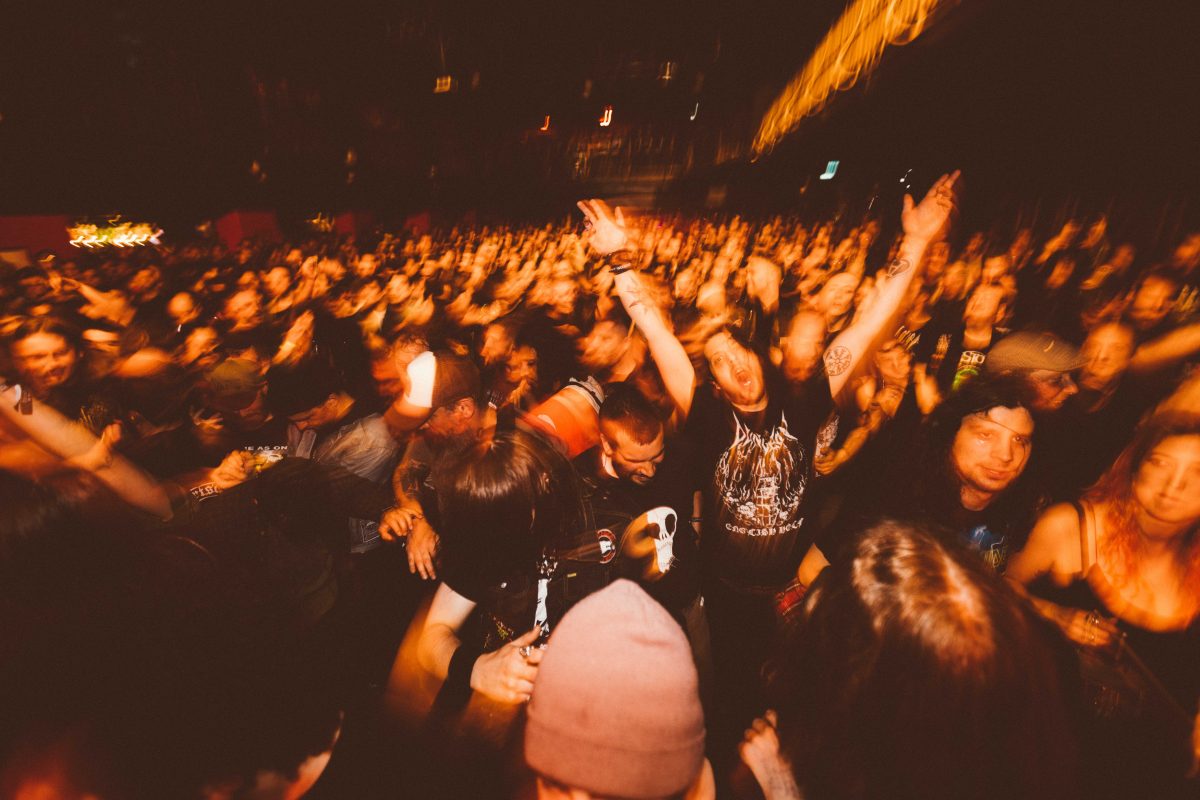 Last modified: 24 May 2022