In this brand new issue of Red Fang Passion magazine, Iggy put together an exclusive "Get your beer belly summer-ready" feature, a complete guide to taking good care of your hobo beard, and most importantly, a crossed interview between two aficionados of the Portland foursome to discuss their fifth record Arrows. 
As we are all fine gentlemen here, let's cut the crap and dive right in. Tell me more about your first Red Fang memory. 
Matt: I discovered Red Fang with the "Prehistoric Dog" video. Back then I was still exploring all things stoner and I already started to feel a bit bored by the copy-pasted standards the scene was full of. And here comes Red Fang with this geeky sense of humour, yet still really relatable for any stoner'n'roll fan. I got hooked instantly!
Lord Pierro: I was sorting out my timetable for Hellfest 2011 when I came across "Prehistoric Dog" and "Hank is Dead" on a Metal Swim Playlist. They really stood out, like a stoner version of Turbonegro, and boy did I like this idea.
First Red Fang live show? 
Matt: It was in early 2012 at Saint des Seins in Toulouse, France. My memory is a bit blurry but I remember thinking that they were fitting perfectly on such a small stage. The sound was huge, and while it might have been a bit messy at times, they had this "show must go on" approach to keeping everything under control. I rarely saw a band winning a crowd over this fast. 
Lord Pierro: It was at the Hellfest in 2011, early on the Sunday morning on the Terrorizer stage. This show was already a huge slap in the face, but my best memory was their gig at Bordeaux, France's legendary Hérétic Club (RIP) in the middle of the summer heatwave. They sold more tickets than the room maximum capacity, the band gave its best with an insane setlist, the audience went nuts, the roof was dripping sweat but the show stopped after 1h30 when an amp burned. Epic!
Let's now take the "What fan are you?" quiz. If you were asked to pick one hidden gem from the band's catalog, which would it be?  

Matt: I'm going to cheat a little here and recommend the Red Kunz EP, "Teeth Hair and Skin". Red Kunz comprised Red Fang's rhythm section as well the two musicians from Swiss act Kunz. Why this EP? Because you will find the foundations of Red Fang's songwriting. The lack of guitars let the bass and drums shine, and help understand the evolution of the band from the brain-dead stoner'n'roll to the noisy and over-satisfying sludge rock they now deliver. 
Lord Pierro: "Dawn Rising" from Whales & Leeches. At the crossroad between a classic Red Fang song and a doom standard, you find the heaviness they master alongside Mike Scheidt's vocals, which create this dark ambiance. This is a key song of the album and it could be an instant cult doom track would it have not been outshone by the singles. The song deserves to be rediscovered. 
The production on 'Arrows' is grainy, gainy, noisy, almost nasal on some guitar parts. It rejects any of the stoner standards the band hasn't embraced in years anyway, lurking more into sludge rock with a hint at 80s punk in the vein of Nomeansno.
What were your expectations with Arrows, this many years after Only Ghosts?

Matt: Quite frankly, I wanted to be surprised and see an evolution from the band. I'm among those who enjoyed Only Ghosts for its fine production but it was a tad too easy listening. I was under the impression that they tested themselves and the overall outcome was a commercial success with, as always, some funny videos, but it felt like they were so open to external influences that they didn't know where to go next. That's why I wished for a stronger direction on this album, one the band would confidently dive into. 
Lord Pierro: It's selfish to talk about expectations, as the band is free to do whatever they want, even if it's about experimenting and drifting away from the successful recipe. I did not like much Only Ghost, which is the only record in their discography I hardly ever listen to. I feared that things would be over between Red Fang and me if they stuck to this artistic direction. I craved the fun and rudimental songs from the two first records and the heaviness from Whales & Leeches.
What was your first impression regarding Arrows? 
Matt: What struck me first was the production. It's grainy, gainy, noisy, almost nasal on some guitar parts. It rejects any of the stoner standards that the band hasn't been embracing in years anyway, lurking more into sludge rock territory with a hint at 80s punk à la Nomeansno. And that bass sound! So textured yet very audible. And during the first listening session, I was mostly surprised by the absence of any anthem or catchy part. The album ends up being way more complex than you'd think.
Lord Pierro: "Fuck, they did it!" Beyond the funny videos, this is the album I would have loved to hear after Whales & Leeches: catchy yet less straightforward, some tributes to their influences, a dense sound, and a complexity that make it less instantaneous than Murder The Mountains, yet you end up listening to it again without ever feeling bored or growing tired of it.
What are your personal highlights on this record? 
Matt : "Two High", classic and straightforward with a chaotic intro and a high-speed tempo. "Anodyne" for the monstrous bass tone. "Unreal Estate", full of heaviness for what I like to describe as Dark Red Fang! 
Lord Pierro: All of them! There are so many different ambiances. Right from the opener "Take It Back", super creepy with this slowed-down bass, scary voice followed by the noisy "Unreal Estate", we feel like in the middle of a zombie movie and it's the entire apocalypse that is awaiting to blow us all! I was also pleasantly surprised by "Anodyne" and "Days collide", both hard hitters! 
Discuss one track on 'Arrows'.
Matt: "Fonzi Scheme" is the album's masterpiece to me. There's the heaviness, a finely crafted song structure and that almost melodic vocal line. These are classic elements we expect from Red Fang, but there's also all these noisy bits and the arrival of strings and violins, both surprising and uplifting. If you like this one, I guarantee you'll love the entire album. 
Lord Pierro: "Days Collide" is one of my highlights by being both the darkest and the slowest cut. The ambiance is sick and terrifying. Musically, all the instruments seem decomposed, taking turns to dominate the other. The voice is bringing this "death is crawling for you" feel. An excellent doom song showing once again how good Red Fang can be in this exercise they rarely commit to. 
I do believe that Red Fang wanted to take the lead back on their artistic vision. They wanted to prove that they are more than a fun band for fun beer-drinking dudes at stoner festivals. This album is both an audacious follow-up and an undeniable success.
What is Arrows biggest strength: production or songwriting? 
Matt: Hard to pick one as I feel the band brought in the perfect production for this very set of songs. For me, I still think the production and artistic direction as a whole caught my ears more than each song individually. It's an album you listen to from front to back without any downtime, and I find it hard to appreciate each song individually more than the overall experience. 
Lord Pierro: I love how this album sounds, with a very upfront bass à la Unsane. They also stepped up their game songwriting-wise. Arrows is very dark, you can feel the pandemic had an impact on the lyrics. The addition of a proper intro and interlude alongside the track listing, create this rollercoaster feel. Pretty much like everyone's mood over the past year and a bit: accelerations, euphoria, free fall, crash and here it goes again, maybe in a different order this time. The songwriting on this album is by far the most outstanding in their discography. 
Any regrets?
Matt: If there's one tiny black point to me, it's the lack of memorable cuts. Even with the violin's noisy vibe, those don't get stuck in your head right away. It's an artistic choice I find very interesting but also very risky for the band and I end up feeling like it has to be listened to from A to Z each and every time. I also feel like the vocal direction is not always the most fitting one. Red Fang stick to their tradition of sharing vocal duties, but I was sometimes hoping for them to sometimes pick what's best for the song itself. 
Lord Pierro: Just one regret regarding the violin that takes the audience out of its comfort zone! Joke aside, Red Fang pushed all their boundaries, and even with the variety of tracks I did not really miss a catchier hit. In a way, this will ensure that this album is liked for what it truly is as a whole and not for one or two hit singles.  
In conclusion, would you say Arrows is a deliberate risky move or a happy artistic accident?
Matt: I do believe that Red Fang wanted to take the power back on the band's artistic vision. They wanted to prove that this band is more than a fun band for fun dudes drinking cheap beers at stoner festivals. This album is also a true tribute to their precious band (Party Time) and is both an audacious follow-up and an undeniable smash. They will leave some of their fans completely puzzled by this proposition though, this seems inevitable.
Lord Pierro: The band still endorse their schoolboy humour in their videos but it is a counterweight to a deeper and more melancholic music. With Arrows the band moves forward, keeping a few elements for the pioneer fans but only the most open minded listeners will find their way throughout the entire record. There is just so much to unwrap. Shoot, these Arrows are damn sharp and hit just the right spot!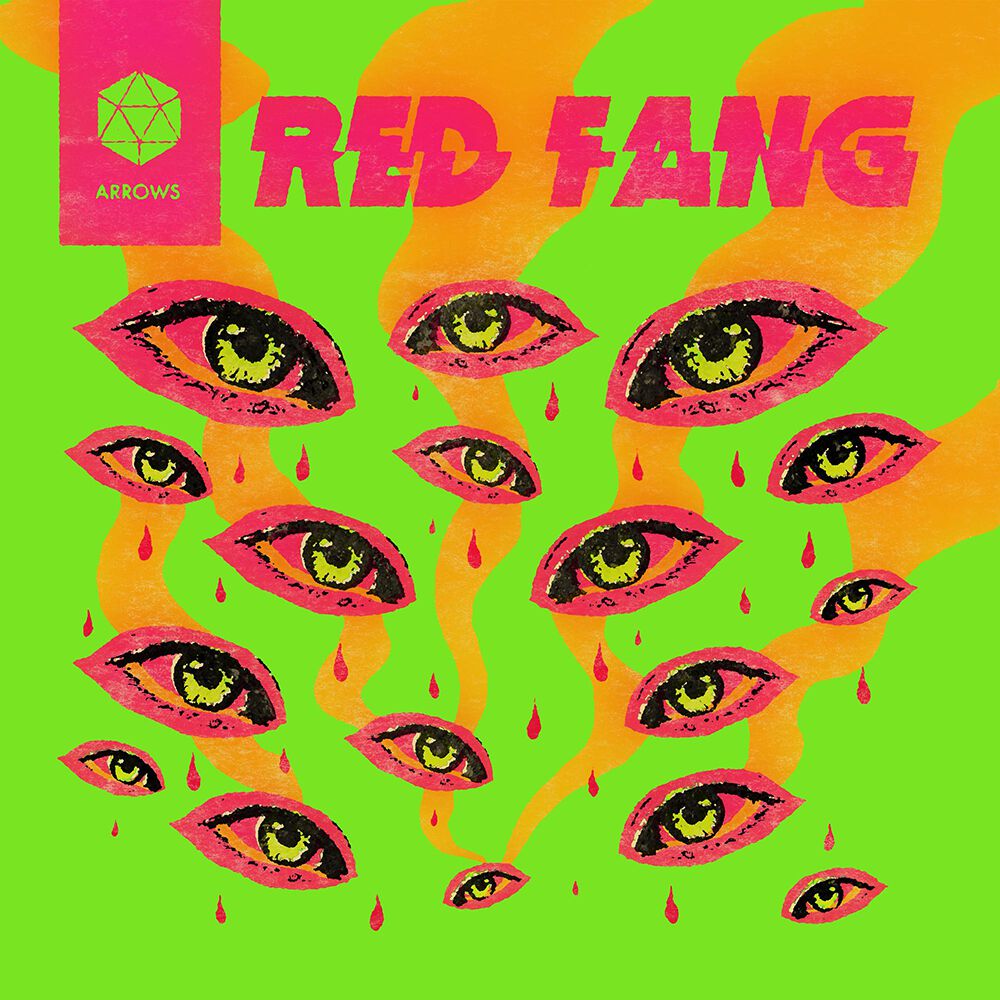 Last modified: 20 August 2021