Anyone fancy a catch up session in the shape of a heavy punch in your face and a spit in your coffee? With "Pure Humber Sludge" BATTALIONS offer a remastered and combined version of their two first EPs, giving us the opportunity to look back on the Yorkshire band's first years (small dogs, huge sound!).
For those who were sleeping at the back of the room, Battalions deliver an old school, classic and straightforward sludge sound, or so it seems. As soon as you dig deeper, you come with the realization that there's more to it than just yet another Acid King of EyeHateGod copycat.
Battalions show a clear will to subtly open their listeners' minds throughout the record, stroke by stroke. It takes various forms, from the guttural black metalesque vocals, to syncopations closer to a hardcore breakdown than a dirty breathe à la Melvins. At times, the anthemic choruses or the singalong parts will drift further away from the old school sludge. And ever so slowly, it gets into my mind, and I start adoring this project and praising its unforeseeable qualities. Would Battalions be the only modern spearhead of an archaic sludge form?
On the six-string side of things, many lead guitar lines tinge the songs with a rock n'roll feel; and even flirt with an unapologetic hard rock style. One could almost see them as an extreme version of Kvelertak, one that refused success and fame. We could even push the comparison with the similarities in the bands' logos. On the four-string side of things, the grooves are fat, powerful and straight to your face. May I use the term "unapologetic" again?
Now that you have the big picture, what can I tell you about this remastered version? The production work is obviously the main point of interest here. Some will say the clearer mix spoils the charm of a sludge record, others will embrace the opportunity to hear the quality of such arrangements. Yes, we're talking arrangements on a sludge record, 2020 is definitely messed up.
Since "Pure Humber Sludge" is the juxtaposition of two EPs, you will clearly feel two different ambiances here. The first part is a bit more classic and proves that BATTALIONS knows how to play by the rules while still spicing things up a bit with some blackened or rock'n'roll elements. The second part uses the same foundations, but goes further in terms of songwriting and an almost grunge sound and intentions at times. Personally, I enjoy a lot more this second part as I feel it's both better executed and more memorable even though it's clearly a bit less homogeneous. Purists will probably prefer the sense of discipline and the strict frame used in the first part. To each is own! My favorite tracks? No hesitations: "Deadbeat" and "Skin Jon".
After one too many listens, I end up with a new and unusual feeling. "Pure Humber Sludge" could come straight from 1998 and everyone would have praised its modernism. For that very reason, it's impossible to address critics to Battalions on that early effort. They are masters of their own art and I can call myself a happy listener each time I spin "Pure Humble Sludge". Old school sludge and strong personality have never matched this well and the credit goes directly to Battalions!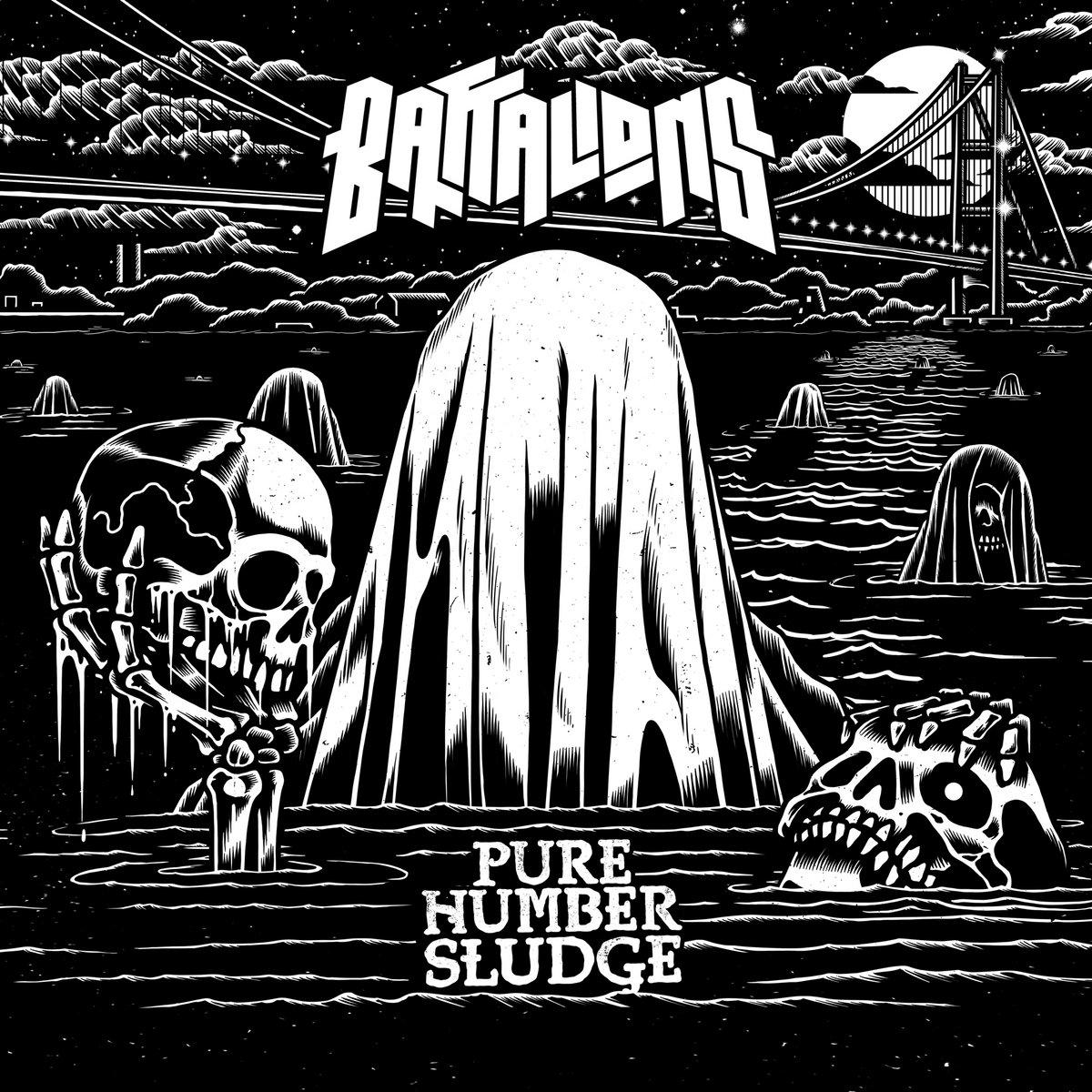 Last modified: 26 November 2020