Attempting the challenge of reviewing any new INTER ARMA album these days feels like throwing oneself off the outer ridge of some deep underground gorge into a bottomless, dark, silent abyss. Quite how the Richmond, Virginia five-piece manage to maintain their momentum of generating some of the most out-there, genre-collapsing, doom-drenched prog-metal is by this point frankly beyond me. "Sulphur English" once again fails to do very little but excite, delight and terrify both new and long-time listeners as Inter Arma bludgeon forth yet another new path in extreme music.
The eerie "Bumgardner" initial high-pitched swathes of intro noise give way to the frantic, yet melodically soulful death metal crush of "A Waxen Sea". TJ Childers' acrobatic, yet contemplative finesse behind the kit is once again the epicentre of everything INTER ARMA strive for whilst Mike Paparo's backhanded returns again to slither around the guitars like a serpent lost in a sewer of liquid bile. The more swaying and staggering grooves of "Citadel" represents a bout of more straight-up to-the-point death-doom as ghostly backing vocals echo back from the face of Childers enormous kicks and collide with Trey Dalton and Steven Russell's searing guitar solos into a smouldering pot of molten anguish and tantalising trepidation.
The totemic "Howling Lands" is a clear highlight. Childers' gigantic war-toms give way to riffs the size of galaxies as Paparo's voice resonates through every reference point from gospel gothic to black metal's grim incisions. There's everything packed into this one, from brick-wall-slamming riffage to cold, calculated kit murder as INTER ARMA slide as one entity through the most desolate of wastelands.
"Stillness" is sure to win the majority of plaudits for its relative accessibility and breadth of capabilities in the band's repertoire. With choral chimes and gentle guitar motifs elevating Paparo's remarkable vocals ever higher above the dimly-lit suburban skies, it's perhaps a moment in INTER ARMA's career when you can see potential future wholescale shifts for this band away from "metal" altogether, into full-time Blade Runner-esque dystopian landscape music creation. Inevitably though they slowly build the swirling atmospherics back to a storming crescendo edged with crunch-laden might, but it's the non-linear direction they take to get there that's most glorious here on this nine-minute epic centrepiece.
But hey if you want heavy, like brutal, filthy heavy, INTER ARMA can sure as shit still do that too. The gruelling 12-minute slog of "The Atavist's Meridian" puts you back on a collision-course with the darkest forces if your own mind as Dalton and Russell lead a bleak onslaught through fields scorched with blackened post-metal riffs and fractured, yet hypnotising rhythms.
Following the crazed extensive noisecore of "Blood on the Lupines", the closing title track essentially sums up the many elements of talent that makes a band like INTER ARMA so unique. From the uncompromisable blasting of TJ Childers, to the labyrinth dual-guitar journeys down bottomless extreme metal rabbit holes to the gnarled, rabid bark of Mike Paparo, the five-piece suffocate all that is positive in the existence of the world today through twelve strong minutes of strangulating jazz-death. So many of our human senses are being utilised far beyond their design at this closing stage that in some ways it's a solemn relief when the stylus finally leaves the wax.
My mind is exhausted. My ears require bedrest. My soul feels like it has suffered. But was it worth it? Of course it was. It always is with these guys. Listen again. Listen loud. Listen without distraction. Sulphur English's abyss is calling for you again. And again. And Again.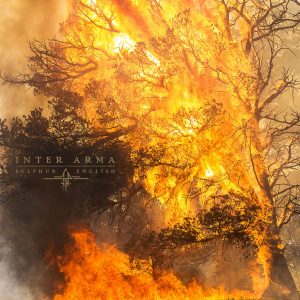 ARTIST: Inter Arma
ALBUM: "Sulphur English"
LABEL: Relapse Records
RELEASED: April 12th, 2019
GENRE: Progressive blackened metal
More: Facebook / Bandcamp / Relapse Records
Last modified: 18 August 2019