This is the debut release for the highly praised PostWax subscription series — featuring exclusive releases recorded especially for Blues Funeral Recordings — with ELDER kicking off hostilities with a 3-track EP that showcases no boundaries in their creative process.
Two years after the mind-blowing and essential "Reflections of a Floating World", I feel blissfully happy when starting the "Gold & Silver Sessions" listening. Opening track "Illusory Motion" is a brilliant sequel to the previous full-length, in keeping with their trademark sound, literally caressing your ears from the earliest notes.
Once the EP has started, we barely realize the lack of vocals inasmuch as we get instantly enchanted by the hazy melodies. ELDER push the formula further than on their full-lengths, even though their songs regularly clock in at over ten minutes. Patterns materialize slowly, as if their creation needed to be handled with utmost care and gentleness… once the listener is won over, they will stretch and welcome more and more hypnotic layers.
Nick DiSalvo and the guys give free rein to their creativity, and although the experimental side can bewilder some of us at first, this EP is a definitive grower just like its predecessors and will push you to listen repeatedly to the record until you finally reach sonic climax.
ELDER's longest track ever recorded on tape, "Weißensee", seems too short despite being eighteen minutes long and its consecutive buildups are a sheer treat to the ear and a guarantee that the odyssey through their fantasy soundscapes will be continued on another episode.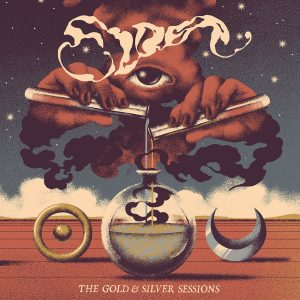 ARTIST: Elder
ALBUM: "The Gold & Silver Sessions"
LABEL: PostWax / Blues Funeral Recordings
RELEASED: 12th July 2019
GENRE: Progressive psych
More: Facebook / Bandcamp / Blues Funeral
Last modified: 9 September 2019