Hard-luck story and personal desires have turnt BARONESS into a totally different beast since their their 2003 debut. If you expect a umpteenth sludge record from them, you got it wrong. But if you allow John Baizley and his gang to catch you by surprise, you will be blessed with the follow-up to 2015's "Purple", as "Gold & Grey" comes out this June. So the real question wasn't whether they're still "metal", but mostly if they consider themselves a band (with a capital B) after dramatic lineup changes — with the addition of Nick Jost and Sebastian Thomson as rhythm section in 2013, then Gina Gleason on guitar in 2017. "Gold & Grey" is the greatest answer we could get, as it is the outcome of a great cohesion between them. Just like its recently revealed artwork, "Gold & Grey" is dense, meticulous and incredibly consistent. It's both a visual and sonic cathedral. Far from being just a visual concept, it reflects the entire Baroness realm: a baroque world where all paradoxes could coexist in harmony. "Gold & Grey" is chock full of these, and it may disconcert some listeners, while it will move the most careful ones deeply. We had the chance to talk to bassist Nick Jost, who enlightened us about this pivotal record in Baroness' work, a perfect epilogue to their chromatic cycle that opens new, uncharted paths. A land of possible where looking to the future hasn't felt easier.
Your new Album "Gold & Grey" is coming up in June and you recently wrapped up a North American tour. How do you feel right now?
Nick Jost (bass): I feel great right now. We just did an almost six weeks tour with DeafHeaven and Zeal & Ardor opening… It was better than I could have ever hoped for. We started playing some news songs, we feel great playing this stuff on stage as opposed to the basement.
Are you satisfied by the live outcome for these songs?
Nick: Yeah. We introduced "Borderlines" earlier on in the tour and we started playing "Seasons" about last week. They both have stuff that we really haven't done before… It seems that the crowd received it well. It just feels good to play the stuff you've worked on for so long and finally bring it to the stage.
You've joined the band in 2013 with Sebastian and took part in the "Purple" album. Now it was your turn to welcome new guitarist Gina Gleason. Could you tell us more about her?
Nick: She's a ridiculously good guitar player. She's a pretty good dancer, a very energetic performer and she's my buddy! Yeah. We've done three tours and an album together, but I think the process of writing "Gold & Grey" really brought us together as a band. Before that, she was just getting used to us and how we tour, but then the pressure and all of the uncomfortable part of writing a record with people, really brought us all closer together. We are a band NOW. There are not many Ginas out there right now, you know. She's special!
"The pressure and all of the uncomfortable part of writing a record with people, really brought us all closer together. We are a band NOW."
Let's talk about your new album I have the chance to listen to for a couple of days right now. So, Orange isn't the new black?
Nick: Slightly the new black, I guess! There is some black metal happening in there! (laughs)
More seriously, you decided to call it "Gold & Grey" yet it is not a double album as "Yellow & Green". Still, the title gives us some clues to understand the album. Gold and grey can refer to an opposition, like gold and iron, poverty and richness, brightness and darkness… It could have been "Black & White", but with Baroness it can't be that simple.
Nick: Absolutely. I think the title speaks to the elements musically happening, definitely. It is also a reference to the lyrics who are up on the record. And for a simpler reason, it's just that "Orange" doesn't sound good (laughs) ! We really had to find a title that also make sense with our color scheme and how this record is put together. But for sure it definitely speaks with duality and all the things that are happening on the record.
There is a lot going on this album. You guys play with tones contrast, harmonies, rhythms, breaks. It can't be reduced to a simple definition of duality. Again, it's more complex than that.
Nick: Yeah, there is a lot going on this record, and honestly, it works because of the sequencing. It took us a long time figuring out the order of the songs. And the fact that there's this more acoustic, lower valley in the middle of the record tied the whole thing together.
"

With "Purple" we wanted to make a kickass rock metal record. We focused more on riffs and wanted things to be intense. On this one, we were more into 'explore the other side'. "
It seems that you've pushed the previous albums experimentations to another level. They find an outcome on this record. You finally open some new, unexpected paths, and it brings an unseen sensitivity. It gives goosebumps.
Nick: Nice man. That's an amazing thing to have that happen with music… With "Purple" we wanted to make a kickass rock metal record. We focused more on riffs and wanted things to be intense. On this one, we were more into 'explore the other side', you know. Exploring these new sounds, since there's a lot of acoustic bass. I actually sing on this record… We just did a lot of things we've never done before. We went into recording "Purple" 100 % prepared, while for "Gold & Grey" we didn't have a full song written in the second studio session. We had to write six songs in the studio and that's kind of wild. That's mostly why it sounds so experimental, because we didn't know what we were doing.
Despite that, "Gold & Grey" conveys that feeling of achievement. Beyond all the experimentations, the album is rich, dense and above all, well-balanced…
Nick: It's a product of four people with strong opinions, but we all balance each other out in a way. My interests, my sensibilities will contrast John's or Gina's or Seb's in a way we'll have this balance that you hear on the record. I think it's an important part too because we spent 14 hours a day arguing about details, and it was very laborious to do that in the studio.
You guys seem to have dug deep to extract some brightness, something clearer, like on "Tourniquet" or "I'd do anything".
Nick: It's mostly due to John's lyrics and melodies on this record. I think he explored new ways of using his voice, with a wider range than on other Baroness records. And he did it very well. He's not a metal guy attempting to sing; I think he's a great singer. The emotional content has evolved like, you know… he was really bolder at times, in a level I don't think I've ever heard him doing before.
This all makes me think that it's your masterpiece to date. It becomes clear that John had a wider plan, that the whole picture is bigger and "Gold & Grey" is a sort of coda of this chromatic cycle. But it also augurs some new things for the band.
Nick: It's fine because you really can't write music by thinking that conceptually. I think it stifles you in a way, so we made sure we were wrapping up the color cycle. It's not a conversation any of us ever had… until we sat back and we're like "this sounds like it should be the end of the color series". The cool thing is, because we had the old elements and added new ones, we can go anywhere from here, and I'm exciting about that.
The color cycle has started before you joined the band. How did you, Sebastian, and at last Gina manage to embrace John's global view?
Nick: Well, I can only be myself. As a bass player, I really tried to make sure I make everybody else sound good. Definitely, finding how it works is difficult… and it was never about 'I have to consider this entire huge concept'. It's a thing we never brought up when we joined. The color thing was more a visual concept, and also a reference to the Led Zeppelin numbers thing. And musically, we're just having upon an art that makes sense with that. Even with "Purple" and "Gold & Grey", it was always just us trying to write the music we felt like we should be writing at that time.
"John's art is very complex, detail-oriented and worked over and over. Baroque is the word."
But still, we can hardly dissociate John's paintings from the music. Would you say you guys play music like he's painting or the contrary?
Nick: John has a way of writing and working that is definitely connected. Our playing is very sync'd up with our personalities. John's art is very complex, detail-oriented and worked over and over, you know. All his guitar parts are a product of simple things that just get taken to the extreme of complexity. Baroque is the word. We say that all the time.
This album is much more danceable than the previous records. Your bass lines are much more original and more groove-laden. I hear some elements of post-rock, post-punk, beats à la LCD Soundsystem. Do you agree with that reference?
Nick: Thank you, that's what we're trying to do. Me & Seb both like to go out, we both like to dance. That's a part of my life. That's fun that I've met this guy and it's also a part of his life. It's important as a rhythm section player and that's what I want to have happen. Seb has the best backbeat, I'm trying to figure out a way to play with his beat that works and that is also interesting.
As a bass player, would you say you're more influenced by the likes of Paul McCartney, Flea or Marcus Miller?
Nick: My biggest bass influence is probably Anthony Jackson (he invented the 6-string contrabass guitar, ed.). He's a monster bass player, he played on earlier Chaka Kahn solo records. When joining Baroness, I learned about a whole bunch of music bands I didn't really checked out. Flea is definitely an influence as I grew up. He's hard to avoid for anybody my age. But Anthony Jackson is the one… Honestly, I'm more into funk bands and I can hardly get away from that!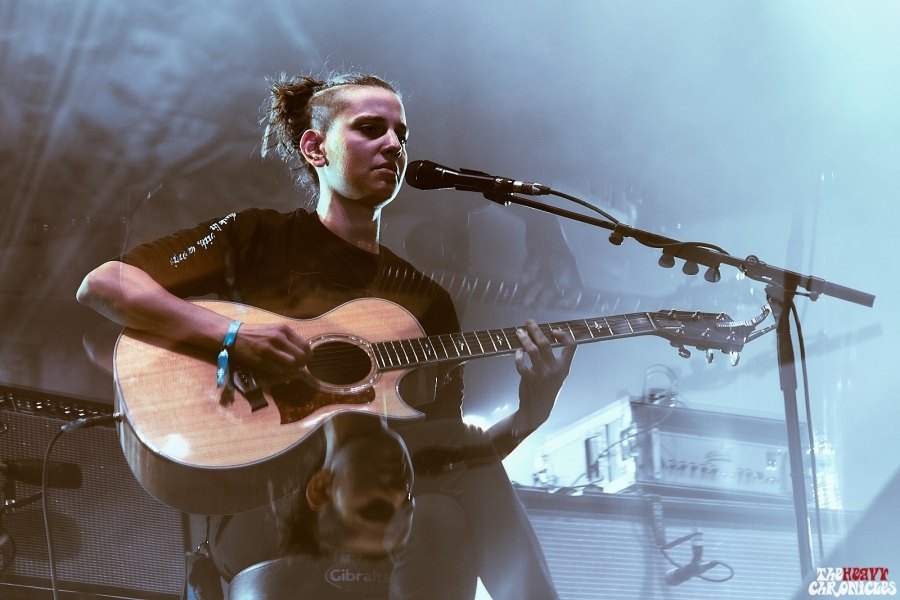 You put on an incredible show at last year's Hellfest festival — it takes some guts to go full on acoustic at a metal festival (drummer Sebastian Thomson had to go back to the US on last minute, and instead of cancelling their set, Baroness decided to play a special acoustic set, ed.). Of course, many people were bedazzled, must most of all, you really blew your fans' minds with this soulful set. How do you feel about it when looking back?
Nick: I mean it was unexpectedly magical. Seb had to return to his personal life and had to leave tour, it happens. Vocally, John and Gina are capable of switching modes like that. The fact that the tent was full and that there was a lot of people crying, as well as people crowd surfing… It really gave the chills, I felt that everybody in that tent just shared the moment. It was just full support, like everybody knew what was going on like "we are here for you guys", so we did and yeah… It's one of the moments in your life that you dream of.
To finish, Nick, you've known John for a long time. A lot of your fans are playing in bands and would kill to a have an artwork painted by John. Could you give them some tips to coax him like… maybe buying him new paintbrushes? Invite him to the best restaurant in town? His weight in booze?
Nick: (laughs) If you want John to do your record album, make a record that John likes. He'd only be able to do it with people he likes. The reason I know John is because a friend of mine reached out to get her cover done by John, right? And he liked her voice and liked her singing and they developed a musical relationship and a friendship. He will listen to it for sure and if he really likes your record, he'll do it. He's open to it, he's just picky! (laughs)
One last word for your French fans?
Nick: Can't wait to be over there. We've always had a fun time in France, so can't wait to just be hanging out over there, it's beautiful! Can't wait to be there in the fall!
New album "Gold & Grey" out June 14th on Abraxan Hymns – PREORDER HERE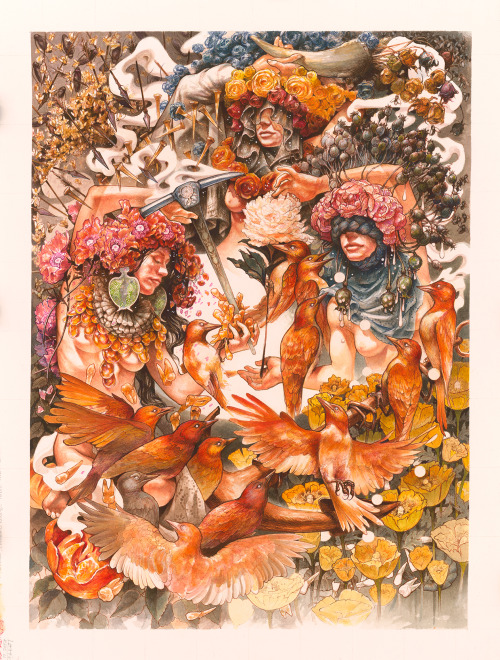 Last modified: 17 June 2019