The recent reissue of HANGMAN'S CHAIR's latest album through Spinefarm Records was a good excuse to get back to this fifth full-length from the Paris foursome.
I've been so used to radical shifts from a record to the other – going from brutal, straightforward songs to more sluggish and ethereal sounds – that I was a bit disappointed when I first listened to "Banlieue Triste". Maybe the release set to late winter wasn't suitable for me, all the more so as you don't really listen to HANGMAN'S CHAIR in your car or at a party.
HANGMAN'S CHAIR are anything but fun, they depict their own background and ours: gloomy, grey, monotonous, burdensome. Everyday life for those modern slaves who leave the hood or "middle class" suburbs to get exploited day in, day out, in order to feed their family, buy stuff they don't even need and get spaced out on booze or meds to forget… Shit life that only death will cut off. The band depicts this 21st century serfdom through sounds that are as lumbering and darkened as a burial day in the middle of Siberian winter.
They succeed their gothic depressive peers and revive long-lost cold wave vibes. HANGMAN'S CHAIR deliver the very essence of their music through this disc, filled with a bitter cold and hopeless feel. The sad view and lyrics are irrevocable, we live in darkness. "Banlieue Triste" lays words and sounds onto buried emotions, allowing our subservient minds to get free and contemplate Hope – a better world where we wouldn't be canon fodder, but human bombs ready to explode to overthrow the ancient order and get a hold of our future, to live and be fulfilled at last. Through a cathartic process, Hangman's Chair guide us towards a new virgin world. But before, fight will be had and blood will be shed.
With "Banlieue Triste", the Paris foursome establish themselves as a cornerstone band of the decade and prove with talent that you can be dark and renowned at the same time. Finely matured, this new album is undoubtedly their most accomplished to date… to go down in history.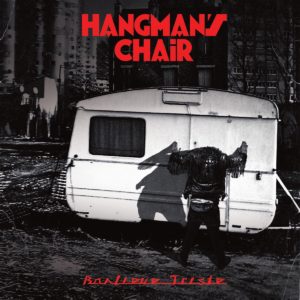 ARTIST: HANGMAN'S CHAIR
ALBUM: "Banlieue Triste"
RELEASED: 9th March 2018
LABEL: MusicFearSatan / Spinefarm Records
GENRE: Melodic doom
MORE: Facebook / Bandcamp
Last modified: 6 October 2018