This isn't an album review. There are some people that you wish you had met, and some other you only encountered in your dreams, where the dead are well and truly alive… (Disclaimer: what you are about to read is purely fictional!)
I've been going round in circles in this neighborhood for hours now, looking for the bar where I'm supposed to meet ORANGE GOBLIN's frontman. I was cursing in despair, when some geezer on the corner yelled at me – but I couldn't get a word of what he's jabbering about. I told him to piss off, and guess what, here was the pub! I couldn't wait to sit down and have a chinwag with the founder of a foursome that could easily be described as worthy heir of Motörhead.
– Hey mate, you finally made it! A bit later and I would be pissed.
– Sorry, the area has changed a lot in twenty years and I got lost like a bloody tourist…
– Ahahah, no worries. So, you checked out the new album?
– I would never show up otherwise! Coming here to spout half-baked theories about songwriting, influences and all that shit? That'd be a proper screw-up, if you ask me.
– Ace, I'm happy you're not one of those scribblers coming up with a puff piece.
We started talking about "The Wolf Bites Back" and all these little things that make it sound more accomplished than the previous records, when the old chap who bothered me earlier turnt up and collapsed on our table. Any French guy would have yelled at him, but instead Ben Ward gave him a seat and ordered him a pint. Looked like I'd have to deal with this guy coming out of nowhere anyway. As if my day couldn't get any stranger!
– Ben, can we talk about the album title? It's a bit revenge-sounding, like "watch out, we still around and kicking arses". Which was already the case on "Back From The Abyss", am I right? Is adversity the kind of fuel that makes you move forward?
– I don't know if we're about revenge, but it's been hard to put this one on track (speaking of lines, our hobo is snorting a massive one from the other side of the table). We don't tour as much as we used to and we all got day jobs now, so we get slowed down in our creative process a bit. But hey, I'm not complaining! It just explains the gap between two records.
– So after getting back from the abyss, the Goblin is still just as incisive! Haha!
I was barely paying attention to our old pal, when the latter grabbed a guitar and started playing songs I could even identify… until he started singing.
– Holy shit, this voice… He sounds just like…
– Lemmy, yeah I know. Crazy, huh? He does it all the time. Okay, not that I want to kick you out, but there are other press folks coming…
– No worries, if only I didn't get lost, we'd have more time. Thanks a lot for your time Ben, until next time!
I'm still not sure of what happened after, but I'm pretty sure I heard Ben say "c'mon 'Pa, we should go now, you almost got caught". "For fuck's sake, if I can't even play my own songs in a pub now…"
As worthy heirs of of God himself, ORANGE GOBLIN are back on top form with "The Wolf Bites Back", one of their biggest and most balanced albums to date. 'Pa would be proud of them.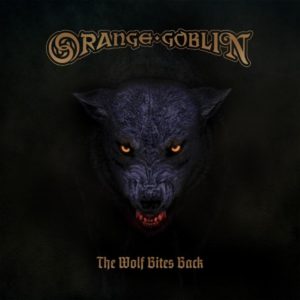 ARTIST: ORANGE GOBLIN
ALBUM: "The Wolf Bites Back"
RELEASE DATE: 15th June 2018
LABEL: Candlelight Records
GENRE: Rock'n'roll
MORE: Facebook / Website
Last modified: 24 September 2018