MANTAR

: Turkish for "mushroom". Well, it doesn't sound too heavy. A strange monicker for the prolific and rather intriguing German duo, who released three albums in five years. The first two records gave us a taster of the two friends' ability to deliver outstanding and über violent anthems. I was thrilled to discover their third full-length "The Modern Art Of Setting Ablaze", after I finally got over what might be the less friendly side of their music: vocals. For Hanno's relentless shrieking perfectly tallies with MANTAR's spirit, as well the musical power that stems from their thematics.

Fire has always been at the very center of their music. Whether it's about its purifying use ("Death by Burning" on the first album), its undeniable potency ("Ode To The Flame" on the second one) or a will to burn it all (the new one), the fire element is the duo's obsession. And they are certainly not to blame. Our preposterous society is on the brink of chaos and run by greedy duffers, so when everyone will realize, some won't be left unharmed. "The Modern Art of Setting Ablaze" will be the soundtrack of this apocalypse, giving formerly tied down people the strength to burn up, overthrow this superficial world while wreaking bloody havoc and getting rid of the oppressor. Purification by the stake, like the ancients used to do a long time ago…

MANTAR managed to come up with a unique sound, that I won't bother to describe here. Hanno and Erinc may not be born virtuosos, yet their common love for punk and violence – plus some hard work – has been the key to this incredible outfit. Rarely (never?) a guitar/drums duo has blended such efficiently melody-laden instrumentals, jouncy riffs, fast-paced drumming and deathly vocals. In the middle of these uncharted territories, the lost listener can only refer to the previous records to grasp the beast. Even though a bass-free formula could seem limited sonically, yet the German are going further in songwriting, getting more straightforward, like a heavyweight's hook in your face, with some fine, catchy choruses on top of it.

With this third record, MANTAR refine their end-of-world anthems, and if only a spark was needed to set this global mess ablaze, the duo would be glad to pour some gasoline on it. Burn it all: that's what they want, and we're now ready to follow them in their fury.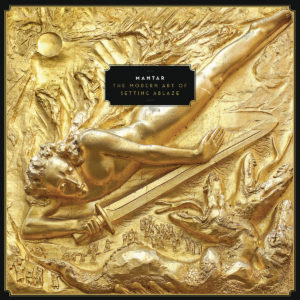 ARTIST: MANTAR
ALBUM: "The Modern Art Of Setting Ablaze"
RELEASED: 24th August 2018
LABEL: Nuclear Blast Records
GENRE: Blackened sludge punk
MORE: Facebook / Bandcamp
Last modified: 15 July 2019