HELLFEST

 treated us to some absolute greatness for their 10th anniversary last year, but the festival was back even stronger this 

June 17-18-19th

 with a lineup to die for (Black Sabbath's "The End" tour, Rammstein and The Offspring's first) and a slightly expanded site designed for the well-being of 180,000 festival-goers (!). This year once again, metalheads, rockers and hardcore/punk fans got to feast their eyes and ears through three days of riff madness and fire with 160 bands, and more than 50 performances covered by the THC crew, for your delight… and ours.
(TEXT: Beeho & Razort // PHOTOS: Sylvain Golvet & Gaël Mathieu)

We kick off this eleventh Hellfest edition with a full American breakie, and the old school rock'n'roll riffage of Venice Beach's skateboys THE SHRINE. I must say that I apprehended this show, as I've seen the trio playing on different stage sizes and I know that their wild performances have more impact in basements than on bigger stages. And I wasn't mistaken, for their moshpit-friendly anthems are the right pick to start the day under rather clear skies, but the band remains surprisingly static, looking like three small hairy atoms lost in the middle of that immense stage. Too bad! – Beeho

Like every year, an endless queue at the entrance prevents me from seeing the opening band on the Valley stage, which this year is MONOLORD, a band I was really looking forward to seeing again after they blown my earholes in Bordeaux with Salem's Pot and Greyfell. One great thing with the Swedish trio is that they play so loud that I can actually hear them from outside, even though standing in front of them would obviously provide much more sensations. They've already reached the half of "Empress Rising" when I finally get there. I come across a few friends and inhale the first morning smokes of this tent under which I will spend most of my weekend… The show is now already over, time for me to head to the Warzone for Cowards, the perfect occasion to discover the new setting of this part of the Hellfest site!

COWARDS. Pitch black. The music. The wrath. Gritty vocals. The frontman's outfit, his blackout tattoo, the way he looks at the crowd. The drummer. The instruments. The sky getting darker. Even rain drops seem to be made of Indian ink. The sound is neat, the message is conveyed perfectly, the bass crushes us all. What's better than starting your day surrounded by the post-apocalyptical scenery of the new Warzone, its barbed wires, miradors and rusty sheets of metal everywhere, in front of one of the most furious bands of the French sludge/hardcore scene – and who even manages to launch the very first moshpit, whereas it's not even noon. It's a good thing they only played thirty minutes, otherwise I wouldn't have given much for the place's longevity.

Ukrainian stoner rockers STONED JESUS start with a bang, disturbing the Valley's peace with "Electric Mistress" (a song I've always preferred live) and warming up the curious folks who didn't know the band about ten minutes ago. We've reached the half of the set when the first notes of their unanimously-awaited masterpiece echo, filling the numerous fans with bliss: "I'm the Mountain". A huge picture is being painted beneath under the tent: a tidal wave of banging heads, a crowd singing every bit of the song in unison, a band making the moment last… throughout the second half of their set. I'm the Mountain, You're the Mountain. He, She is the Mountain. We all are the Mountain this morning, and we're coming back down from it too quickly to meet the Valley's fresh ground…

Hard to stay up after getting our asses kicked in already three different ways this morning. For WO FAT, I decide to sit far from the stage to give my body some rest and do some sketching, while nodding intermittently. I may need a bit more rest actually, as the next band on my list is on the Warzone… ALL PIGS MUST DIE = unanimously elected as the most brutal show of the festival. While most festival-goers are currently on the digestion process, the British outfit quietly gets on stage… then fuck the audience in their earholes with their uncompromising sound. To give you a metaphor, it's like having your nuts caught in a vice on which Thor would hammer each side relentlessly. A blend of black metal blast beats, hardcore vocals, frantic riffs à la Aborted, all this wrapped in mosh-inducing parts and neat mid-tempos. When "Chaos Arise" starts, I hazard the most violent and united circle pit ever. Every fucking mosher falls down at least once, and gets instantaneously picked up from the ground, while we're all treading upon each other in a joyful flow. Now that was cathartic, as well as a real discovery for many of us here!

A band who makes the Valley's grass vibrate must be a good band. I may be discovering RAMESSES only now, but I don't need any introduction to know we're going to have one hell of a time. While I'm comfortably sat on the grass, I suddenly notice that my friend's jug is smoking… Is it a thin layer of cold water evaporating, or an ancient demon responding to the call of the band's bass frequencies? Is their name an obvious reference to the Egyptian god? I imagine a whole church venerating this forgotten deity. I feel the sound rumbling deep inside my body, and picture the band playing at midnight, shattering the stained-glass windows. I'm admiring their black metal-inspired logo, bringing to my mind a vision of an owl's flying around this sacred place. Damn, it's over. Another band that made an hour feel like a second. – Razort

As for me, the fabulous RAMESSES gave me so much heaviness and satisfaction within forty minutes, that all I feel like doing now is be as one with Satan. "I can barely breathe", whispers a fellow blogger to my ear while "The Tomb" is playing… No doubt that the trio formed by the mighty Adam Richardson on bass and vocals, Mark Greening on drums (you know the guy), and Alex Hamilton on guitar (also of Bossk) delivers some of the most viscerally doom and sonically conducive atmosphere to a black mass, on this Friday afternoon in Hell. Impeccable from start to finish. – Beeho

A band called "Earth" must be dealing with deep and ancient topics, for EARTH could be the music metaphor for Gaia expressing herself among a rock band. Slow and majestic, heavy like a sledgehammer, swaying like ocean waves, calm as can be… No vocals, only the thick bass lines of a Rickenbacker, a Jaguar and a Gibson forming all together a huge drone/doom symphony about Genesis. Unfortunately, the number of people who are there to witness this great journey is quite disappointing, as many people are gone to watch a bunch of beardos singing about their manliness, high libido, and… What? It's already over? The trip was so short, it's now hard to come back down on Earth. A heavy silence descends upon us. What did I just experience? – Razort

Meanwhile, my attention is 100% focused on Norway's death punks and instigators of one of the biggest fanclub this civilization has ever known: TURBONEGRO. Their closing show at Hellfest 2014 brought so much joy and exhilaration that I quickly became a fan of the band (not to the point of joining a Turbojugend, though). Speaking of, sailors dressed in jean from head to toe are numerous in front of Mainstage 2. With a start on the epic "The Age Of Pamparius" and the rather cool setlist that ensues (despite one or two down-times, as on "Special Education"), the band does the job thanks to their natural swagger and their sexy leader Tony Sylvester's banter. The crowd isn't as buzzing as I expected, but the feeling of euphoria remains a while after their show, as well as the need to keep chanting "wooohoooooo, I got E-REC-TION!!!"…  – Beeho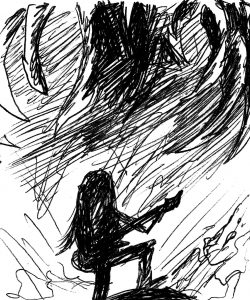 After Earth, time to crawl in the shade of the Temple, as American/Colombian duo INQUISITION are set to crush a full ground of innocent souls, like the black metal war machine they've been since 1988. Vocals and guitar aren't much audible at first, but it gets better and better afterwards. The band's impressive frontman Dagon mesmerize the audience with his peculiar singing, while Incubus is destroying his drums at an unrivaled pace. I identify "Force of the Floating Tomb" and its genius dissonant chords, as well as a few other songs which weird names are constant references to death, cosmos and black magic… Even their logo seems to be coming to life under an obscure mystical spell, its sharp blades closing in on the musicians, who look like the puppets of an unknown evil force… Such a thrill. After the show, I feel dizzy for almost an hour!
Maybe Inquisition's frantic performance has a lot to do with that, but when I get back to the Valley, I can't get into THE MELVINS properly. I've been sung their praises a million times maybe, yet I can't get used to their sound, even less Buzz Osborne's voice and appareance. It's like seeing some kind of poisonous mushroom shaking his curly grey hair while somehow intending to put out audible riffs. I'll think this through and will check them out again once I'm back home, because right now their sludgy noisy mixture has no effect on me whatsoever. After a Hell Snack in front of The Arrs, the Valley is my home again, this time for a music oddity recommended by my father and many people this weekend: MAGMA. "Weird" wouldn't be strong enough to describe this bunch of folks who are making noises to form a strange sound from outer space, into which I can't get, once again. When exhaustion or soberness (or both) are involved, it's hard to get into the French band's mishmash of jazz and prog rock, even though I was assured it would be worth the journey. This thought saddens me, so I decide to drown into a jug of Guinness. – Razort
Along with Turbonegro, DROPKICK MURPHYS was the band I was looking forward to seeing the most on this first day, and another reason to party the rock'n'roll way. Right next to the Mainstage 2 bas, I find myself celebrating, singing along wildly and pouring beer all over the place with a happy bunch of punk rock dudes. The sailor-inspired setting of the Mainstages and the (almost) full moon above our heads make the moment feel like a pirate's fantasy, full of moonshine and drunken accolades. The Boston lads deliver an hour-long set (including a handful of ballades well conducted by Ken Casey on vocals) during which everyone's arm in arm, singing "We had guns and drums and drums and guns, hurroo hurroooo…", "Citizen!!! C.I.A!!!" or "I'm shipping up to Boston, woooheyhoooo !!!". The band is going flat out from beginning to end and give us a much needed boost – the kind that should be reimbursed by the public welfare system. Hard to enjoy Sunn O))) or Converge after such a celtic punk bash, but wait… – Beeho
How to sum up RAMMSTEIN's headline show at Hellfest in a few words? Crowded. OVERCROWDED. You can't even move along or see the stage, even from a distance (and one knows that visibility is essential with this band). Some jerks are keeping others from going past them, kids are complaining about said jerks, they are having words, no one is paying attention to the intro… Now for a bad start! However, the German six-piece treat us to a few rarities like "Hallelujah" and "Zerstören". As usual, they put on a different pyrotechnic show per song. I feel slightly bored though, as Rammstein is more of a stadium band than a festival one. I'm cold, no one is singing along, so I head to the Warzone to get kicked in the ass by a band that is REALLY worth it. – Razort
Same feeling for me, except that I intended to get out of the MS area to see Converge, got trapped in the middle of 40,000-something people, and have no other choice than watching RAMMSTEIN's performance until the very end. As a real neophyte, I must say that even though I stand miles away from the stagen stuck next to a couple with a kid under 10 (glad they didn't play "Pussy"), the band's Gotham City-East industrial metal tinged with 80s dance vibes is quite cool. Add to this a freaking POWERFUL sound and pyros, and the metal crowd is satisfied. I feel a bit bummed out when hearing Sunn O)))'s rambling from afar, or even hear that Converge put on a fucking great show. Ah, "du hast mich", after all.
As soon as it's over, I run to the Warzone and easily get to the barrier right before Norway's punk'n'roll darlings KVELERTAK get on stage. As always, their mighty frontman Erlend Hjelvik comes up with an owl headdress, shining in the darkness. A real sonic bulldozer is plowing into us at full throttle, while arms and tibias are heartily bumping into each other behind me. Without a single time out, the boys follow up with about ten classics. The pit is on fire, while the band remains to stay as classy and rock'n'roll as can be. Erlend comes down in the pit twice to crowdwsurf and sing, making the audience even more hectic than it alread was. I have no idea what kind of fuel he's on, but after a quick break backstage, he seems so boozy that guitarists Maciek and Bjarte (in stitches) have to take on the vocal part on the last two songs. After such a sonic beatup, rest is mandatory in order to survive the next day…   – Beeho
It is so sadistic to have Norwegian geniuses KVELERTAK playing so late, after such an intense day. When I arrive by the middle of their show, the pit is a total mess. Now we're talking! At last, a real impassioned crowd, unlike the Mainstages' zombie audience! The six musicians are like one giant, playing their greatest songs with just as much precision and exaltation. A real warmth emanates from these guys, whose will to make us party hard and destroy everything around us seems stronger than anything else. Kvelertak are definitely one of the most promising bands on this planet and one of the best we've seen today, brilliantly blending the best of extreme music – black metal, hardcore, hard rock. I have no more energy left. No more battery. No more eardrums. Time to call it a day… – Razort
Last modified: 1 September 2016