This third edition of Swiss festival 
UP IN SMOKE FEST 

took once again place at Z7 Konzertfabrik in Pratteln for two days full of fantastic rock music. Z7 had two stages, a smaller "side stage" out of the venue and a main stage to avoid clashes and long waits during the set conversions. Here's our write-up for the Saturday at UIS, straight from the pit.  (Words and photos: JENS WASSMUTH)

The Saturday is opened by French trio SPACE FISTERS, a three-piece playing a mix of Heavy Metal and Stoner Rock, quickly followed on the side stage by the psychedelic ramblings of SUN AND THE WOLF, a half-German half-Kiwi outfit who opened for Black Rebel Motorcycle Club this summer in Holland, and are now on tour with BLOODNSTUFF and POWDER FOR PIGEONS, taking the side stage right after Space Fisters. There seems to be a trend for two-men groups like the latter, both benefiting of an excellent guitar-drum combo.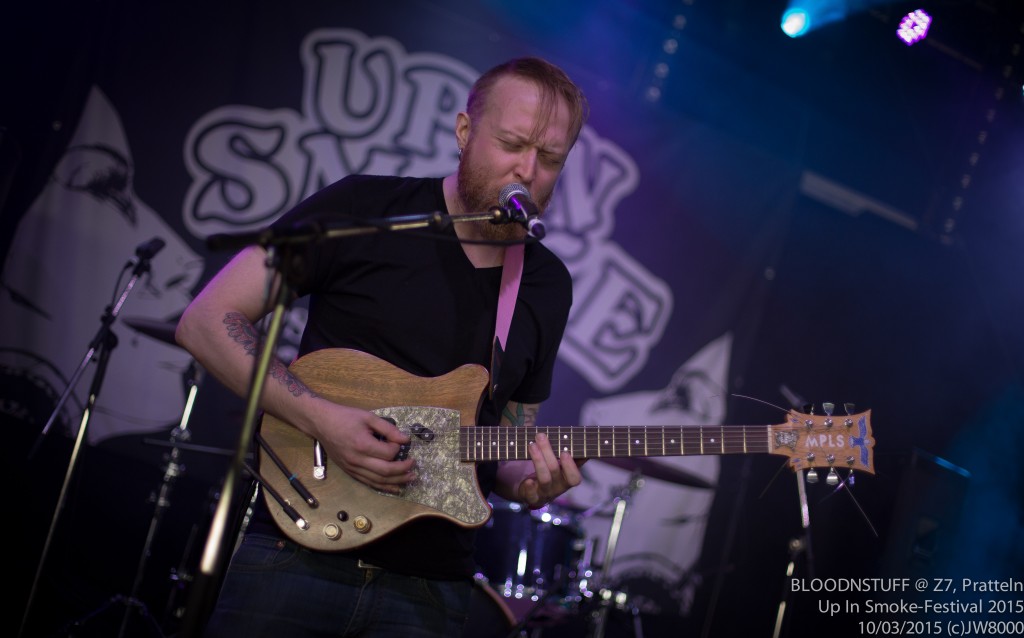 Meanwhile inside the Z7 hall, Belgium's alternative psychedelic foursome MOANING CITIES hit the stage and surprise us by using a original Sitar on the first songs. MARBLEWOOD, three musicians from Zurich, followed with their bluesy desert rock. Then it got green. Smokey green and loud. BELZEBONG crushed the side stage. The Polish quartet just doomed the hell out of the UIS audience with their new release "Greenferno".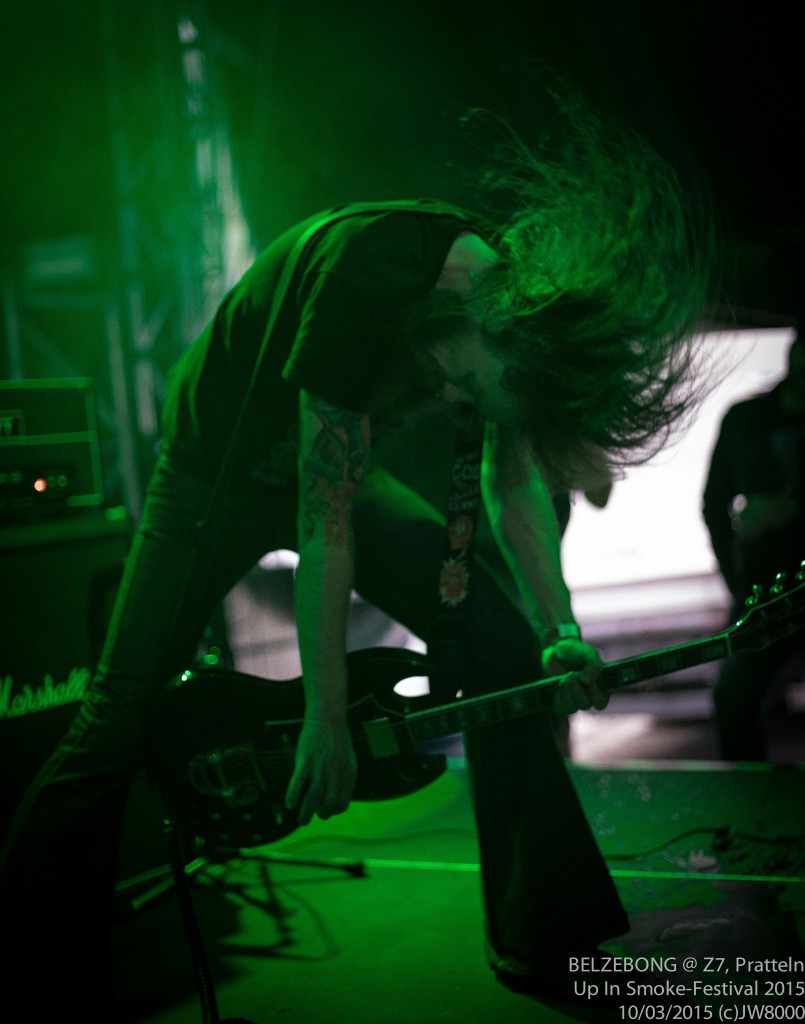 My head was still vibrating as Berlin's SAMSARA BLUES EXPERIMENT came up on the main stage, letting their psychedelic blues rock flow slowly and smoothly. Back from that space trip to the side stage where Swedish latest doom sensation MONOLORD waited to overwhelm the crowd. Sludgy doom swept over their heads. Up to now it has been a variety day, steadily increasing volume.
With MY SLEEPING KARMA after SBE, I got the chance to hear their new LP "Moksha" (2015, Napalm Records) played live. I could feel the harmony between the musicians, as they also had their 10th anniversary.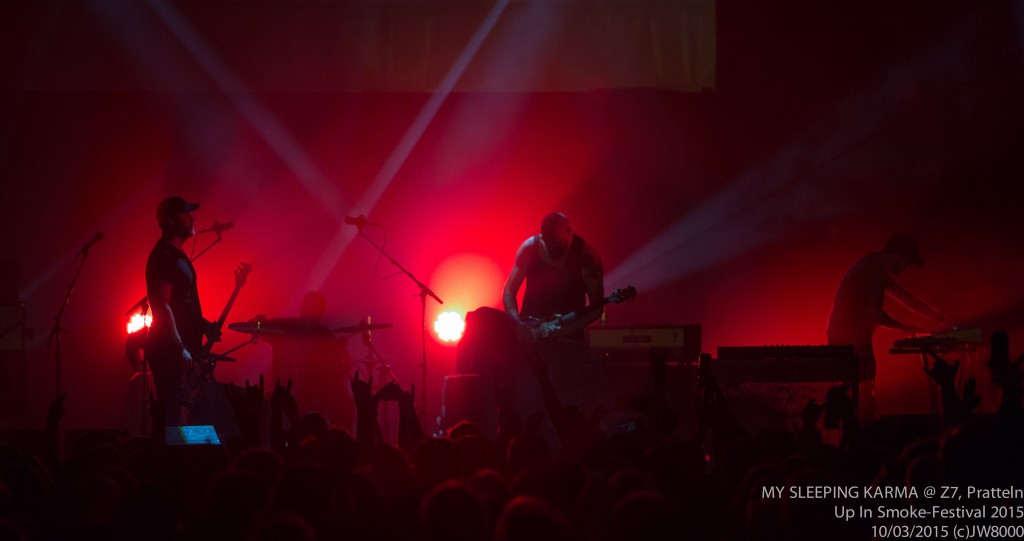 The last band at the side stage were BLACK RAINBOWS from Roma, Italy. Their mix of heavy and psychedelic fuzzy rock enchanted the people in the pit… before everybody got melvinized. Presently on tour across Europe with Big Business (Jared Warren/bass & Coady Willis/drums), who also completed THE MELVINS as a four-piece again, after Buzz Osborne and Dale Crover toured the US with J.D. Pinkus (Butthole Surfers, Honky, Down) on bass. The set went through a lot of their all-time classics like "Youth of America", "The Bit" or "Civilized Worm". The complete day was highlighted by the extraordinary great sound on both stages.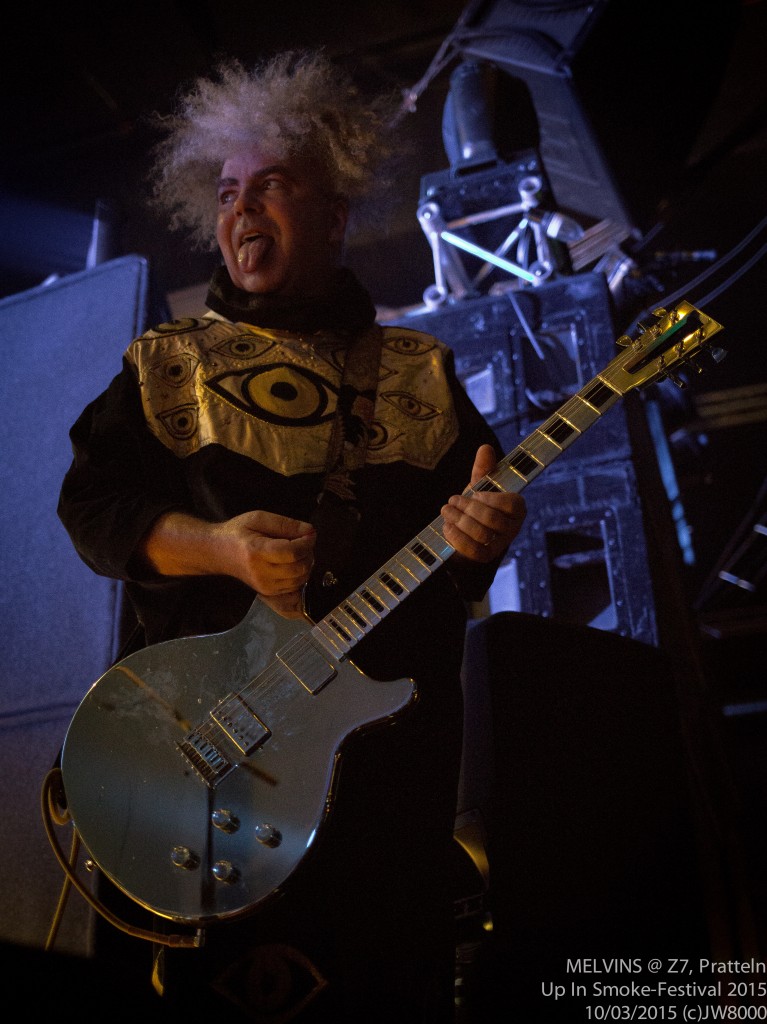 Last modified: 11 November 2015