A few weeks after their role models Colour Haze came back with a rather disappointing 11th album,
ELDER

 steps in with a new opus that's equally ambitious, but much more satisfying. A mind-blowing demonstration of technical mastery and artistic sensibility, Lore is a formidable proof of serenity from a young band that already seems in full command of its capabilities. (Review by Katzenjammer)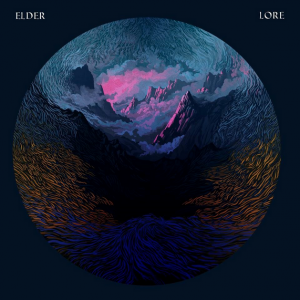 ARTIST : Elder
ALBUM : "Lore"
RELEASE DATE : February 2015
LABEL : Stickman Records / Armageddon Shop
GENRE : Heavy psych
MORE : Facebook – Bandcamp
For those who are not familiar with these guys, ELDER is a doom/psych trio hailing from Boston, Massachusetts. Following a rather Sleep-ish first album, the band generated great interest with Dead Roots Stirring (2011), which was much more psychedelic – and, to their own admission, heavily inspired by Colour Haze. Four years, one EP and one live album later, the expectations around Lore are thus very strong, given the impression that Dead Roots Stirring has made on the stoner/doom scene.
The band's new direction is evident from the very beginning – i.e. the album cover. ELDER have replaced the sticky, swampy aesthetic of their earlier work with a luminous, "Middle-Earthy" visual. I set the vinyl in place with febrile motions, then "Compendium" starts. It sounds very Eldery: dazzling back-and-forths between a freewheeling guitar and massive riffs, in a way that's both daring and carefully mastered. "Legend" opens in a seemingly melancholic vibe before reaching, touch by touch, its true nature – bold and bombastic. The song culminates in an epic riff (you'll know which one !), the kind that makes you want to ride a horse and attack windmills. Guitarist and vocalist Nick DiSalvo is very well served by the rhythm section : the bass purrs like an old diesel motor while the drums provide the right amount of rolls and fills, which leaves plenty of space for DiSalvo's guitar to wander around and carry away the tracks. He is, however, least served by his vocals: they're far from unpleasant, but rather limited in tones. It doesn't get in the way of the music, but it doesn't contribute as much as it could.
This takes us to the album's title track, which feels like its main course – and a very lavish one at that, for it's almost sixteen minutes long. "Lore"'s versatility is amazing : it's like hopping on a plane with a seasoned pilot that's looping the loops, without ever getting you nauseous. ELDER does this incredibly cheeky thing of bringing in violins for… twenty seconds, before sending them off with a killer drumroll and closing on a doomy riff, so basic (two notes!) yet effective that it makes me wonder why no one thought of it before. "Deadweight", the only track under ten minutes (!), succeeds honorably in the difficult task of following "Lore" by aligning original and inspired phases, leading up to a high-energy finale. "Spirit at Aphelion" appeases the tension with an acoustic introduction, before taking us to an almost perky atmosphere – not their most convincing. Fortunately, the song lands so well on its feet that it makes up for the rather uninspired fade-out that closes the album.
To me, the words do not really do justice to ELDER's music ; it is worth inventing new ones for, such as… err, let's say monolificent (monolithic + magnificent)! Regardless, I hope that I've been able to transmit the excitement I've felt listening to Lore – it's an intense and demanding listen, but it's oh-so rewarding. Still, with such a well-produced, overdubbed album, I cannot help but wonder : "how on Earth are they going to play this live ?" It seems that we'll get the answer this summer, on a certain secluded beach in a certain village of southern Europe… but shh, you didn't hear it from me!
Last modified: 11 July 2015