Second day of this massive report… of the even more massive HELLFEST 2014. After a double kick butt provided by Electric Wizard the night before, we're coming back stronger than ever in order to stuff our ears with some loud heavy shit. Sun and dust won't get the better of us! Besides, a handful of rock performances are about to shake our hearts and make us turn to the "insane" side of the force. Let's keep on exploring what's probably the biggest metal weekend of 2014, right now. (Photos: T.H.C. / Gaël Mathieu)
My first day was filled with emotional reunions  – oh you know, Electric Wizard, buddies here and there, the sun, all that – so there's no better start to that second day as Welsh heavy trio HARK. I respect these guys a lot, especially since I saw them in Paris on November 2012, when they were opening for Red Fang. This band is quite special, for they bring forth such a positiveness during their performances, whereas their sound imprint (a blend of classic heavy metal and post-apocalyptic post-metal) is still frigging sharp and gloomy. Today, HARK are unveiling their all-power in front of an electrified Valley, and show us that there are good bands and Real Good Bands. I think I've never had such a tastier breakfast that this burst of epic metal anthems delivered by a band on top of its form, and obviously really happy to be here. Thumbs up, lads.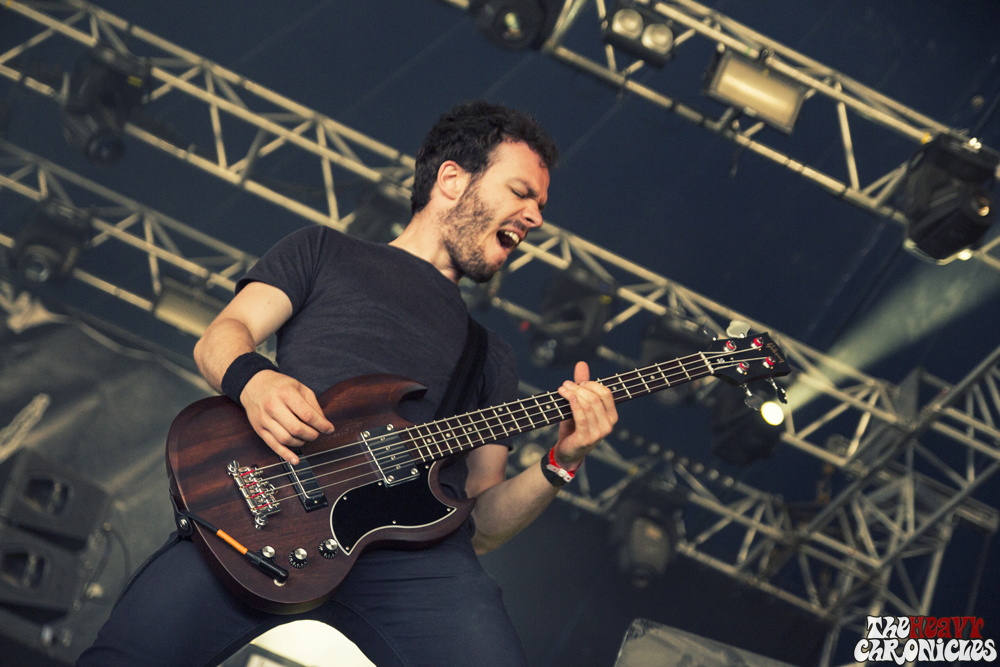 As I had to spend another couple of hours at the press corner to carry out some professional duties, let me skip to one of the absolute highlights of this second day (for me and many of my folks, it has to be said): MOS GENERATOR's rock'n'roll performance to the power of 1000 raging horses on the Valley stage. Let's be honest: as soon as I hear the first notes of "Beyond The Whip", I feel the utter frustration of being stuck in the queue to the photo pit, instead of being intensively headbanging with my people on the front row. For exactly forty minutes, the power trio gives us a LESSON – imagine a big Black dude saying that word – of old school heavy rock, with fantastic rhythms, and guitar solos that could almost take the stars out of the sky. 100% feel good rock. At some point, the band is starting to jam, while the audience is clapping hands merrily – and off beat, most of the time. Let's note that Tony Reed's vocals are as clean and punchy as they are on the records. Moved by the positive reception and to show his gratitude, he decides to throw handfuls of Mos Generator patches at us. Needless to say we all act like 8-years old kids at that very moment. I just wished the show would last forever! A massive wave of good vibrations has just been spread throughout the Valley by Mos Generator, and I can tell everyone's very grateful for that right now!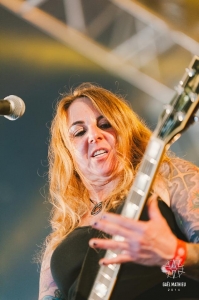 Next band on my to-do list: American doom outfit WITCH MOUNTAIN. Although their album "South Of Salem" has spinned loads of times on my turntable, I really didn't know what to expect from them. When the singer hits the stage, I can help but thinking "well, I didn't think she could be so cute". And on the whole, that's pretty much the only impression I'll keep of the whole gig, for Uta Plotkin is painfully singing her high-pitched vocals, making me run off the tent only after a few songs. If only she had an ounce of charisma to cope with the lack of power, but she ain't. That's too bad, for there is surely something captivating with Witch Mountain's music. Speaking of charisma, there's no better ambassador than our "doom mama" Lori S. of ACID KING (on the right). To the risk of getting death stares and being hung high, I've never really got into that band, whether it's on record or live. I give myself a last chance, but it's no use: I find their doom anthems boring. It's all about the feeling, so please don't hold it against me for my total lack of objectivity. Time to take a short break in the grass nearby the Valley, just in case I'd be hit by a last-minute stroke of love for Acid King. That is all.
Another classic rock moment is about to take place on this second day of Hellfest, while CLUTCH are soon to take over the Valley. For the first time of the weekend, the tent is overflowing. Hearing their very own "We Need Money" intro song (of Chuck Brown & The Soulsearchers fame) already makes me regret being once again waiting in line for the photo pit. The whole audience is already shaking booties whereas the gig hasn't properly started. Neil Fallon joins us with his usual swagger and blasts the thundering "The Mob Goes Wild". A wind of blissfulness traverses the crowd, not only because everyone's so freaking happy to see them – or because many peeps are already drunk as skunks, which leads a few chicks to go crowdsurfing with no shirt on – but most of all because the band is in fucking great shape and delivers one hell of a solid setlist tonight. After Mos Generator's exhilarating rock'n'roll set a couple of hours ago, CLUTCH free the last reluctant souls, and make us nod while thinking this is undoubtedly the best way we could have ever celebrated Fête de la Musique (Music Day). The band gives life to this "Crucial Velocity" Fallon always likes to brag about. Fastest in the lane, indeed. But also one of the most vibrant and smile-inducing gigs of that whole goddamn weekend. Thanks Uncle Neil, THANKS CLUTCH.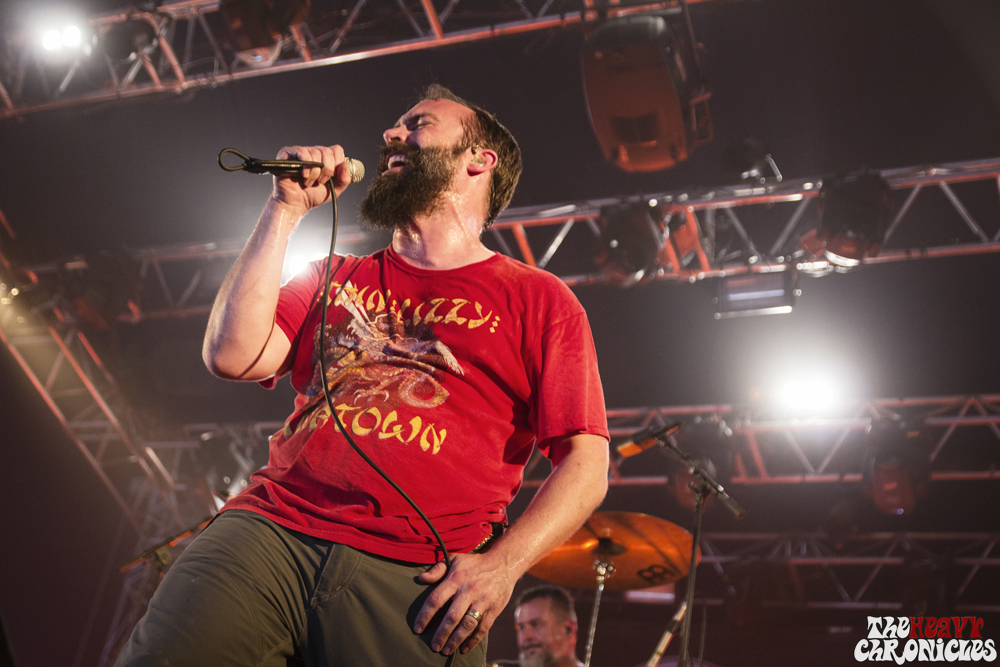 A short break at the press corner allows me to cast a glance at SOULFLY's "Jump da fuck up/Pump da fuck up/Whatever the fuck up" gig on the Mainstage. But it's time for me to discover DEEP PURPLE live (hey, not everyone's born in the 60's or 70's!). Considering the amount of people in front of both Mainstages, I retreat to the gates of Kingdom Of Muscadet to watch the gig on the big screens. Which happens to be as stimulating as a episode of "Derrick". Given the legends they are, I was at least expecting to get some goosebumps. Hmm. Me literally falling asleep, I then realize that MONSTER MAGNET is playing right now. Running then sitting next to the Valley to enjoy the show wasn't the most clever idea I've had this weekend, for I'm completely washed out, while "Look To Your Orb For The Warning" is on. FAIL. So, as much as I wanted too see PHIL ANSELMO & THE ILLEGALS and catch a glimpse of AEROSMITH (just not to die an idiot), I decide to head to… my bed. "Huge fail", you say. And while I wake up with a start while a wonderful "Dream On" is being played. Well, at least I can say I caught a bit of Aerosmith…
Sweet dreams, Hellfest. Be ready for tomorrow's grand finale!
READ ABOUT DAY 1 AND DAY 3 OF HELLFEST 2014
Last modified: 10 February 2015