There's some kind of magic aura surrounding
TRIPPY WICKED & THE COSMIC CHILDREN OF THE KNIGHT

, and not just because their name is worthy of a medieval heroic fantasy novel. Really, there's something very unique in the London trio's music. This plainly entitled new EP 

"Underground"

 is a proof that you can carry a heavy bunch of influences in your bundle and still impose your own style and atmosphere to the listener. (Not so closely) following two quintessentially blues metal records and one acoustic folk EP, "Underground" marks the evolution of the band towards much more metal and epic adventures. This isn't a miracle : it's a perfect achievement.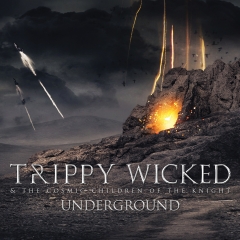 ARTIST : Trippy Wicked & The Cosmic Children Of The Knight
ALBUM : "Underground"
RELEASED : September 13th, 2013
LABEL : Superhot Records
GENRE : Trippy metal
RATING : ✩✩✩✩✩
MORE : Facebook – Bandcamp
Quite frankly, I didn't know TRIPPY WICKED until I heard about them at London Desertfest 2013. Then, I rummaged through the web and stumbled upon their inimitable acoustic covers of the Sleep, Weedeater and Crowbar classics (among others). Love at first listening. Get into their half-bluegrass half-folky vibe like I did, and you would hardly believe that those three are actually serious purveyors of heaviness. Evidence below.
The EP starts slowly but surely with eponymous song "Underground". Vitusian tempos, haunting heavy riffs spiced with stunning graceful guitar parts, a crescendo of hypnotic voices : here comes the basis, we're now ready for more. Indeed, this delightful song was only an appetizer. Then comes the incredibly powerful, subliminal and beyond insane "Echoes Return", with vocal harmonies sounding like surrealistic monastic chants, a heavy-striking bass/drums section, and doomy riffs that will crush your brain. It feels a bit like witnessing a volcanic eruption in paradise. On the face of things, we wouldn't stand a chance : we would end engulfed, then burnt within a second, but these voices from another place drag us out of any danger. This song simply saved us from all the prevailing banality and mediocrity, no less.
Before I listened to this EP, I was quite puzzled by its "ridley-scottian" sci-fi artwork. One could have thought the guys were only trying to stand out from the mass. Actually, it's a whole concept where both the visual and the music are tightly bound. There is something cold yet pleasantly bewitching in these five tracks, as shown by the two instrumental tracks "Enlightenment" and "Discoveries". The first one is without a doubt of the prog kind, putting in bass lines that resound like the Earth's inside rumblings, and guitars that are sometimes pounding, sometimes very aerial. The starship just took off, it is now heading towards a place between the Tool galaxy and the Pelican constellation. The second instrumental represents the promised land, a place where you thought you'd never set foot, a place you wouldn't want to leave, ever. Again, monolith riffage are blended with reverbed crystal guitar solos that seem to be the band's trademark. And the production, did I even talk about the production ? The finest ever. Each instrument imposes itself strongly while never eclipsing the others. The listener can seize each note, each sound : here we are, pervaded by the Underground. It took me several weeks to get my ears off this EP, and I could keep on babbling about it for hours, as I feel I only highlighted tiny bits of this gem. Truth is, words can't do justice to this music.
"Underground" is heavy, dark and yet it feels astral. It's neither doom nor stoner, nor progressive : it's TRIPPY WICKED. "Underground" is a vision, a brand new world of which these three geniuses are the hosts. There won't be any massacre or evangelism. Come and lose yourself, be at one with the sound, belong to something. Plug in all you have to plug, and crank the volume up : big bang coming up…
Last modified: 11 February 2015