Like, you live in the UK and need reasons to attend 
DESERTSCENE

shows ? C'mon… But as there might remain a small percentage of the stoner community who's not aware that

waves of heavy riffages and hazy grooves are being poured all over the British soil

this summer, then let me call the masses to order. Massive stoner takeover on your island !

1. You're bummed because you're stuck in town while everyone is taking holidays. Don't be sad. There's a major compensation for all those staying in London and surroundings this summer. STONER GIGS AND GOOD VIBES all over the place. You will probably have more fun than all those sunburnt chaps on the seaside, and a bunch of epic stories to tell in September.

2. DESERTSCENE is none other than Desertfest London's promoter, for fuck's sake ! In only two years, this event has earned a well-deserved recognition from the whole stoner/heavy scene. Because it's an XL yet picky festival, it's cool, and only good things happen at Desertfest. You got it : these guys are very likely to bring the finest bands on stage for you.

3. Nick Oliveri. MONDO GENERATOR. Live in London and Bristol. At the same time that Kyuss (sorry, VISTA CHINO) are getting back in the saddle and planning a bunch of gigs on the European continent, Nick O. and his crew are about to tear up the underground venues with their heavy punk rock. Oh and guess what ? VALIENT THORR, STEAK AND PROSPERINA will also join the party. How cool is that ?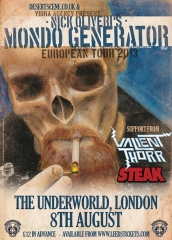 4. EYEHATEFUCKINGOD. I dropped the word. Any sludger or doomer in town shall know that you don't mess with New Orleans legends EYEHATEGOD, because Mike Williams and his partners in crime deliver the filthiest, roughest sludge metal ever… drenched in booze and weed, that they always like to share with the crowd. Did I mention they'll have US classic doom act THE GATES OF SLUMBER as a main support ? Oh, hell yeah then…
5. Desertscene gigs always take place in cool venues. The Underworld Camden, The Black Heart and The Garage in London, The Fleece in Bristol, to quote only a few of them. These are middle-sized venues where you will find good people, cool drinks, and most of all, where you'll probably have the chance to stumble upon your fave musicians and share a cold one with them.
6. It's a family thing. Within the stoner community, people stick together, they support each other. Attend one of these gigs and you'll be instantly seized by the love, the conviviality and the open-mindedness of your brothers and sisters in sound. And from one gig to another, you'll see familiar faces. A great place to make great friends, believe my experience.
7. Cheap tickets. All tickets are always under £15, which is a great deal if you ask me. Same price as three pints (and I know you drink more than three pints a night, so budget is not an excuse anymore). Type any of the Desertscene gigs in the search bar here to get your tix.
8. Desertscene supports your local scene. Ask Gurt and Sedulus when they opened for the mighty psyche rockers NAAM. Ask Wizard Fight, ask Steak, ask any of them. No one is left high and dry within the stoner family, that's the spirit and the guys at DS know it.
9. They're hard workers. It's a small team of very passionate people who probably have boring day jobs like you and me. But when it comes to bringing fine heavy music in your town, they work their asses off so that everything would go as smooth as possible. Read my reports of Desertfest 2013 and you'll understand.
10. Do I really need a reason #10 ? 
DESERTSCENE.CO.UK is on Facebook !
Stay tuned for next gigs announcements on their website.
Last modified: 11 February 2015