The first edition of the
 stoner festival

 in 2012 was a great success, so luckily, we're going to enjoy another round in London in April 2013, with what seems to be

another F-ING HEAVY lineup

. Doom legends PENTAGRAM will hit the stage, some major stoner bands will rise from the dead, and a large handful of international talented combos will join the big mass.

Tickets are already on sale, es billets sont déjà en vente

, if i were you, I wouldn't wait for too long..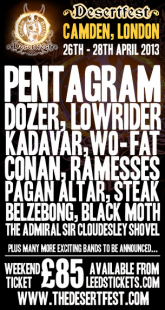 Never underestimate the power of a young festival : the DESERTFEST is on the roll to be part of the "grown-ups", festivals you'd automatically quote when you're addict to heavy and psyche music. In case you'd suffer from strabismus, I will remind you the first names that were added to the 2013 lineup (for now, 'cause yeah : more is comiiiiing !)  :
PENTAGRAM – DOZER – LOWRIDER – KADAVAR – PAGAN ALTAR – RAMESSES – WO FAT – CONAN – STEAK – BLACK MOTH – BELZEBONG – GURT – NAAM – BLACK MAGICIAN – THE ADMIRAL SIR CLOUDESLEY SHOVEL… and more ! 
The festival will be hosted in 4 mythic underground clubs in London, so one advice : book your hostel now, because the stonerheads invasion in Camden will be quite massive !
TO GET YOUR 3 DAYS PASS (which will cost you £87) , CHECK THIS LINK : http://www.leedstickets.com/eventinfo/3477/DesertFest-2013
Find all the infos and fresh entertaining news on the Desertfest website : thedesertfest.com
Last modified: 11 February 2015