RWAKE's music is more than just that : it's Art. With some tracks that last more than 10 minutes, masterpieces take their time to become apparent. This Arkansas combo have always been bordering on the flawless with their genius discography and frankly : they've still got it on this 6th album ! Even more  impressive, even more schizo, "Rest" isn't quite an appropriate title for the album…  Let's defuse this bomb.
To help those who don't know the band yet out a little bit, RWAKE are 5 dudes and 1 girl operating from the South of the US, a town called Little Rock to be exact. They play sludge, pure sludge like you've never heard before : RWAKE is actually THE enhanced sound, the Frankenstein of sludge, the Super Saiyan from the darkest dark side of the force. The whole set of emotions they put into their music is something that is hard to convey with words, but I'll try…
Let's plunge into it with Souls Of The Sky. See the cover ? See that old, bleak tree  ? Would you feel like ending up in that Sleepy Hollow kind of forest ? No ? Me neither. Yet we don't have the choice because some mystic choirs are trying to drag us with force to this frightening place… Like in a voodoo ritual, the soul breaks away from the body, to wander in places where immensity and gloominess meet. It Was Beautiful But Now It's Sour sets a highly psychotic, yet beautiful, atmosphere : the guitars get tangled into a siren chant, the drums firmly roots it all, and CT's schizophrenic screams (reverse tape style) reminds us that it ain't no walkover but a real group therapy. How can violence take such a beautiful and captivating shape ? The most orgasmic 11 minutes of all time…
RWAKE recovers its human form on An Invisible Thread, just long enough to demonstrate that, beyond being part of some kind of southern sludge confederacy, they've browsed the entire genre's spectrum with talent : you'll find genius Crowbar-style doomy riffs, progressive energy à la Kylesa, Mastodon's epic universe, the whole thing being wrapped up by CT's personal vision of music. The Culling is also a polymorphous song : the first half is a melancholic and exquisite instrumental, getting darker and darker to finally explode with a drum storm and screams of protest, then it ends on a doom phase driven by an animal solo which announces that the Apocalypse is near… And it feels almost real and palpable when the record reaches its critical level with Was Only A Dream.
"Rest" carries a lot of of disillusion yet transcending music, however it doesn't embody the warrior's repose. The artwork is a shout to oneiric explorations (or nightmare) at first glance. We let our imagination soar and sometimes feel tormented during this introspective trip, to come out of it even more alive in the end. Here's another piece of art depicted by RWAKE's 6 poets, an undervalued art for initiates only…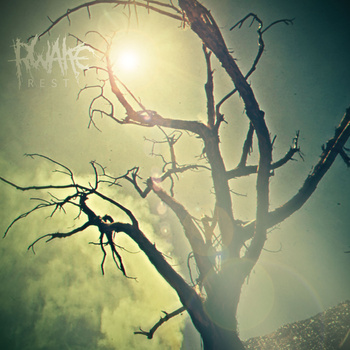 ARTIST : Rwake
ALBUM : "Rest"
Release date : October 2011
Label : Relapse Records
Genre : sludge / doom / prog metal
Notation : ☆☆☆☆
Last modified: 11 February 2015