One can honestly assert that
KARMA TO BURN are unquestionably the modern kings of instrumental rock

. Did you ever ask yourself why there aren't so many bands making it in the instrumental field ? Because it deserves a lot more music intelligence and sense of cool to create rocking sounds that won't need any vocal foil to exist.
KARMA TO BURN is :

three talented rockers with a great creative instinct

, connected through their instruments like no one else out there, and who also are humble and super approachable men. I couldn't resist any longer to contact them and chatter with bass player Rich Mullins about their endless European tour, their latest record "V" and well… just try to know the guys a little bit better !

The Heavy Chronicles : First of all, thanks for taking some time to answer my questions. How do you feel about this summer European Tour ?

Rich Mullins : It feels good. Like we have advanced our live show into quite the menacing live love removal machine we are capable of becoming.

It was your second time at Hellfest. Now that you can be considered as «regulars» there, can you tell me your feeling about this very festival ?

Rich : Love that festival. It's excellent in all ways, it really has an amazing atmosphere. Not to mention the line up we were a part of was fantastic this year.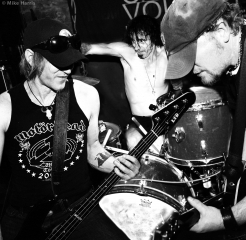 I saw you two times live, first time at a small bar (Poitiers FR, December 2009), second time in a medium venue (Périgueux, November 2010) and I can definitely tell small venues are better to enjoy your performances. So my question is : what about going back to basics, gigs in small places ? 
Rich : Well to be honest, you have a small sample size to choose from, 2 shows, and neither of those were large gigs so I find it a tad presumptious that yóu could make a declaration that we are better in small places than large. More often than not you get out what you put into a show. We can tear it up live on any size stage in any venue at any time so long as we put ourselves 110 percent into the moment and unleash our inner playing demons. We have had amazing shows in front of 80,000 people and in our practice space for one of our friends, it is all very dependent on circumstances, like anything in life. We love playing live, and it is what we are built to do so honestly, any show, anytime, anywhere we are going to go for it.
«V» is out now, once again you delivered a brilliant record. What's the meaning of «V» ? Virginia ? Vendetta ? Victorious ?…
Rich : Five. It's our fifth record. The number five has many implied meanings. Many have to do with the left hand path and many have to do with our history itself. They all seemed appropriate.
I've felt a subtle change in your sound, this super heavy stoner side you had in «Wild Wonderful…Purgatory» or «Almost Heathen» is less predominant. How did this come to you ? 
Rich : Honestly, I am not sure what super heavy stoner is. It seems to me that often music journalists apply tags to music to make it easier to describe rather than to attempt to articulate how a peculiar sound moves them. Heavy rock is usually distorted guitars tuned down to C like the Melvins, Stoner is associated with Kyuss, why I don't know, there are thousands of songs written before them that all emulate the sounds they use, all of them by musicians who smoke the reefer, still, stoner seems to be the word for that, so I am thinking you are saying "Wild Wonderful…Purgatory" and "Almost Heathen" sound like a mix between Kyuss and the Melvins, which is nice of you since they are both solid bands. Still we write what we find interesting. This record was peculiar in that we wrote most of it to allow Daniel to try and sing over it. Except "47". That was strictly instrumental from the start. Then when we decided we had enough Daniel we took the other songs and whittled them down to instrumental pieces. I think it lends to a more subtle work than our previous records. It will take an experienced ear to decipher "49" and "48" honestly, and to hear where we are going within their framework. Perhaps the subtle works inspire a departure from the adjectives, super heavy stoner, yes? Either way, thanks for the compliments, you are very kind.
You recorded «V» at Dave Grohl's Studio 606 in California : what kind of things did you get out of this studio you wouldn't have got elsewhere ? 
Rich : Killer microphones, great vibe and Jon Lousteau, someone we just immediately connected with.
Let's talk about Mister Daniel Davies, he's a long time colleague as far as I know… As for «Appalachian Incantations» he recorded voices for a few songs that are, to my humble opinion, among the best songs the band has ever made. Is Karma To Burn's «200% instrumental era» over ? 
Rich : No. We are however at the stage where we can experiment more within the records.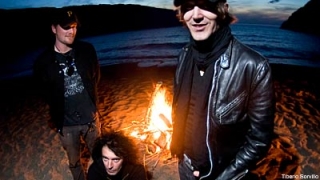 Now let's talk about life beyond music : how would you describe an average day for you guys when you're not touring ? 
Rich : Kittens, Satan, Poker Tournaments, Archeaological Digs, Game Shows, Blood Sacrifices, and Cartoons. That's a normal day. You should try one once with us.
To the contrary, how's daily life on tour ?
Rich : Kittens, Satan, Blood Sacrifices, Cartoons. You should also try one of these with us.
Quote me some of your favorite records of the moment…
Rich : "Yo Yo Ma plays Ennio Morricone", "Freakazoid" by Midnight Star, "Drivers Seat" by Sniff N The Tears.
Throughout your career you've created a unique sound, the "K2B Sound", an undefinable but instantly recognizable imprint. You guys don't sound like anyone else, and yet you have inevitably "injected" your own influences here and there… What are these influences ?
Rich : The main influences are definitely Black Flag, Sonic Youth, Slayer, Joy Division, and ACDC. If you take the songs one by one, you can see them initially in the first 15 songs, by "19" we were really off on our own. Although honestly, there is a melding from the get go between Will and I that really, no one else has.
If some music nerds had to write a timeline about the coolest instrumental trio of all rock history, how would you help them by describing your artistic evolution throughout the years ? 
Rich : Hahah. You are way too nice. I really think the evolution has happened naturally and as such, I am too close to it to really discern. Self does not reveal self to self is what Freud, Jung and company often said, and it rings true here. If we could take ourselves apart in this manner we would be much better people as well as artists I am certain.
Last but not least, here's something I ask to every artist : if you were tell «hey, here's your chance to be on the same bill together with the artists of your dreams (dead or alive)». How would this lineup look like ?
Rich : I think we would want to play with Bon Scott era AcDc, and Motorhead with Fast Eddie on guitar and the Butthole Surfers. That's my dream line up. Make it happen somebody !!!
Thanks again Rich, I wish you the best for the end of this European tour and your return in the US, and don't forget : French people love you, so you are more than welcome in our country, whenever you like ! 
Rich : We love France, and honestly, we would love to move to the French countryside and record our next record there. Somewhere near Cheniers, let's hope it happens!
Find all tour dates and KARMA TO BURN's "V" on www.k2burn.com
Last modified: 11 February 2015