From time to time, I like to praise an artist that has had an impact on my life as a music fan. This time it's not about a band or a solo act, it's about a man whom mere mortals don't know much about. Ladies and gents, here's for you mighty guitarist and vocalist PEPPER KEENAN, and I'm gonna give you ten good reasons to know and worship this legendary guitarist.
1. First of all, Pepper Keenan is the coolest name ever. It's refreshing, Irish-sounding, no one can't compete.
2. He used to be Corrosion Of Conformity's vocalist and guitarist for years and also founded Down, the South's most terrific sonic act ever ("I think Down is a bad ass fucking band with a bunch of rippin' mutherfuckers in it and that is all I can tell you"). This is what I call a metal legend.
3. His fingers are solid gold, his riffs are filled with heaviness and that recognizable swing, he has a dab hand at bringing a southern color to any metal or rock song. And as the man said himself, he doesn't need both hands to make his music sound amazing: "I live in New Orleans, Louisiana, I don't live in fucking Germany. I live in the South. I listen to Skynyrd and the Allman Brothers. I don't need to double tap. I can do more with one note than most jerks can do with double tapping out their ass."
4. Keenan's influences are made of a little bit of country, a little bit of blues and a whole lot of Zeppelin, Skynyrd and Sabbath.
5. …On top of that, he can sing! It's all about his warm vocals, Southern twang, lively flow, and raw power. That's what I'm talking about. He's not your typical singer, he's a revolutionary act, he's fucking one of a kind.
6. His beard is about to beat Kirk Windstein's epic Beard Of Doom© and that's no understatement!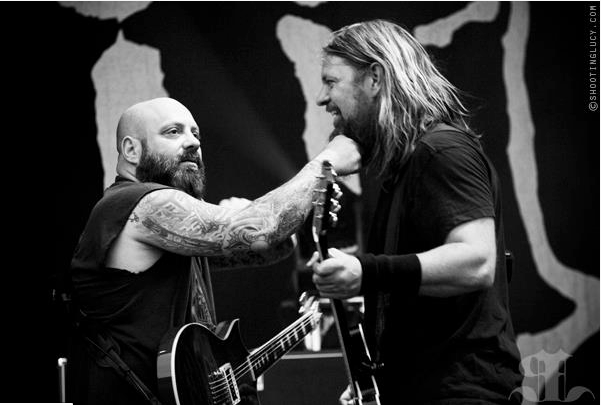 7. He is way cooler than Fonzie, look: he's got a bigger bike than yours.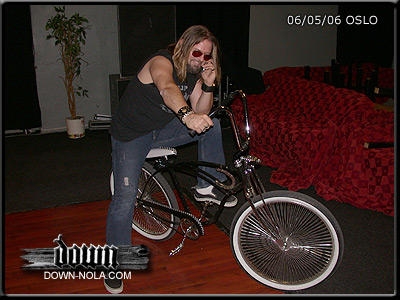 8. As a genuine product from the South, Pepper can hold his booze, better than any attempted binge-freak metalhead. Talking about Georgia's Mastodon during an after party : "they'll have to learn how to drink the hard way". Fuck yay. I mean, who else could handle a whole interview while drunk in the middle of the afternoon, and make it epic as shit, if not The Pep? Proof below:
9. My man Pep is more than just a highly talented songwriter/singer, he's all fun and easy-going in person. Anyone who knows the existence of The Pep wants to share a beer and hang around with him.
10. He beat Jimmy "Bower Power" Bower at a metal blind test. And I'm sure he would even beat Chuck Norris at an epic ass-kicking contest.
11. (bonus) Pepper Keenan can wear an iron washboard that looks like an armor with tits and NEVER LOOK RIDICULOUS. And find it funny.
He's God. He's legend. ALL HAIL THE PEP.
Last modified: 15 October 2019