What would you expect with such a name ? A chick dressed like Laura Ingalls along with her four butcher sons as a backup country band ? Not exactly : let's rather figure six bearded boys from Birmingham -Alabama, USA- who're damned decided to wreak havoc and give heart attacks to the pigs ! Already armed with two good albums, Maylene & The Sons Of Disaster took out their artillery again and released "III". Menu.
Let's get started with some country jams and a few birdsongs… then the machine starts with a whack load of slick heavy rock : here's the first track Waiting On My Deathbed which energy is 100% in contradiction with the title of the song. All the way through their 11 awesome tracks, the band shows its unwavering determination and provides us hard rock songs (Last Train Coming, No Good Son, Listen Close) led by their singer/yeller which voice slightly reminds HELL YEAH's Chad Gray. Sometimes they also deliver southern metal tracks customized with a bit of banjo (Step Up (I'm On It), The Old Iron Hills, Settling Scores To The Bridge), or even metalcore hints to hit even harder (Just A Shock)… It takes more than you'd think to be a son of disaster !
Two noticeable tracks for they're surprising : the explosive Oh Lonely Grave starts as cool as a typical americana song but then BAM ! It's going crazy, puzzling but oh so delightful within a second; then The End Is Here…The End Is Beautiful, finally gives us some time to lay back a lil bit and enjoy the folk instrumental ballad. Been kicking up our heels so hard that we can't help a blissful smile on our faces right now…
This album is imbued with an uncorrupted southern personality, led by a fiery youth that knows how to mix all these ingredients and get you right into the fields… not in order to carry a goat around attached to a shabby rope but to headbang and party like hell. MAYLENE & THE SONS OF DISASTER staged a fast and blunt musical hold-up, let's now hope that it'll make its way through Europe so they could descend upon our far-off lands… The trash grandchildren of LYNYRD SKYNYRD ? Definitely.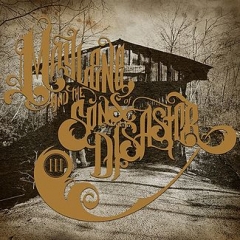 ARTIST : MAYLENE & THE SONS OF DISASTER
ALBUM : "III"
RELEASE DATE : June 2009
LABEL : Ferret Music
GENRE : Southern metal / Hard rock / Metalcore
NOTATION : ✭✭✭✭
Last modified: 11 February 2015