Rock School Barbey in Bordeaux and Volcom Entertainment organized a free show on the occasion of the "Band Joust" springboard. This contest which took place for a unique date in Bordeaux gave the opportunity to several local bands to play in front of lots of (cool) people (like us). On top of that awesome project, the venue invited the renowned British stoner band ORANGE GOBLIN, that all. Damn people must have been very busy or stupid to miss that !
For those who don't know ORANGE GOBLIN : here you go
We arrived around 11.15 P.M at the venue, early enough to buy some beers and late enough just to comfortably stick to the stage right before ORANGE GOBLIN's coming. The band gets on stage, which makes the crowd very compact all of a sudden ! Here we go for one hour and a half of a pure heavy stoner madness broken by water/San Miguel jets from the huge and charismatic singer Ben Ward. Keeping it cool all along the show, he interacts with us a lot, giving us his impressions and kicking our asses with songs each more decadent than the next. My position of choice near the stage allows me 1/ to enjoy Martyn Millard's incredible talent on BASS, damn he's funky as heeeell 2/to see how fast his fingers can play the notes, it's so heavy that we're almost dazed by the magic… Him and his drumming sidekick Chris Turner are kicking our asses hard with their terrific combos ! Rhythm and groove are the key, we got a full blast into our ears. The atmosphere is really hot, getting the crowd into a psychedelic trance… The band seems to be happy in front of such an enthusiasm : we're all having a really good time.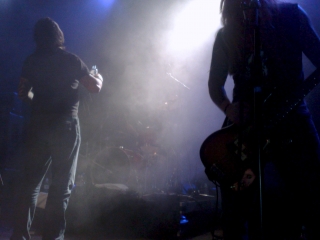 Unweary, never breaking the flow, they play for a full hour and a half of tasty and dirty stoner rock, after what they give in to the audience's crazy screaming and start a blazing encore : the cover of SABBATH's Symptom Of The Universe, Scorpionica (one of my faves) to end it up all ! Mad ! My friend catches Ben's Jagermeïster wristband for me, talking about a warm night souvenir…
Conclusion : legendary bands don't come to Bordeaux so often, tonight we've been lucky bastards cause we had the privilege to attend the show of 4 British on top of their art.ORANGE GOBLIN is : something truly genuine with an old school touch, something really loud, melodic and groovy. Don't forget loads of beer and you'll see the Light. May it be the beginning of a stoner wave over the town, who knows ? Crossing fingers…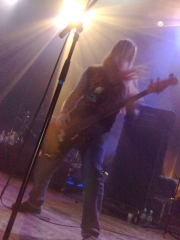 SETLIST :
Ballad Of Solomon Eagle
Vagrant Stomp
Round Of The Horses
Aquatic Fanatic
Cities Of Frost
Getting High…
They Come Back
Man Who Invented Time
Some You Win, Some You Lose
Your World Will Hate This
Blue Snow
********************
Quincy The Pigboy
Symptom Of The Universe (Black Sabbath Cover)
Scorpionica
Last modified: 11 February 2015