KARMA TO BURN are the kings of instrumental stoner escaped from West Virginia, USA. 3 incredibly talented dudes who have a surprising ease to create catchy, elaborated yet uber-groovy riffs. You'll headbang on KTB, you'll drive at breakneck speed on KTB, you'll ruin your guitar strings on KTB. When it comes to live performances, it's just as good as on the record. Report.
Last year we went through a 2-hours drive under the shittiest weather ever to see them performing in a small bar in Poitiers in front of barely 50 people, that's why we ain't afraid at all of getting on the road again, taking the highway to Périgueux. Let's attend KARMA TO BURN's coronation at the Sans Réserve in that far-off town of the South West.
No one's there yet, 40 minutes right before the opening, am I supposed to worry ? Nah this band is too awesome, I'm pretty confident. Time for some friendly encounters then we enter the venue to witness an off-topic opening act : BACK GROUND, a local…HARDCORE band ????? The HxC fans around (there are a few who came only for that, obviously) are pretty enjoying themselves, losing control into an anarchic mosh pit. Whereas in December 2009 in Poitiers, the opening band was a wasted doom crew (which was a little bit more circumstantial), I just cross fingers for tonight's crowd to do justice to our awesome legends.
Opening act over, thank God we can take off our earplugs, go get some fresh air outside and come back with all our rage for THE show. As soon as we're back inside, guess who I see on stage doing his soundcheck ??? Daniel DAVIES, YEAR LONG DISASTER's fucking singer [NB : Year Long Disaster is KTB's side band, the two bands split founding the actual KTB line-up with its new singer] !!!!! I didn't know he was part of the KTB adventure for good, goddammit ! Talking about a good surprise, I'm twice as more excited now ! No sooner said than the show starts…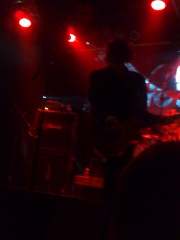 Here's for you Nineteen intro, okay the quality is shit (I just had my phone) but you can feel the energy in it.
On the menu, 1 hour and 20 minutes of a monstrous show with some great classics from Almost Heathen and Wild, Wonderful…Purgatory, and some new tunes (Waiting On the Western World with Mr Davies on the mic, for example)… They are fired up as hell !!!!!!! One word to describe the feeling of the moment : KARMA TO BURN = NEW KINGS OF THIS WORLD. Adding Davies on the mic AND on guitar (playing lil improvised solos during the songs, which is quite refreshing) creates something truly awesome and gives twice as more power to their sound. This guy has some charisma too, and despite a tuned-as-shit microphone you can tell they found THE singer who fits to their music. It's fantastic to witness such an alchemy on stage. A CRAZY show during which I stick to the stage and never looks behind me to see if the rest of the crowd is on fire or what, 'cause here first row, we're MAD.
Their performance is way more punchy than the one I saw in Poitiers on December '09 (more audience and a real stage with a real sound, it changes a lot of things believe me), once again I drove 2 hours to come see the show and I will do it again and again if that's how I can see them on stage…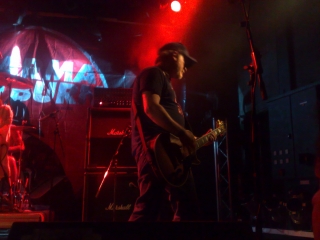 The encore is intense, an hour after they started playing they leave the stage and everyone is screaming their lungs out to make them come the fuck back. They comply, Will coming up with a 1664 in the hand and complaining that he didn't even have the time to finish his beer ! Here we go again for 20 more minutes of even more intense and heavy rock…
Once the show is over, it feels like it's been too short, we still want more. Some lucky people had the chance to meet the members of the band at the venue's bar as we were already leaving for our long driving back to home. I had that chance last year in Poitiers and was really glad being able to shake their hands and talk a lil bit, they are the sweetest guys ever !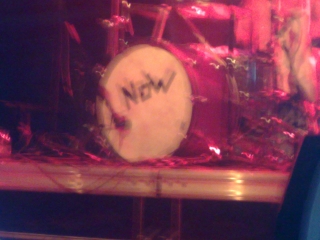 Great great show tonight… And if like me you like stoner, I got one fucking advice for you guys : go to one of their show, they're 1000 representative of the spirit of that music !!!
—> IF YOU DON'T KNOW WHAT KARMA TO BURN IS <—
Last modified: 11 February 2015