KINGDOM OF SORROW is a metal supergroup who features two of the biggest icons in the metal field : first you got the bald man Jamey Jasta from hardcore band HATEBREED, then you got the bearded man Kirk Windstein from sludge band CROWBAR. Take explosives and muck, mix them all together, you'll obtain apocalyptic fireworks. We call it sludgecore in other words. Here's the rundown, now just read this review of "Behind The Blackest Tears" and you'll get the point…
After their conclusive eponymous record "Kingdom Of Sorrow" released in 2008, the band is back with "Behind The Blackest Tears", their long-awaited second record (supergroups aren't known for being very prolific, yet KOS recorded two albums in barely three years).
Still combining Kirk's hollow voice and Jamey's furious singing, the album also perfectly combines heavy and thick killer riffs with angry and electric speed riffs. Tracks like Enlightened to Extinction, Along The Path to Ruin or Envision the Divide are perfect examples of such hybridity. Nevertheless, there's also a strong similarity between Behind The Blackest Tears and HATEBREED's Destroy Everything : I usually criticize this kind of attempt but here, the result's so good that I would definitely forgive them.
While these five tracks just hit us like a violent storm, KOS takes once again the challenge to produce a power ballad. On the first album there was the majestic and heart-rending Screaming Into The Sky, a breathe of fresh air in the middle of that metal tornado, however the song From Heroes to Dust chanced it but kind of fails because of a lack of poignancy. The record ends on beyond hardcore track Salvation Denied. Actually I think all hope of being spared by the swirl was absolutely excluded.
"Behind The Blackest Tears" is up for an outright listening, like a hurricane that throws gooey sludge to the scepticals' faces. The whole thing is tightly built, yes M'am : you're dealing with professionals !
So, here's a record which truly and heavily proves himself as a proud member of the sludgecore family, and, despite of its homogeneity and monotonous atmosphere (pain, sorrow, anger = hellooooo look at the band's name), manages to run over everything like a huge bulldozer armed with jigsaws. Like it or not but you can't say it's consensual, especially when we know that the fellows had a great fun collaborating again for this project. I can't wait for the live experience, but as I already saw the HATEBREED crew at work, there won't be any doubt about it…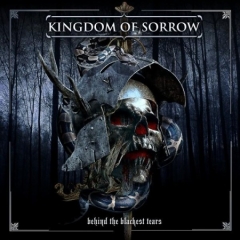 ARTIST : KINGDOM OF SORROW
ALBUM : "Behind The Blackest Tears"
RELEASE DATE : June 2010
LABEL : Relapse Records
GENRE : Sludge / hardcore
NOTE : ✭✭✭✭
Last modified: 11 February 2015