You'd think that the legends of Desert Rock agreed on kicking off the new decade by getting back in the saddle: Masters Of Reality, Brant Bjork, Mondo Generator, Fu Manchu, Lowrider and Big Scenic Nowhere all have new albums in the pipeline. On the initiative of Bob Balch (Fu Manchu) and Gary Arce (Yawning Man), plus some friends and pioneers of the scene, heavy rock "supergroup" BIG SCENIC NOWHERE have joined forces to craft this « Vision Beyond Horizon ». This first full-length follows on from their 2019 EP and Postwax debut, which sounded more like a trial run than a real success achievement.
In the cinema realm, this kind of five-star cast is usually used as a selling point, in order to make up for a poor screenplay or dull direction. In other words, we had reasons to feel slightly skeptical when reading the track listing. However, these stoner and desert rock veterans still have some goodies under their belt, and we must say that BIG SCENIC NOWHERE deliver one true gem here.
Naturally, Bob Balch's massive licks beautifully blend in with Gary Arce's ethereal riffing. While this interlacing lays the foundations of BIG SCENIC NOWHERE's sound, each guest brings its unique vision to the songs, making "Vision Beyond Horizon » a very unique Desert Rock record. Pivotal (and best) track « Hidden Wall » is the most perfect demonstration of these two riffmeisters' antinomic collaboration. When Yawning Man's reveries soothe our minds from the get-go, Balch's blazing, fuzzed-out solos start roaring and wrap up these elegant, keyboards-tinged seven minutes. It feels as if the starry sky you were gazing suddenly burst into blues-red flames.
The balance sometimes get spoilt by some startling choices, just the very punk « The Paranoid » (probably Oliveri's idea). Yes, punk has long influenced the genre and the track is quite good, but it's isolated and unexpected within a progressively building up record. Another reproach would be the lack of harmony on certain repetitive choruses (« Mirror Image »), luckily balanced by stunning vocals from Lisa Alley, the only woman in the collective (« Then I Was Gone », « Shadow From the Altar », another gem on the tracklist).
Such marginal flaws won't stain this breathe of fresh air in an oversaturated scene. « Vision Beyond Horizon » still meets the genre's requirements while bringing enough diversity and new perspectives. Literally a vision beyond the horizon. It's still funny to think that in 2020, over twenty-five years after the genre's coming, these eleven icons and veterans are still amazing us and pursuing their task under the Mojave desert's blazing sun.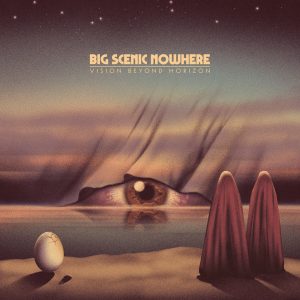 ARTIST: Big Scenic Nowhere
ALBUM: « Vision Beyond Horizon »
RELEASED: 31th January 2020
LABEL: Heavy Psych Sounds
GENRE: Heavy rock / progressive
MORE: Facebook / Bandcamp / HPS Records
Last modified: 11 February 2020