It feels like yesterday when Clutch delivered a short yet memorable performance at Hellfest 2019, and PLANET OF ZEUS (described as 'Clutch's Greek offspring') new album on HPS Records came as more than timely to feed our rock'n'roll needs.
It would be reductive to focus solely on the gratifying comparison, but you have to admit that the Greek's fire is up to the Neil Fallon-fronted band's ardent live shows. Just listen to their 2018's 'Live In Athens' and you'll get hit by a hundred minutes of ballsy rock performed in front of a batshit crazy crowd of worshippers. Clutch made the right call when they invited PLANET OF ZEUS as support act on some dates of their Psychic Warfare World Tour…
Recently signed to Heavy Psych Sounds, PLANET OF ZEUS finally found the perfect house to sponsor their international ambitions. New album 'Faith in Physics' could be well establishing them in the underground hall of fame for good.
'Faith in Physics' is a collection, a compendium of the Heavy doctrine. And it also happens to be the best demonstration of their skills, and their ability to craft groove-laden rock pamphlets that make the legless rise. In this rock encyclopedia, PLANET OF ZEUS inject all their influences, from incendiary « Gasoline » to « King Of The Circus » — a song that the Lizard King could have played. In between those extremes, PLANET OF ZEUS deliver Grohl-friendly tunes (« Your Song »), pop ingenuity à la QOTSA (« Man VS God », « The Great Liar »), erratic grooves à la Jon Spencer Blues Explosion (« Revolution Cookbook ») where frontman Babis Papanikolaou shines in his wide vocal range: shouting, swinging, elating, growling… He is the amped up driving force behind the band. The Greek foursome distance themselves from their trademark sound, and the outcome is so sincere that it feels like they've always sounded like this.
Haters will say that POZ don't reinvent the wheel under Athens' blazing sun. The recipe — a badass rock'n'roll seasoned with stoner and grunge gimmicks — has been well worn. But that's not the question, for « Faith in Physics » is a "back to basics" statement, showing faith in rock fundamentals. It's about good fucking rock songs that make you voiceless, and sweat your ass off in the pit. And this record is chock-full of them.
But the energy involved here is nothing compared to their sincerity. This fire, this drive, comes from a rage that fuels the entire album and ties the songs between them. You can tell that something is really happening in Greece right now, also judging by their peers 1000mods and Naxatras. As Miguel Cano described in his « Greek Rock Revolution » documentary, the financial crisis and hopelessness the Greek youth as been going through, inspirited the rock scene and nurtured a fierce artistic expression. In 2019 more than ever, Planet of Zeus are sending a message against irrationalism, stupidity or religious fundamentalism. The finest music always comes from the toughest times. Rage against non-sense. Rage against the fool. In the end, these guys appear like the real prophets of rage.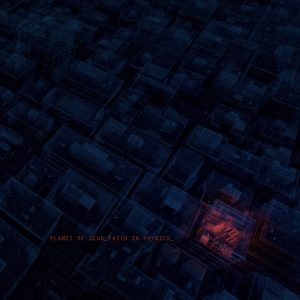 ARTIST: Planet Of Zeus
ALBUM: "Faith In Physics"
LABEL: Heavy Psych Sounds
RELEASED: 27th September 2019
GENRE: Rebel rock
More: Facebook / Bandcamp / HPS Records
Last modified: 30 September 2019