France's noise rock merchants SOFY MAJOR are forcing their fourth full-length 'Total Dump' into our ears, after months teasing us and, well, a three year break that followed their heavyweight record 'Waste'.
So, why waiting three fucking years to release a new album? This is certainly not due to the high entertaining quality of their hometown Clermont-Ferrand. It actually seems that the band has ticked the 'damned band' box on their checklist. When they could have so easily reached the "whores and coke" target. Maybe the Sandy episode wasn't enough (i.e. Sandy hurricane devastated NYC in 2013, right when they were about to record their new album in Andrew Schneider's Translator Audio). It wasn't enough, obviously.
The Devil got definitely heavy-handed on them. Breakups, illness, death, depression, bad encounters: every single low blow you could get from this bitch of a life, SOFY MAJOR got treated to it.
They would be in Seattle, their singer would have shot himself dead after turning his veins into a transfusion unit for favelas. They would be in California during the 90s, he would be moaning over his anti-depressors like a spotty kid shut away in his own locker at lunch break. But they ain't wimps. These guys have learnt it the hard way, educating themselves through NYHC and the likes of Unsane.
SOFY MAJOR moved on, driven by riffs as sharp as sonic destruction weapons and as hard as Rocco Siffredi on viagra; not to mention their Melvins-like epileptic drumming and pouring bass riffs. The band treat us a catchy shift between low-tempo parts and hectic howls, and a sense of groove whom Dave Curran wouldn't disavow. Turn the oven to 230°C — the approximate temperature at one of their shows — and when it starts burning, you'll thrown yourself into it. I admit this recipe may sound weird, but I never said I'm any good at cooking. Actually, SOFY MAJOR's 'Total Dump' proves to be totally in line with their New-York peers, while keeping their own sound identity and humor.
François H. was right: "we are proud of you, because you can be… do what we want to do". Those motherfuckers can be proud. They delivered a fucking great album, and it was worth the wait 100%. Never again though!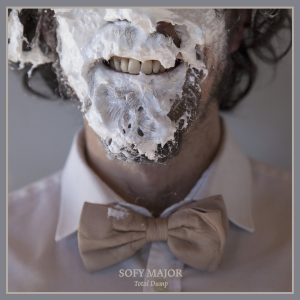 ARTIST: SOFY MAJOR
ALBUM: "Total Dump"
RELEASED: 25th January 2019
LABEL: Corpse Flower Records/Deadlight Ent.
GENRE: Noise rock
MORE: Facebook – Bandcamp
Last modified: 29 January 2019