So tell me: when have
THE ATOMIC BITCHWAX

ever let us down, ever stopped that boogie machine from a-rollin', or ever even let us catch our breath? Never, that's when, and from all accounts on this their seventh long-player Force Field they sure as shitkickers ain't gunna be changing their ways any time soon. So strap yourself in for another warp speed blast with the mighty TAB via this latest slab of punk-heavy space-fuzz.

From humble beginnings back in 1993 with Ed Mundell ably shakin' the six strings alongside Chris Koznik's baby-blue Cadillac-sized bass riffs and gumball vocals, who'd have thought this then side-project of sorts would not only still be powering on 25 years later, but that Koznik and drummer "Monster" Bob Pantella would be balancing out duties in the legendary Monster Magnet to boot? Right since their inception, there's always been the fulfilment of a silent promise with THE ATOMIC BITCHWAX that the next song is going to be your favourite banger yet and to put it bluntly, Force Field is simply another space-port pit-stop on this fuzzy and frenetic joy ride across the galaxy.

The likes of "Hippie Speedball", "Tits and Bones" and "Houndstooth" are rapid-fire bursts of pure excitable energy; less rock songs than pod races around each of Saturn's rings. Guitarist Finn Ryan's notoriously rapid left hand dances and solos sublimely across the frets only as fast as Koznik and Pantella can remain glued to his tail, dragging their head-swilling rhythms along in the trunk. There's a playful joy to everything that TAB do that shines across perhaps more on Force Field than was evident on 2015's excellent, but more disjointed Gravitron or the challenging single-track 40-minute instrumental The Local Fuzz. Out-and-out proto-tinged speed punk is the aim of the game more so on Force Field than on all previous efforts as the New Jersey power trio frankly rampage through the pacey "Humble Brag" and the hilariously-titled "Alaskan Thunder Fuck" with an ease of comfort and complexity that defies belief.

But it's not just all about the speed. The every-part's-a-chorus mentality of the likes of "Earth Shaker (Which Doobie U Be)" and the heartfelt power chords and earthy bass undertow of my personal album highlight "Crazy" demonstrate once again Koznik, Pantella and Ryan's inherent ability to sound far stronger than the sum of their three parts whilst moving constantly and positively forward at a simply terrifying pace. "Fried Dyed and Layin to the Side" conforms to the mantra that every TAB record should have at least one, if not several, bombastic instrumentals, but in general throughout the Ryan/Koznik dual vocal match-ups have never sounded so honest, so sickly sweet and rich in tone.

Downsides? Non-existent really. Sure, "Super Highway" doesn't quite capture the anthemic glory that it's socio-political, fist-pumping lyrics perhaps promise and the bouncy carousel ride of "Liv A Little" doesn't carry any of the chillaxed beauty of "Ice Age (Hey Baby)" which closed out Gravitron so memorably, but who cares when you're having this much fun with the majority of your clothes still on. Or not. Whatever.

It might be rocket-fuelled, but it's not rocket science. It's hard. It rocks. It's hard rock. It's TAB doing what they do best: playing the shit out of a rig, an amp, a mic and a kit faster and better than virtually any other punky rock n' roll band on the planet. And that's a Force Field I'm happy enough to be stuck behind, at least until the next ATOMIC BITCHWAX record emerges from hyperspace.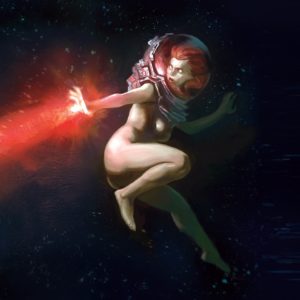 ARTIST: THE ATOMIC BITCHWAX
ALBUM: "Force Field"
RELEASE DATE: 7th December 2017
LABEL: Tee Pee Records
GENRE: Riff rock
MORE: Facebook / Bandcamp
Last modified: 23 March 2018