GEEZER

appeared as a total UFO on my radar, when I came across the NYC trio's digital single "Long Dull Knife" last year. The kind of discovery you make as part of a random conversation, and makes you feel like you just unearthed the "next big thing", biding its time to make it on top of the charts. So, is this third album the band's long-awaited cornerstone?
Well, it's not that obvious when you hear the opening track and single "Sunday Speed Demon", some kind of misfiring hillbilly boogie. For that matter, Left Lane Cruiser would have done a better job. I've seen better appetizers. It's all the more so disconcerting that it is neither what we would expect from the trio, nor representative of the album's overall vibe. But don't you worry: "One Leg Up" get things straight, GEEZER delivers an intoxicating, sexy hit in the making on top of Chris Turco's hypnotic rhythms, while Pat Harrington's riff squirts and husky vocals flirt with ecstasy by the end of the song. Typically the kind of tune you'd want to hear (again) from Monster Magnet.
Here we go, the Geezer Ship is now launched: "Sun Gods" and "Bi-Polar Vortex" put you in orbit straight away. Their dreamlike jams comprise lulls during which the band receives lost transmissions from outer space, then fuses these magical oration onto the moon-shaped star we see on the artwork. GEEZER showcase an undeniable virtuosity here, blending their '70s-influenced riffage between sheer moments of magic and a certain drowsiness. On "Dust", Harrington keeps bewitching us using his guitar and vocals, until the overwhelming melancholy almost makes the spacemen in us wipe a tear away.
Back on Earth with "Hangnail Crisis" and its excellent songwriting. This stoner blues classic perfectly defines GEEZER's sound: rough and deep-rooted. The NYC trio cuts loose on "Superjam Maximus", a sophisticated, groove-fueled stoner anthem that invokes higher times, and a grand finale that roasts whatever brain cells you have left. "Stoney Poney" is the primitive, filthy and sticky antithesis to that song, yet it uses the same primal and raw energy – an electric feeling that fills your speakers, tickles your spine and makes you feel alive. We can call this rock'n'roll.
We've already overlooked the poor album start, inasmuch as GEEZER's eponymous third album bears out the band's ease when it comes to write finely-crafted songs and kick off pure jams. Their maestria and power of suggestion put them on the list of bands on which we'll need to keep an eye in 2017. This is the Blues of the 21st century. The one we'll play in honky tonks of the future. On Mars. And further. But for now, you can burn a few candles in order to find them at this summer's festivals.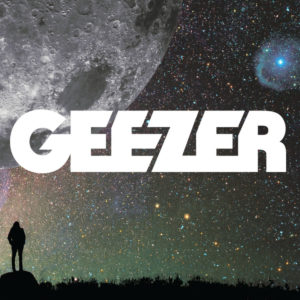 ARTIST: Geezer
ALBUM: "Geezer"
RELEASED: November 18th, 2016
LABEL: Ripple Music
GENRE: Cosmic stoner blues
MORE: Facebook / Bandcamp / Label
Last modified: 12 December 2016