Concours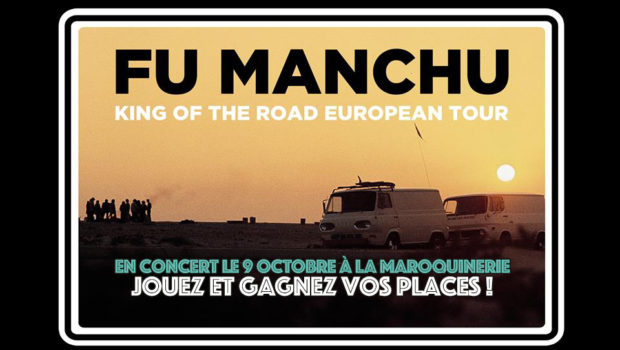 Published on September 26th, 2016 | by Beeho
0
[TERMINÉ] Gagnez vos places pour le concert de FU MANCHU à Paris !
Les légendes absolues du fuzz/stoner rock californien
FU MANCHU

reviennent en France ce mois d'octobre dans le cadre du

King Of The Road European Tour

. La Maroquinerie et The Heavy Chronicles vous filent vos invits pour leur date parisienne unique, jouez vite et prenez une méga claque avec le quatuor le plus punchy de toute la scène fuzz !

FU MANCHU –  Le 9 octobre à La Maroquinerie (Paris)
Tarif : 19,80€ en prévente ici

POUR JOUER et GAGNER VOTRE PLACE : 

1/ Vous devez être fan de The Heavy Chronicles sur Facebook
2/ Envoyez votre NOM + "FU MANCHU" à theheavychronicles@gmail.com

Les gagnants seront informés jeudi midi via Facebook.

Fu Manchu se forme en 1987 comme groupe de punk hardcore sous le nom de Virulence. Le groupe comptait Kenn Pucci au chant, Scott Hill à la guitare, Greg McCaughey à la basse et Ruben Romano à la batterie. Leur premier LP If This isn't a Dream… sort en 1989 sur le label américain Alchemy Records. Stabilisé par la suite autour de Hill, le nouveau soliste Eddie Glass, Romano à la batterie et Mark Abshire à la basse (vite remplacé par Brad Davis), Fu Manchu sortent Daredevil en 1995 et In search of… en 1996, définissant alors les contours d'un stoner rock puissant, lourd mais également très entraînant, à la différence de beaucoup d'autres groupes issus de la même mouvance. Ces deux albums permettent au groupe de se forger une solide réputation live et d'obtenir un vrai statut de cult band. Le tournant arrive en 1997, avec l'arrivée de Brant Bjork à la batterie et Bob Balch à la guitare en remplacement de Glass et Romano (partis fonder Nebula). Balch et Bjork poussent le groupe à réaliser un album different, à la production plus soignée: The action is GO! qui est non seulement un excellent moment de stoner/rock'n'roll, mais ouvre aussi le marché européen au groupe.