Sti!* Two years after being sonically annihilated, Bordeaux is once again getting ready to welcome Québec-based sludge blues steamroller

DOPETHRONE

, a trio whose music oozes delicacy and love, like a poutine* freshly arrived in Canelé-land. As always, the party is being hosted by every filth lover's favorite venue: Void.
It's almost 9.30pm when I arrive at 58 rue du Mirail in Bordeaux, however the party hasn't kicked off yet. Bordeaux rockers FANTÖMS were picked as last-minute openers for the show (which was announced barely a week ago), a band who comes a bit out of nowhere, given the crowd's reaction. The first thing I notice: riffs are quite repetitive, the drumming is correct but it doesn't blend properly with the rest, and above all, the musicians look like they come from very different horizons and that the band formed on an impulse a couple of nights ago. The songwriting isn't bad, they seem to have good intentions or at least a will to experiment. But when you venture too much on hazardous paths, you can lose yourself. Even the singer looks like he shouldn't be here, and has to take heart in his beer and a rolled one. He shyly thanks the audience and constantly credits his family and cat in between songs, as if he wanted to lighten the awkward atmosphere created by their uncategorized music. I hear some Pantera or Sepultura-like thrash influences, but for the rest, it's so confusing I couldn't tell. This band has nothing to do with our headliners (the singer even admits ignoring why they're here, which leaves us speechless). Nobody seems to care, but hey, at least we have plenty of beer and it's starting to make its way to our brains…
There is a lot of gear on stage, but not as much as for Conan's gig a couple of days ago. On the bass drum, you can read the words "SMOKE / DRINK / DIE" and "HCLG / MTL" (as in "Hochelaga / Montréal") written with tape. No doubt: we've set foot on temporary Québec territory. DOPETHRONE arrive on a nice country/bluesy sample of Merle Haggard, while guitarist and vocalist Vincent is still in plaster and gets on stage using a walking stick (which makes the whole scene looks super classy). When the first chord echoes, everybody cuts loose and headbang as if they wanted to propel their heads to the ceiling. The air gets contaminated, stuffy, oppressive. The band delivers some of their biggest hits like "Dry Hitter". I couldn't list the other songs, as I'm getting as high as most people around me. It's like everyone has aimed to maintain the room in a permanent fog, as if the Dopethrone entity couldn't play in any other environment, with this very specific level of vibrations and acidity.
Unlike at Conan's, we can easily breathe thanks to the crowd's hectic headbanging, but also because… dayum, it's bluesin' in there! You're right foot is stuck in plaster? What's the problem, when you have the full use of the left one! Between each song, Vince is telling a joke with this wonderful Canadian accent of theirs. "We got controlled five times by the cops since the beginning of the tour…" Carl shouts typical Quebécker curse words from behind his drumkit "Coliss!… Tabarnak!*". They keep on delivering this full-on groove, with the same force, schizophrenic faces, spits, sweat and beer blending on the stage's floor as well as the pit's sticky floor. I'm scared of being delivered of this long trip and getting back to reality… or in the contrary, never making it alive from there!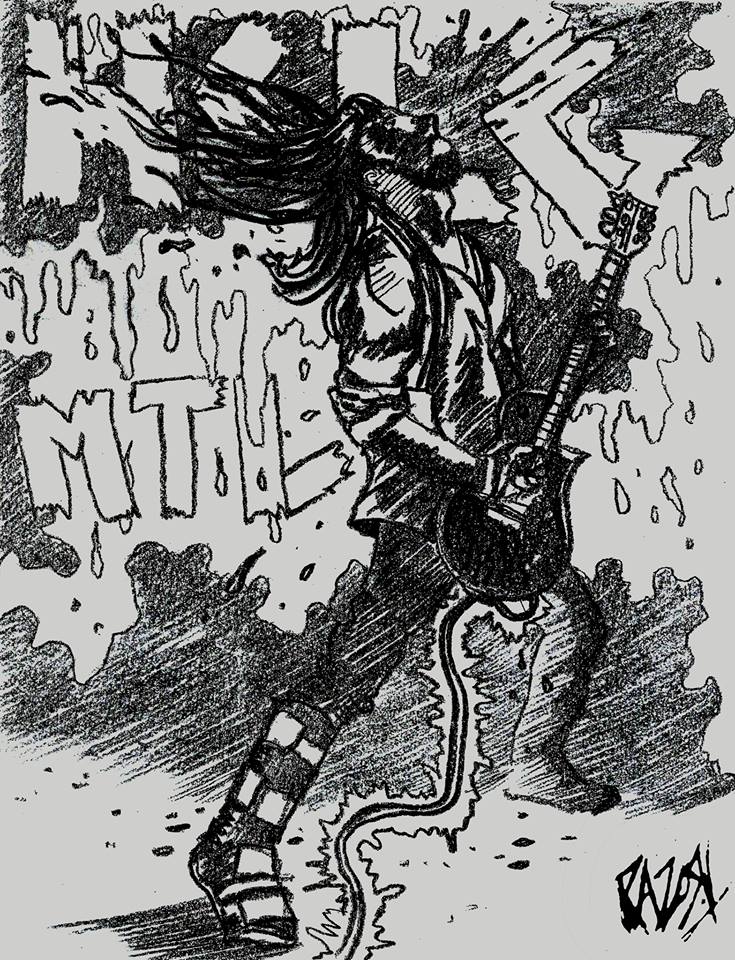 The sound is so nicely equalized that we could even avoid wearing earplugs. "Here's a surprise for you, a tune from our first record…" In a flash, "Demonsmoke" hammers our innocent skulls. At that very moment, I take a mental picof that thick cloud of toxic smoke that emanates from the crowd… Could we actually trace the course of some events with smoke, instead of Carbon-14? Sweat is pouring on Vince's ESP. "Next one is about religion… 'Cause we don't need that in our lives!" Temperature rises sensibly each time anything sacred/heretic is being mentioned (see what I did there – the club was formerly named Heretic). When suddenly: "You know the three magic words?" This just drove the crowd completely apeshit. Right in the middle of their set, whereas dampness and warmth have reached peaks, "Scum Fuck Blues" sets the small basement on fire, making more than one middle finger raise joyfully, and even more smoke and booze being spread over the room. "SMOKE! DRINK! DIIIIIE!"
On the penultimate song, our fave devilish dreadlock-wearing riff-monger breaks a guitar chord. While it's being changed backstage, Vince make the most of this pause to serve one of his typical sleazy jokes – just so you can get an idea: one involves a cop's head, a bullet and death. The sweaty item being now back in working order, the song can be resumed. An encore and a couple of joy outbursts from the crowd later, the show is over. The band leaves on some David Allen Coe, while the crazy audience – which seems larger than when they played here in 2014 – screams relentlessly to show their satisfaction. To be honest, I would have loved 10 or 15 extra minutes… but when you play in the stifling basement of Void club, it must be quite demanding as a band. Can you imagine it's almost the end of the tour, and yet they gave it 300%! It proves that despite all the problems they've encountered and not so recommendable precepts they follow and incite to follow, the trio manages to hold up and deliver massive shows like we Bordeaux people love so much. DOPETHRONE, CALICE*!
*in French Quebécois in the original texte
Last modified: 11 October 2016