After a first day filled with down-tuned occult riffs, black and punk metal power violence as well as some seriously party-inducing rock acts, it feels as if HELLFEST is constantly reminding us that this is
the only place on Earth where extreme music and absolute friendliness are one

. Again this year, the second day was the climax of the festival, with a jaw-dropping firework, a couple of surprises, plus a handful of shows that ended up in our top 3 of this 2016 edition. (TEXT: Beeho & Razort / PHOTOS: Sylvain Golvet & Gaël Mathieu)

But before we start blabbering about this rather sunny second day (looks like the Gods of Metal chose their side – right, Download?), here's a little topography of our holy home of the Valley.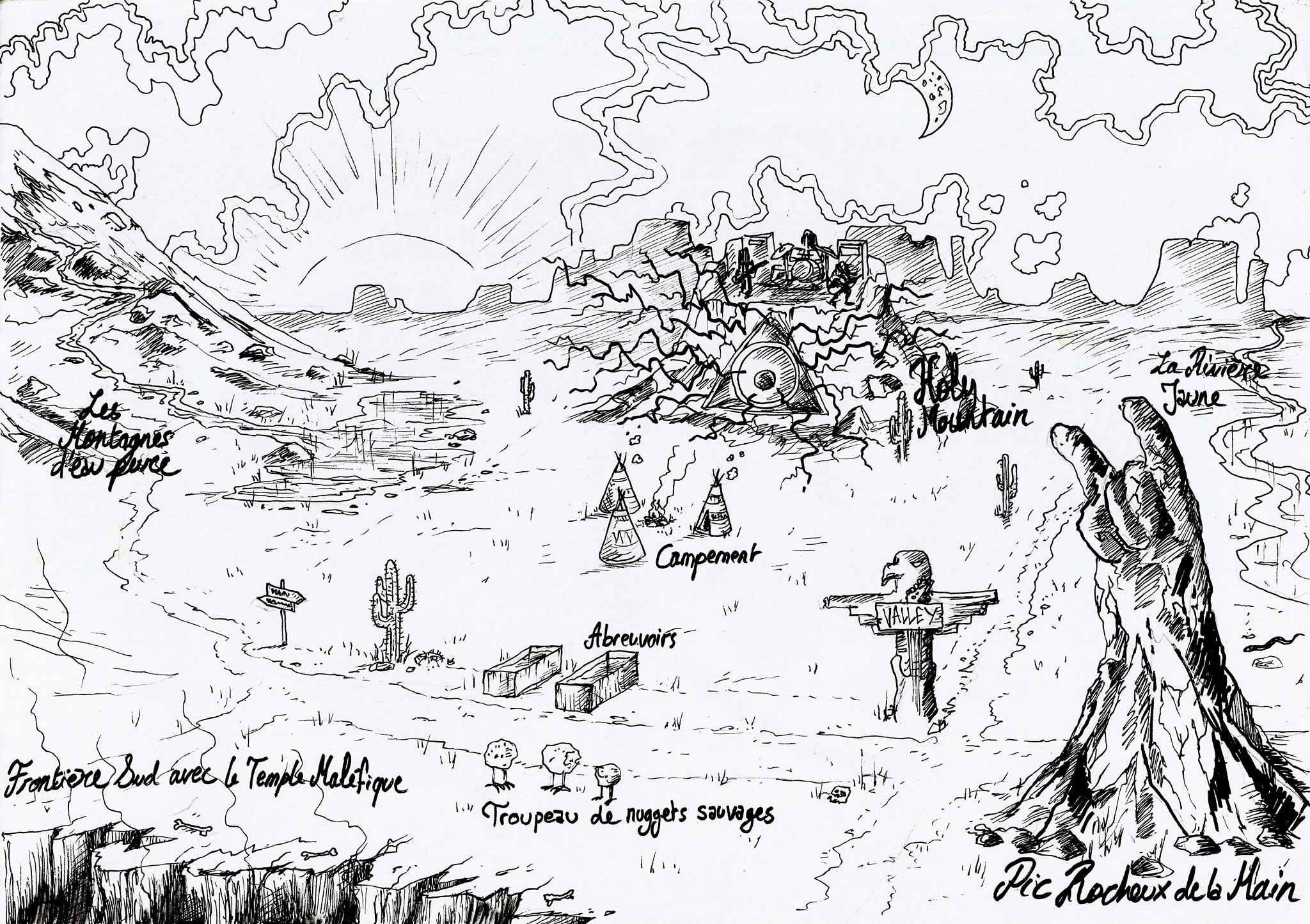 Once again, the queue to enter the festival is never-ending, which makes me miss most of THE LUMBERJACK FEEDBACK show. When glancing at the two illuminated drum kits and hearing their instrumental songs, I feel like watching an 3.0 (and more underground) version of Bongripper. My only consolation for missing their performance this morning, is that I'm pretty sure we'll hear about this promising French outfit again really soon.
STEAK NUMBER EIGHT have already started on the Mainstage with their awesome single "Dickhead". Those who saw the video know the Brits' humour is off the wall. Same story on stage: their loony guitarist/vocalist is having a mouthful of his microphone – which is falling off its stand every two minutes – and even climbs on his roadie's back when the poor lad comes on stage to fix it. Think djent-ish down-tuned sounds, stoner grooves, melancholic melodies worthy of a Finnish melodic death metal or a Swedish post-core outfit. Honey for your ears. The perfect starter for a second day almost devoted to the Valley stage.
Nothing can top the low frequencies produced by Paris emblematic doom foursome HANGMAN'S CHAIR, who started blasting "Dripping Low" on the Valley stage without any warning. With a performance exclusively made of songs off their new album This Is Not Supposed To Be Positive, the band raises a wall of darkness and sorrow above us… It's not as if they weren't happy to be playing here, in front of most of their disciples, yet they're pleading a higher cause right now, like four tormented souls in front of huge amps adorned with the emblematic pink guillotine of the new album. The sound is perfect, just as the two-guitar harmonies, the clear and perfectly rendered vocals, and that bass… When the silence strikes again, we open our eyes, stunned and still under the spell. The French just earned our eternal respect, and lay down their instruments to general acclaim.
After hanging about near the Temple to mock Myrkur's overacted black metalness, I head back to the Valley to enjoy the sheer grooves of US rockers CROBOT, who might be presently gathering one of today's biggest audiences under this tent. Vintage shirts, long hair dripping with sweat, highly-worn instruments… This is party heavy rock at its finest, yet I don't manage to make it through the show and wake up only to crawl to the Temple, where a forest of black hairy trees is awaiting a rare breed of monster in silence: DARK FORTRESS. This is the first occasion for the German outfit to deliver their morbid and terrifying black metal in Clisson. Unfortunately, most of the older songs of the setlist are hardly identifiable. I step back to enjoy a cleaner sound, when the set ends on black'n'roll moshpit-raiser "Baphomet". Too bad they didn't play it as a starter, for the crowd still looks a bit numb on this Saturday morning.
MANTAR. Another band I didn't know much before getting here, yet their hectic show will make me want to look deeper into their discography when I'll be home. Face to face, the German guitar/drums duo physically and sonically engages a battle of the toughest, which obviously induces both a hulking sound and fierce performance. The crowd of course goes 100% with the flow of these relentless doom-black-punk Laurel & Hardy. Perfect. – Razort
After I discovered the new Warzone in the darkness of Kvelertak's show last night, I decide to kill two birds with one stone and check out UK punk legends DISCHARGE – without whom most of the 80s/90s thrash and hardcore bands wouldn't be here today – while exploring the area. That punk and hardcore stage has become a mini festival site in itself, with its dedicated gate, a huge terrace-bar overhanging the pit and – icing on the cake – a statue of Lemmy, constantly keeping an eye on its disciples. Meanwhile, the mighty and unstoppable Discharge are dropping their biggest classics like a "Hatebomb", while "The Blood Runs Red" in the pit. Then clouds darken suddenly, as if it was meant to match the "Hell On Earth" atmosphere that is prevailing down here (see what I did there?). After going through such an electric storm, it's quite difficult for me to fully enjoy TORCHE on the Valley stage. Not only the sound doesn't do any justice to their superior sludge rock, but a tent packed with people who seemingly got here by accident (ermm, the drizzle?) and don't seem to understand this music makes the experience even less appreciable. I watch the end of the show on the outside screen, which allows me to realize how classy these guys can be, even when they are blasting the heaviest riffs on earth. 
My next choice is a bit of an eeny, meeny, miney moe business: should I see all-star doom band With The Dead, even though I couldn't even put up with their album? Sick Of It All's 30th anniversary show on the Mainstage? Or Entombed AD's blue chip death metal? The proximity, the return of the sun and Lou Koller's bonhomie all push me to go for some mosh on Mainstage 1 with NYC's hardcore torchbearers SICK OF IT ALL. Pretty much the first band whose frontman looks like "the guy in charge" today, one who manages to keep a genuinely friendly vibe all through the show, in front of an audience that is however not fundamentally made of hardcore fans. If I was told earlier that I would have watched SOIA while half-naked dudes were sliding on aerial runways, or that Koller would point at a guy in the pit while telling the crowd "not to hurt the purple cow", I would have lol'd. Obviously, I have no regrets. – Beeho
But let's get back to today's bad guys, who are about to raise the dead and make the ground of this more and more smoke-filled territory tremble: WITH THE DEAD. A friend of mine looks at me: "the air is so filled with smoke, my eyes burn", to whom I answer "you're high, man, welcome to the Valley". The sound is so heavy it is skull-shattering, and even though vocals are drowned in a sea of bass and distortion, the band manages to invoke the gods of Doom with the utmost (captivating) immobility. I lose myself in strange thoughts, their gloomy melodies acting like a weird lullaby on my subconscious…
It takes only a break to scribble a few words about the latter, then another dark entity takes over the stage: GOATSNAKE. The guitarist on the left reminds me of someone… Wait, that's Greg Anderson of Sunn O))). This explains that: the stage is loaded with amps of the same name, the Gibson guitar is so pachydermic and dripping with noises of all sorts that we can't even hear the bass. It's like listening to the aforementioned drone outfit, with drums, more riffs, classier and catchier vocals. A great discovery that didn't leave my inner ear undamaged, and gets on my list of bands to check out once back home! – Razort
As I'm leisurely heading to the Valley – after I put up with barely fifteen seconds of Bad Religion's irritating show and went pass Within-please-finish-her-Temptation – a guy with a strong American accent calls out to me, "hey, y'going to HERMANO?". The guy's name is Curtis, he looks like a younger Seasick Steve and a stoner rock fan from the outset. He shares half of his jug of beer with me, then raves about John Garcia's almightiness. And he's right, for not only Johnny is on hair-raising form tonight, but the most underrated desert rock band of all is presently SETTING THE FUCKING VALLEY ON FIRE. From the center of the pit, I see people hopping and jumping around, I see a band who's not afraid of smashing today's grooves and swagger levels. One of the most joyful atmospheres the Valley has known since its creation in 2012, and a dream coming true. Let's now hope the emulation will lead the band to get back in the saddle soon (but a little birdie already told me so)… – Beeho
A King of the Road backdrop, guitars made of transparent acrylic, blond manes banging in the air… FU MANCHU kick off with "Hell On Wheels": necks are being instantly dismantled and people don't have time to realize what's happening to them. Everyone gets possessed by the Californian foursome's dantean sound, with & constant flow of crowdsurfers is keeping the security busy from the very first to the last minute of the show. Glee is palpable in the air, the band strings together their classics with an uncompromising energy. Good lord, that cover of  Blue Oyster Cult's "Godzilla"… That encore on "King of the Road"… What a hell of a PARTY! – Razort
When you thought the show just reached the epitome of coolness, your emotions take a blow as the band launches an even more badass song. Helped by their dusty grooves, FU MANCHU treat us to a 100% feel-good performance, when bliss and utter excitement mingle and you can't help thinking "damn, this is the most awesome band on the planet" every thirty seconds. You don't loose sight of the musicians, you watch Bob Balch playing his solos like a guitar god (that feeling he's got, man!), knowing you're such a lucky bastard to be here, in front of these fuzz rock legends. Goddammit, the highlight of my whole Hellfest weekend, hands down! – Beeho
Now off to the Lemmy tribute on the Main Stages. Motörhead's classics are being played in the background, but the volume remains too low to reach the whole audience. We try to get closer, but people won't move an inch as most of them are actually waiting for Korn. My friends and I are singing along the legendary songs, unlike most of the people around us. We get closer again when Phil Campbell gets on stage to pay tribute to his former bandmate and old friend, who passed away six months ago. It feels good to hear him. A (saddening) video of their last Hellfest performance is streaming on the big screens, in front of an apathic audience, their warm pint of beer in hand… A massive firework then starts, with "RIP LEMMY" as the crowning moment. Korn start right after that, so we head to the campsite to down a bottle of Jack and pay our own tribute, the Lemmy way: by fucking the place up and screaming until 6 in the morning… – Razort
Last modified: 1 September 2016