Chroniques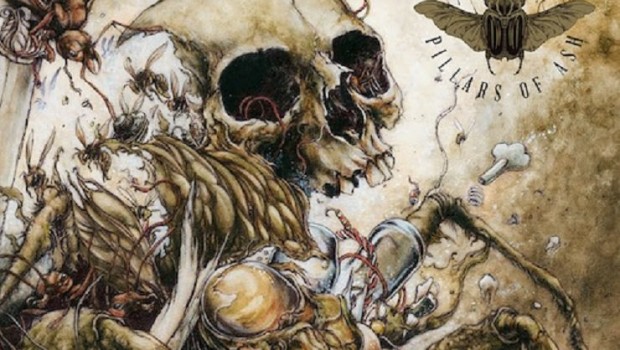 Published on March 30th, 2016 | by Guetsky
0
BLACK TUSK "Pillars Of Ash" (Relapse Records 2016)
Premier album depuis cinq ans depuis l'excellent Set the Dial, mais surtout, première galette sans feu Jonathan Athon à la basse, le très attendu Pillars of Ash de BLACK TUSK, power trio de sludge metal originaire de Savannah, ne laisse pas de marbre.
ARTISTE : Black Tusk
TITRE : "Pillars Of Ash" 
DATE DE SORTIE : Janvier 2016
LABEL : Relapse Records
GENRE : Sludge punk metal
MORE : Facebook / Website / Bandcamp
Tout d'abord, force est de constater – mais est-ce vraiment un scoop ? – que BLACK TUSK ne fait pas vraiment dans la délicatesse : plus hardcore que jamais, efficace à souhait, tout en gardant le gras et le sale d'un bon album de stoner… Bref, c'est du sludge, du vrai, qui déménage.
Dès le premier morceau "God on Vacation", le ton est donné : des riffs rapides, une batterie énergique et puissante, on va se régaler. S'en suivent des petites perles, comme "Black Tide", "Beyond the Divide" ou "Born of Strife". Au fur et à mesure que l'on avance dans cet album, on y découvre plus de complexité, comme avec "Still Not Well" et "Walk Among the Sky" : changements de rythmes et soli de guitare plus élaborés, ou bien sur "Punkout", sur lequel la basse semble plus activement présente. Et, cerise sur le gâteau, l'album s'achève sur un morceau déroutant : "Leveling". S'il démarre avec l'énergie et l'agressivité du punk, il se conclut en douceur, comme pour nous frustrer et nous "forcer" (pas besoin de me forcer, je suis volontaire !) à réécouter l'album depuis le début.
Mais, trêve de cirage de pompes, passons aux bémols de ce disque : tout d'abord, les voix, comme toujours chez BLACK TUSK, peuvent fatiguer car monocordes. Ensuite, la durée de l'album, avec onze morceaux dont la plupart n'atteignent pas les trois minutes, ça a un chouilla goût de trop peu.
Dans l'ensemble, cet album est une réussite, car lorsque beaucoup de groupes (à l'instar de leurs potes de Baroness) voient leur son se ramollir à chaque nouveau skeud, les membres de BLACK TUSK gardent leur agressivité et leur énergie, et c'est tout à leur honneur. Pour résumer, Pillars of Ash est une bien belle surprise : classique et efficace et, paradoxalement, surprenant et innovant comme deux faces d'une meme pièce. Je me suis laissé prendre au jeu et bien m'en a pris : à consommer sans moderation, à fond les gamelles !