Bordeaux gig promoters 
MAKE IT SABBATHY

 are celebrating spring their very own way with some loud bands and a lineup full of

 rock'n'roll, vintage and psychedelia

… Temperature is about to crank up a notch with 

Prisma Circus, The Midnight Ghost Train, Abrahma, Los Disidentes Del Sucio Motel among many others

…

With their excellent album "Reminiscences" (recently re-issued on Germany's fine music label World In Sound), the Barcelona trio carved a good position for themselves among the revival rock scene that's causing a stir in Europe at the moment. Well-known for their highly psyche performances, we can't wait to discover this heavy rock revelation on the stage of Heretic Club in Bordeaux. As an opener, France's proto-rockers Doctor Doom will do the job more than properly. (event Facebook)

This MIS #8 will gather two of France's coolest heavy rock acts, as well as unveiling to the crowd a third outfit who's nothing but intriguing to us. Simple as that: LDDSM's latest effort "Arcane" was featured as one of the best releases of 2013 on this blog, and as for Paris stoner rockers Abrahma (who belong to Small Stone Records' fabulous roster, no less), their record "Through The Dusty Paths Of Our Lives" was largely acclaimed by international rock press, while their heroic performance at London's Desertfest 2013 clearly highlighted the masses' passion  for this French foursome. Rescue Rangers will be the icing on the cake, a delicious surprise for that 100% French night.




On the occasion of the release of their new album "Stranded In Arcadia" in Europe on April 28th, MARS RED SKY announced a release party in their hometown Bordeaux on May 15th. The band will perform a classic live set alongside Russian rockers The Grand Astoria, as well as an experimental video and sound creation featuring Julia Al Abed. More infos and presales HERE.

03/06 – Heavy & psych invasion avec The Midnight Ghost Train + Vidunder + Golden Animals @ Heretic Club

Revealed to the French at Glad Stone Fest in Paris, then sacred best live rock act of 2013 by yours truly, The Midnight Ghost Train are KILLER on stage. Whether you're into their super bluesy and punchy heavy rock, be sure you won't remain impassive in front of such a rock bulldozer. To make this lineup perfect, Make It Sabbathy invited Swedish who do what Swedish do best (sic): 70's hard rock. Straight from New-York's neo (highbrow) psyche wave à la Black Angels, Golden Animals will be the best appetizer we could have expected for such an explosive and rock'n'roll night.




FIND MAKE IT SABBATHY ON 

FACEBOOK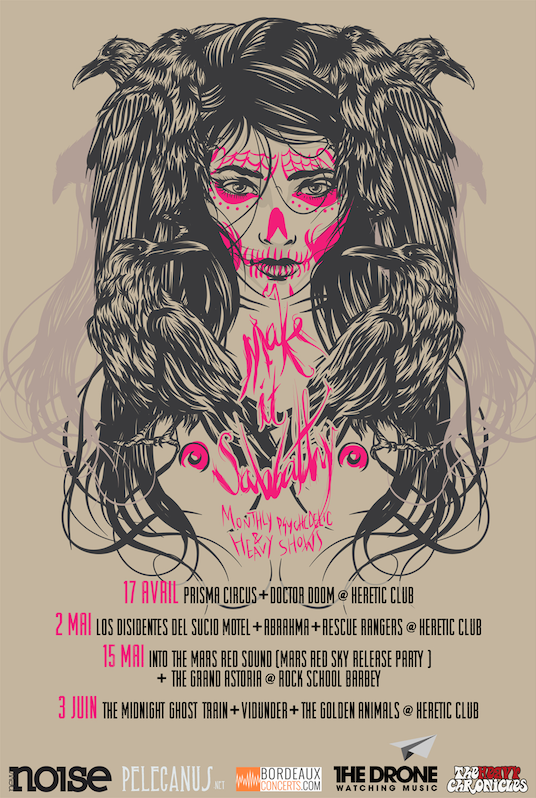 Last modified: 11 February 2015